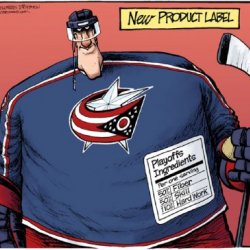 bluejacketsfanwpsl
---
MEMBER SINCE June 02, 2017
Recent Activity
There's irony in the clean up of the old Ohio Pen site had to be done before NWA was built. That clean up was done under Doug's watch.
It could be argued he left a bigger mes than he cleaned up.
FWA....or FAW, as the case may be.
It's gonna be fun to watch.
I don't think it's about a FA goalie. It's about what we have and our team salary structure.
We seem to have a good goalie pipeline, but that doesn't mean any of them (Korpi included) is Bob-like.
Our salary structure is improving, I think. We overpaid 17 and 71, but since then has improved, I would argue.
I bet he gets a modest raise and signs before the deadline. Otherwise he tests the market and gets the new situation he wants. If it's just about money and he can't get it, he comes back here for that modest raise...8.something for 3 years.
Eh! Who knows!!!
Cmon, Dog....give this guy a break! P>)
You just have a different definition of 'prospect'. I'm just looking at who's in Cleveland and his points float to the top. He's got to get a mention.
...and I COMPLETELY disagree with 'invisible'. I distinctly remember the year he made the team outta camp. Was it last year or the year before? Anyway he was serviceable on the fourth line for a few games. Took a stupid retaliatory penalty and was summarily sent down.
Robinson also got a mention....now there is a prospect we can agree on.
For the record, I'm mostly just pressing your buttons.
I'm curious about a couple things besides those already mentioned.
With the Harrington, Clendening, Kukan mix for that 6th dman, how long do you think they carry all of them?
and what do you think is more important on the 72/9 trade front: how well our team is doing in the standings or what the potential trade partners are offering?
Thanks.
Dalpe is 6-3-9 in 8 games for the monsters.
I wonder who's on the list when you say "issues extending star players."
I think Nash, the guy we traded Voracek for, Johansen, Anderson, Bobs and Bread.
All those can be explained except for the last two. Even those seem to have their reasons.
I understand. I thought that also about the guy we got from Philly and traded to LA. I refer to him as douchebag #2. But we did ok on that trade.
I remain hopeful.
Well, I think it'd be cool to do.
Is that public information, though?
vine, elvis and joonas....one has to be a winner, right?
I think Jarmo and Bob have already decided it's not happening and Bob is prepared to go via UFA.
..and Robinson has cooled off and is no longer on a ppg pace: only 3-3-6 in 7 games P>)
oh...that's a different place? ;)
Long time listener, first time caller here....
NEW HAMPSHIRE?
Are Bob Hewhart and Susanne Pleshette there too?
;)
I think Korpi is the news of the three points. He's looked better than Bob in the early going and I expect he'll continue to get his chances.
...plus our goalie prospects look good. It's impossible to say which, if any will rival Bob, but I think Bob and Jarmo are playing contract chicken.
Yeah, I'm not sure who I would remove from the roster for him. I just saw the news and thought I'd share.
In my mind he'll always be linked to Wennberg and Rychel. The draft we had three first round picks.
It all comes down to dance partners.
Jarmo needs a dance partner for a trade or have money to spend on free agency. Either way he'll fill the roster, eh?
It's just a question of with what he'll fill the roster.
Trading Panarin or Bob will bring uncertain pieces, picks and prospects mostly. but I think I'd rather have that than the overpriced FA market.
It'll give us something to talk about as this unfolds.
Maybe I've just never paid attention before, but 71 and 13 were on the red line during the tribute showing Calvert respect. loved it. the whole thing was very well done.
well, he's got hands too! I guess
I thought he was just gonna be speed. But he's shifty.
I saw the first 2 periods.
I was impressed by Duclair, he was fast and shifty.
It's going to be a fascinating season!
I know we've done the home and away A before, but I've not seen this.
I have no arguments with the choices, just question the part time nature for only 2 of them.
yep, totally agree.
it would benefit us for him to have a great year.