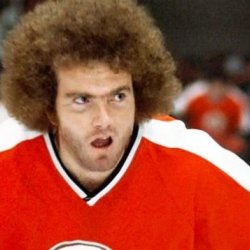 Ogie Oglethorpe
Marysville, OH (via Toledo (actually Oregon))
MEMBER SINCE March 09, 2017
I grew up in Toledo as a Wings fan. Came to Columbus in 1999 to go to OSU. Rooted for the wings until Steve Yzerman retired in 2006. Haven't looked back since.
Favorites
SPORTS MOMENT: My first NHL game was when Sergei Fedorov scored 5 goals in one game against the Capitals on 12/26/1996. Seeing the Wings win a couple cups as a teenager was fun. I can't wait to see the cup here in Columbus.
HOCKEY PLAYER: Steve Yzerman (sorry grew up a Wings fan)
NHL TEAM: CBJ
NFL TEAM: Detroit Lions
MLB TEAM: Detroit Tigers
SOCCER TEAM: Crew SC
Recent Activity
Tonight worries me slightly. I think TB is going to come out full throttle
He should be suspended. That was such a cheap and dirty hit. Tom Wilson was jealous of that hit
I think the Bolts will come out with their hair lit on fire. We will need to withstand that onslaught better than we did in Game 1. We can play with these guys lets remind them again.
Way to be a stand up individual Sam. Be sure to keep room for that Stanley Cup if we get it this season.
We controlled that game and deserved that W. Jimmy Howard played really well. I also thought Nash and Duclair looked pretty good. Still looking for my boy Oliver to be the x factor. Overall great to come out of the pizza box with a W!. Lets do it again tonight!
Lets play some hockey!!! What a better way to start than with a trip to Detroit. Beat the Wings!
I come here quite a bit. This site is a must during hockey season. I just have not commented much recently.
It actually cost Anderson 50 minutes and took us a skater down the entire game
My goal for the season at the beginning was at least 8 playoff games ( obviously I want as many as possible). This is a good for step. Keep it up Jackets!
So I am in the Chicago area for work. I am happy that I can fully take of advantage of the one nationally televised game we have. A Coworker and me went to a sports bar to grab dinner/beer and watch some hockey.. When we get there I ask the server to turn the hockey game on NBCSN. She says ok. I see the bartender fiddling with the remote and struggling to turn on. After a couple minutes, said bartender comes over to us and says "I can't find the Hawks game. I don't think they are playing.". I tell him that I know and I want to watch the Blue jackets as I look down at the CBJ shirt that I am wearing. They are finally able to figure out how to turn it on. It was shocking to them that some one could care about about the jackets. Hence why we get no respect nationally. This is a fun team to watch. I wish America (and NBC) would realize that.
I love Oliver but I need to see more of that shot. That is what makes him good. I can argue with the being put on the 4th line though
I became a cbj fan post Nash so I don't care what he does.
as far as Vegas goes, lets talk about these guys!!!
Vegas has a drum line called the Knight Line that is literally lit (h/t @wyshynski) pic.twitter.com/yCHuq5AKXD

— CJ Fogler (@cjzero) October 11, 2017
I thought the same thing. Hannikainen is near the bottom of the list of players that I trust to hold a lead. That Sonny kid could be pretty good though.
I wished the Tuxedo Chickens should have lost in Regulation last night. I have a feeling the metro could be close this year.
1OB has provided me with what I truly coveted. Good CBJ coverage Year round. What you did in the playoffs was great and I can't wait to see that this site becomes in its first full season.
Good for Sonny! I hope he takes next step this yea
About time there was some good news!
Dave was one of my favorite hockey voices. Growing up a Red Wings fan allowed me the opportunity to hear him call a lot of games. He was one the best.
Not terrible. what other Goalie you have.
Btw DRAFT IS TONIGHT be there or be square
We just need 1 more and we will have 10. Ten is a good number. I am Djarmo Unchained. I am in a big tarrantino fan hence the name
Draft who ever you want breadman. I asked Sobvoda on twitter if he wanted in and he said maybe. We have 6 now. I would like to get at least ten.
https://hockey.fantasysports.yahoo.com/hockey/80910/invitation?key=d6190f2e55554b80&ikey=03856fde17724b39
For anyone interested I started a league for site readers. please join on the link above. just for fun no money
https://hockey.fantasysports.yahoo.com/hockey/80910/invitation?key=d6190f2e55554b80&ikey=03856fde17724b39
Here it is, I have set for 12 with the draft next monday at 9.
I am game. I will start one and post up here. the link. I have played mostly for fun.