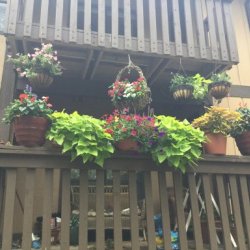 Rls321321
---
MEMBER SINCE January 14, 2018
Recent Activity
Q, your comments are spot on.
You folks know more abt hockey than i do. I s
Cam's problem have to do with the loss of
panarin and the assists he got from Artemi or something else
No , u really don't have to be cocky or have swagger ( whatever the that is) you can be quietly confident like BOB was or outwardly confident like Elvis. Believing in yourself is what counts, not being brash.
Jarmo is and has been looking 4 a 1st line forward to replace Artemi. He will get his man
b4 the season starts
He is doing his job. My comments were abt torts being angry
that fans such as me who voice our honest opinion.
So Torts is mad bcuz ppl think after the CBJ lost their two best players the Jackets aren't going to
be as good as they were last yr. It's called an honest opinion Torts. Wow, gotta love it when the coach thinks everyone should be a homer 4 their team. My guess is this is a team that finishes a little over .500 in a very tough division.
Jarmo is a trader I believe he absolutely will make a trade or a scoring forward b4 the season starts. When he needs one he always goes after someone.
This isn't news. When the coach of an NHL team says his best player (who BTW is the main reason the CBJ were in the playoffs) might want to think abt going to a psychologist
regarding his play, you have ruined the clubs relationship with said player, (if he has options). It's that simple.
It will be a long yr w/o BOB
& never should have happened.
IF you can sign a better player than Dubi absolutely should be bought out.
He's bad and we all know it. Like everyone says we have the cap space to take the
to buy him out
The only way the CBJ have a chance at the playoffs next yr is thru a couple of trades
by Jarmo. Duchene is essentially gone & Pavelski has no interest. With an unproven
goalie, that is understandable. this is the only avenue left to better the team significantly.
My guess is the CBJ offer him more than anyone else, but he leaves anyway bcuz BOB and Bread
left which everyones hurts the CBJ chances next season. I think he wants to sign with
a team like The Preds, which he thinks are Cup ready w/ him on the team. Hope I'm wrong.
Not sure what Aaron means by unconventional. Milano is a good offensive player and an average defensive player. I think on another club like Ottawa he be on the Roster.
Without knowing who Jarmo signs it's all speculation at this point
He's going to sign a forward for sure & probably a center too.
And who knows if Elvis is going to to be a stud or a hound dog in the net.
I keep reading in this article that Panarin and BOB still could possibly come back.BOB is selling his condo. There is no situation where hecomes back. Panarin also is not coming back. He's handled the situation well but he is leaving guys.
Josh & pld definitely need to step up.
Cam has been a bit exposed. He doesn't create his own shot like Panarin
which is more important in the ultra competitive payoffs. He's somewhat one dimensional.
Jarmo is the most important FO guy in the room. I think he is smarter & more patient than most GMs. He always comes up with a trade at the deadline. They don't always work out, but many trades don't.
Terrible Ted, Facial expressions when ur on the bench or in the game mean nothing.
ppl have different expressions
Why wouldn't Dubinsky already have his legs under him. He's simply lost a step
He's not signing for 8m. He already turned that down. He's looking for 9-10 mill.
i wud sign him for 9m just bcuzthey desperately need him
Can they give up Wennberg for Duchene w/o knowing if Duchene will sign here. I dont think they would do that
He's holding the CBJ hostage. I would trade him if there's a good trade to be had.
I think he's forcing the Jackets hand. He certainly doesn't care if they trade him
I have to ask myself what is he looking to see from the CBJ b4 he makes a decision.
I guess he would just wait for the highest offer after the season and go w/ that.
Pens trying to free up $ so they can extend Jack Johnson contract LOL
Boy that signing (5yrs) does not look good.
I think we all know the door is still open for Bread. That's why he's still here.
If panarin was happy in Columbus, he would have had his agent negotiate prior to the season.
Read the tea leaves
No one is talking abt the elephant(s) in the room. Panarin being traded at some point in the season will ruin the season. He will the pts leader at the time & it will b a huge negative impact. Jarmo is not the type of GM that will ride with AP for the season unless AP verbally agrees to stay. Bob will get bttr but they need to let Korpi play & push Bob. Oh almost forgot. Bobs contract is the other elephant
Torts & managemnt acting low key abt it does make the situation disappear.