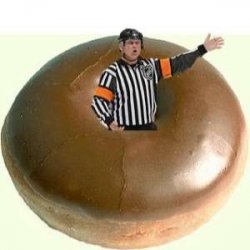 tlb
---
from Grove City
MEMBER SINCE March 14, 2017
Favorites
SPORTS MOMENT: Watching my uncle get his first ring in Super Bowl XL.
HOCKEY PLAYER: Scott Stevens
NHL TEAM: Blue Jackets, formerly Devils
NFL TEAM: Lions
MLB TEAM: Braves
Recent Activity
That was so incredible!
I hope that is the turning point for Bob
Defense is awful. Sure, Jones and Werenski are great on the offensive end but their play in their own zone is pretty bad.
Playoff teams don't get boat-raced at home by a team that is 30th in goals against
Pens are in Bob's head. Couple of Mr Softys got him
Love this one!
Now if they would just give us Stone for Wennberg...............
Wish he'd be a little more physical
Might as well trade them both. Should they sneak in to the playoffs, looks like Tampa would be 1st round opponent.
Playoffs? Do we really want to play Tampa in the first round?
And maybe the D in front of the goalies is the real problem. Yeah, they're great on the offensive end, not so much in their own end.
I think Duclair is pretty much done here. He just doesn't play defense, which is why he's been on 4 teams and is only 23 years old.
As for Jones, I've complained about him before only using his stick, never putting a body on anyone. Werenski does pretty much the same thing.
Fact is, this team's not only inconsistent from night to night but shift to shift and just not as good as people think. Should they slide into the playoffs, they won't be around long.
Schedule has been pretty favorable so far. The rubber with hit the road the next couple months as they play more teams in a playoff position. They haven't shown that they can consistently beat playoff teams, that is why it doesn't feel like so great.
He had some words with Torts after being pulled I believe. Either way, he has been up and down all year. Maybe he asked for a little more defensive help.
Must win, plain and simple. They have to beat teams like this to be considered a playoff contender
I don't think it's only the contract, he is struggling mentally with the equipment downsize
Puck control and speed the first 10 minutes. Looked very impressive.
You shouldn't be, seems to happen to this team quite a bit. They dominated for the first 30 minutes, gave up a goal and their psyche was broken. It's a fragile team that should have won this game.
Pretty good effort all around. Still an issue out of the gate and too many shots for Korpi, but if they give this effort every game prosperity will follow.
I'm not sure they are an inferior team, probably more of an equal team that has played 3 less games. They got lots of guys that can score and the losses came with Luongo was out.
Tough to blame Torts he plays the guys he has. Might be time for some roster moves though.
Puck movement looked quicker, actually generated some good shots.
I think they guy most teams covet, other than Bread, is Josh Anderson. He might return a little something more but that's a big piece to give up
Maybe they just don't have enough scorers.
Best game they have played in a long time. Kept the puck on the outside, didn't chase and take bad penalties. Would like to see this on a consistent basis.
first 2 periods were their best of the year.
By starting on time I meant the games........they haven't scored the first goal since Florida, 8 games ago.