Jack Roslovic has been a member of the Columbus Blue Jackets since 2021 when he came over in the trade with Patrik Laine.
Over his three seasons in Columbus, we've seen the scoring spurts and strides in his game that show his potential, but far too often, the struggles and scoring lapses that plague Roslovic have kept him from being able to put it all together for consistent stretches.
Can Mike Babcock Revitalize Him?
Roslovic has played for three different head coaches since the 2019-20 season going back to Paul Maurice in his Winnipeg Jets days.
Since Roslovic's Blue Jackets tenure began in 2020-21, Roslovic has played for John Tortorella and Brad Larsen. Now he will be playing for his third head coach under Mike Babcock this season.
Will Babcock be the one that can help Roslovic realize his potential on a consistent basis?
One of the centers on the roster, we know that Babcock is looking to get his lines more involved in 200-foot play and that will be something to monitor with Roslovic.
Who knows, maybe it is Babcock that has the key to unlock the potential and get the best out of his guys like Roslovic.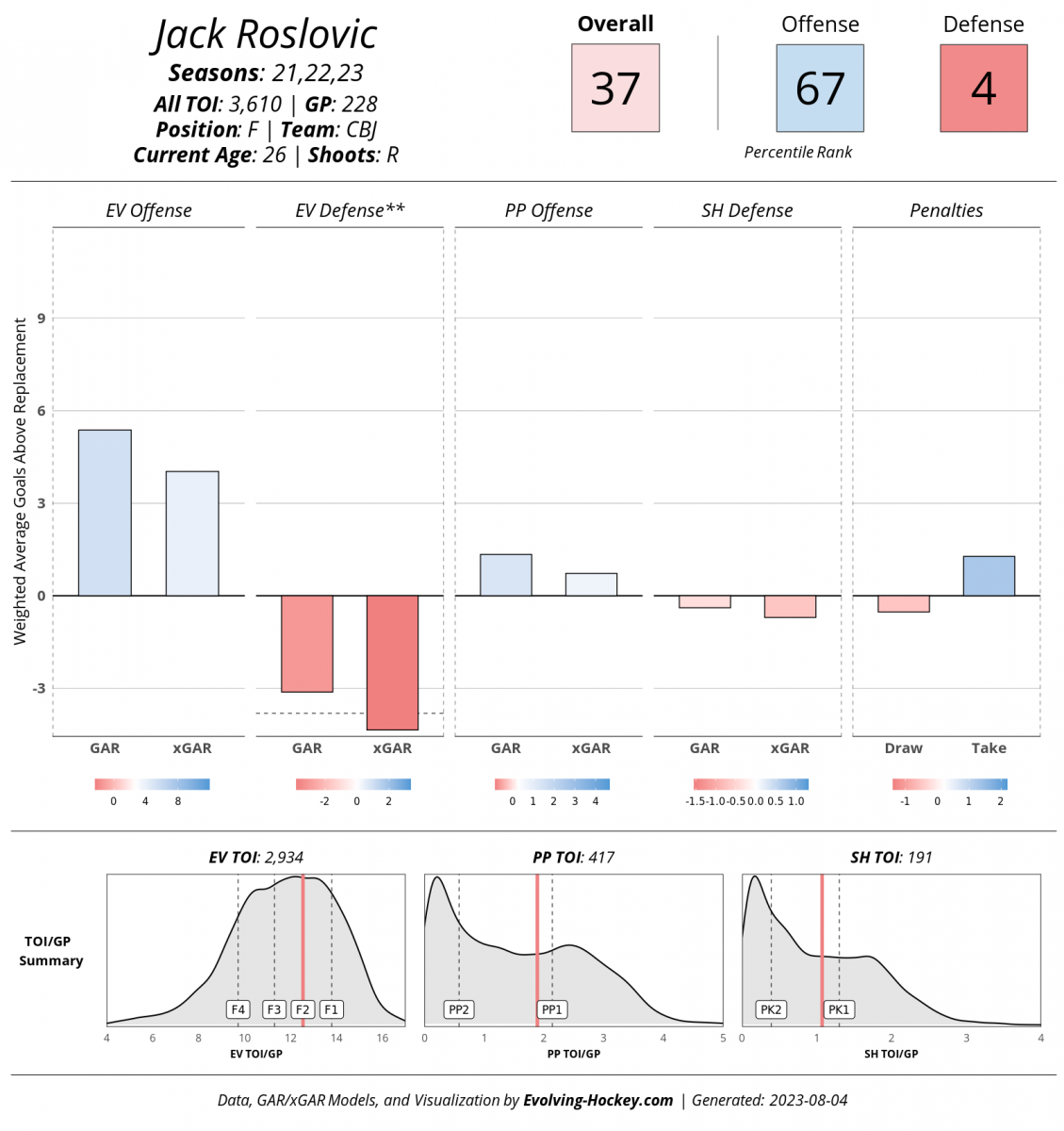 What Does Jack Roslovic's Role Look Like This Season?
The Blue Jackets have Dmitri Voronkov who might be down the middle on the third line. Alexandre Texier is back in the fold.
If Adam Fantilli is at center in his debut season, it's probably on the second line, right? You can assume with the glut of forwards on the roster that the club will be able to shuffle players around and in and out of the lineup and that includes Roslovic.
He could also play wing if he's not going to be at center.
Dan Dukart addressed the complexities surrounding Roslovic in his roster analysis series.
"Roslovic's main problem is that he's purely talented enough to play in the top six but inconsistent enough to question him in virtually any lineup spot," Dukart said. "Can you imagine Babcock playing him on the fourth line? I'm not sure I can."
At least for right now, the second and third lines feel like Roslovic's most likely landing spot. That's assuming nothing significant happens to the roster between now and training camp.
As Dukart said, Roslovic has top-six talent but replacement-level consistency.
Will His Next Contract Be In Columbus?
Roslovic is set to make $4 million this season, in what is the final year of a two-year contract signed in the summer of 2022.
Barring a breakout season in Columbus by Roslovic, or something major happening around the roster, this feels like Roslovic's last shot to put it all together or at least earn another season and contract in Central, Ohio.
On the one hand, Roslovic has scored the most points of his career in each of the last three seasons with 34 in the shortened 56-game season in 2021-21, a career-high 45 in 2021-22, boosted by a big April that saw him score 13 points and 10 goals, and then 44 points last season.
His goal totals in each of the last three seasons: 2020-21 (12), 2021-22 (22), 2022-23, (11).
Roslovic was fourth in points on the team last season, although true contenders around the league have players scoring 44 points from the third line with significantly higher totals from the top six.
He only scored 11 goals last season and he had double-digit goal-scoring droughts of 17 games—twice—and 13 games.
After the way he finished April 2021 with 10 goals and 13 points, it felt like maybe he finally figured something out. But how often can you expect a carryover like that through an entire off-season into the next campaign?
---
Roslovic has felt like the perfect change of scenery guy, if there was one, for the Blue Jackets. But just as it seemed general manager Jarmo Kekalainen could make summer trades with potential roster logjams at forward and defense—and maybe that happens between now and training camp—Roslovic looks to be on the roster for opening night.
What he does with the opportunity can be big for him and the team.