"Disappointing" is a word that's been tossed around to describe Alexander Wennberg's season.
On the surface, it looks that way: Wennberg's 20 points in 41 games represent a sizable step down from 59 in 80 games last season.
TSN's Bob McKenzie reported recently that teams have been calling the Jackets asking about Wennberg. Just like with Boone Jenner, teams see a player who appears to be having a down season and think a fresh start is needed.
This just isn't the case with Wennberg – despite some of the negative attention out there, he may be having the best season of his NHL career.
Wennberg's possession numbers are as good as they have ever been; his 5-on-5 Corsi this season (via Natural Stat Trick) is 53.1%, the highest of his career. The Jackets have controlled 52.63% of the scoring chances at 5-on-5 with Wennberg on the ice and 51.8% of the high-danger chances. They've also scored 60.42% of the goals with Wennberg on the ice, the highest for one player on the team.
He's had a positive impact on every player he has played over 100 minutes with at 5-on-5: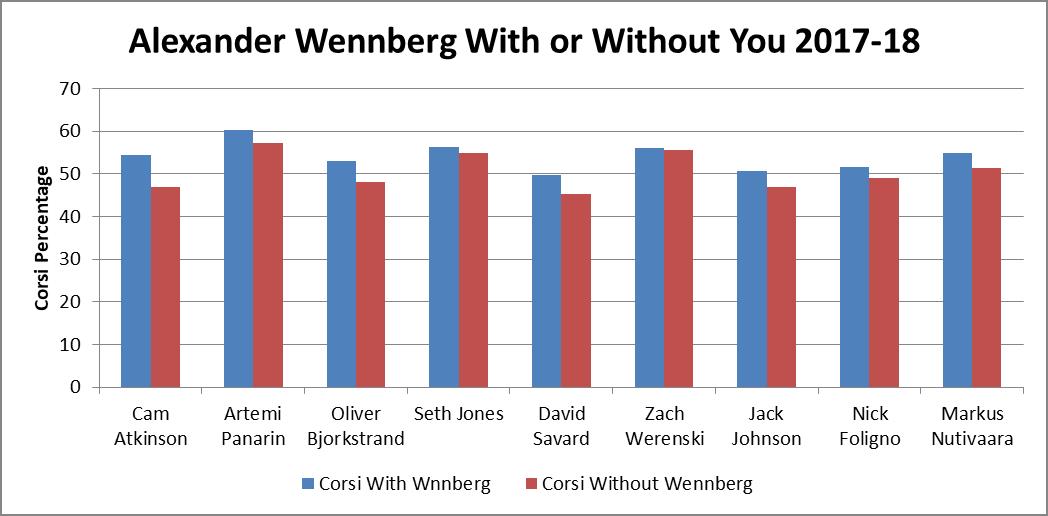 This is a "with or without you" (WOWY) chart showing a player's possession stats when on the ice with Wennberg and when they're not. The blue bars, representing Corsi with Wennberg, are all higher than the red bars, indicating the positive impact Wennberg has had on each player. With players like Cam Atkinson and Oliver Bjorkstrand, Wennberg takes them from below average possession players to well above average.
With the others, Wennberg isn't having a major impact, but this is a significant improvement over last season.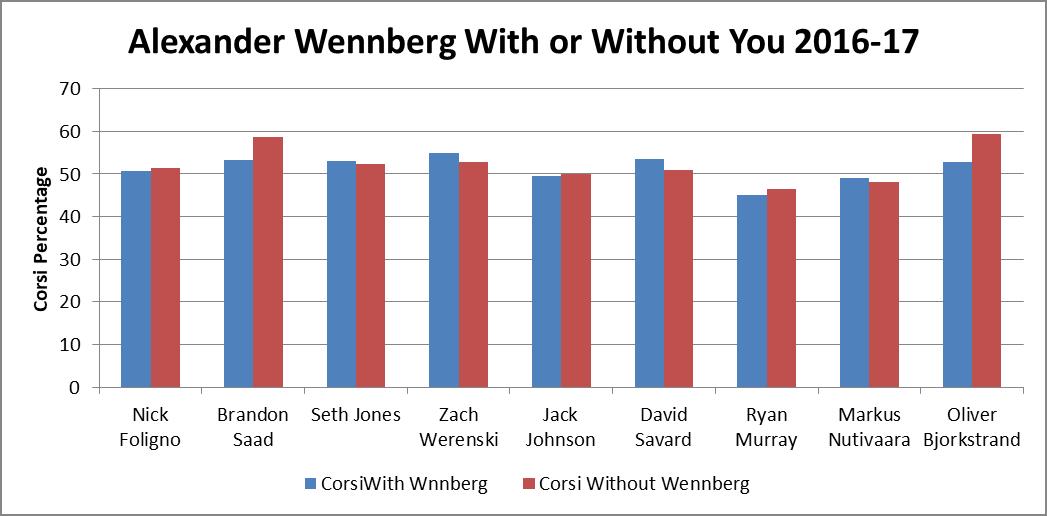 This is the same chart as shown above, just for the 2016-17 season. We can see Wennberg was dragging down some of his teammates, most notably Brandon Saad and Bjorkstrand. Again the impact of Wennberg is small for many of these players, but he's turned all the negatives into positives, which is big step forward.  
Wennberg's goal scoring has been in line with prior seasons. His shooting percentage is 9.3%, or just a tad higher than his 8.7% career rate. This season, he's seen a 5-on-5 shooting percentage drop (6.06%) after 10.53% and 9.84% in the previous two seasons, respectively (that should rebound as he's taking 6.68 shot attempts per 60, 4.98 scoring chances per 60 and 2.44 high danger chances per 60, all very similar to what he did last season).
Wennberg's playmaking at 5-on-5 has also been consistent. His on-ice shooting percentage is 8.33% (second on the team) behind Scott Harrington, so this isn't a situation where his line mates aren't scoring. His assists per 60 are at 1.27, the highest of his career. 
The year-over-year drop in production from Wennberg has come exclusively from the power play. Wennberg has one power assist this season (one!) after 21 assists with the man advantage last season. Those 21 assists averaged out to 5.95 per 60, the highest on the team and fourth-most in the league.
On top of the power play being an absolute mess, Wennberg has lost his role as primary playmaker to Artemi Panarin. Last season Wennberg was the guy who got everything set up by carrying the puck into the zone, but now, that's Panarin's job. Wennberg has also had bad luck: his on-ice shooting percentage is at 8.42%, the first time in his career it's been under 12%. His teammates haven't been able to convert on his passes.
Jackets nearly got on the board early thanks to Alexander Wennberg, but it wasn't meant to be. #CBJ pic.twitter.com/pZPunEL0kd

— 1st Ohio Battery (@1stOhioBattery) December 9, 2017
Here's one of those bounces *just* missed the tip on this fluttering puck from Wennberg. #CBJ pic.twitter.com/86DyEHGUAW

— 1st Ohio Battery (@1stOhioBattery) January 13, 2018
It's plays like these, whether on the power play or not, that have hampered Wennberg's season. Last season, those were goals, and we're probably having a different conversation about the player if a few of those go in. 
Don't let a bad power play cloud your view of Wennberg – he's having a strong season and is not someone the Jackets should think about trading. 
Follow 1st Ohio BatteryFacebook, Twitter, Instagram and YouTube