The Blue Jackets didn't make a big move in free agency, but they did add Riley Nash – a solid middle six forward. He had a breakout season in 2017-18 playing for the Boston Bruins; after never scoring more than 10 goals or 25 points in a season, Nash put up 15 goals and 41 points, parlaying that into a nice three year, $8.25 million deal with the Jackets.
His 31 points at 5-on-5 were tied for third on the Bruins with Danton Heinen and Patrice Bergeron. It's going to be difficult for him to repeat that, but he doesn't have to in order to be an asset for the Jackets.
For starters, the Jackets needed a bottom-six forward to replace the loss of Matt Calvert. Even if Nash isn't scoring, at worst, he replaces what Calvert brought.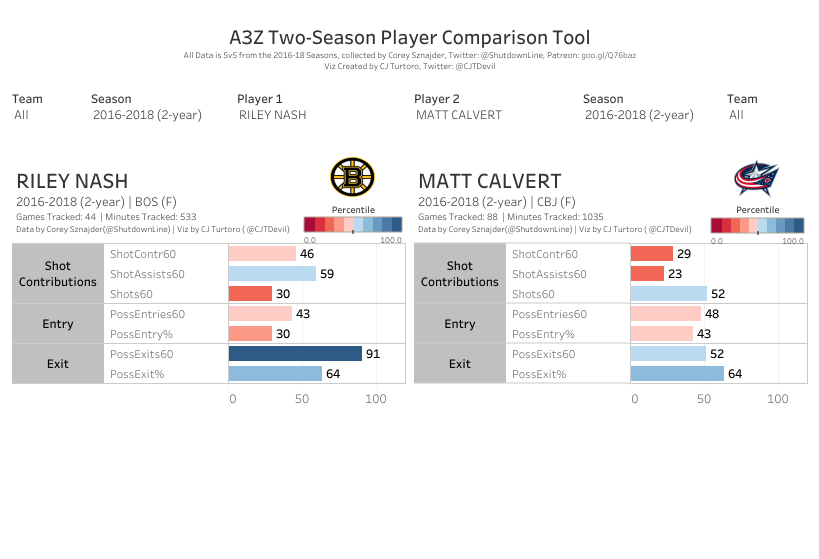 Over the last two seasons, Nash compares favorably to Calvert. They are different offensive players, with Nash being more of a playmaker whereas Calvert likes to shoot. Calvert is a little better at getting the puck in the zone, but Nash is elite at getting the puck out of the zone, an area where the Blue Jackets forwards weren't very good in 2017-18.
Nash led the Bruins in successful exits per 60, and also would have led the Jackets, just edging out Artemi Panarin.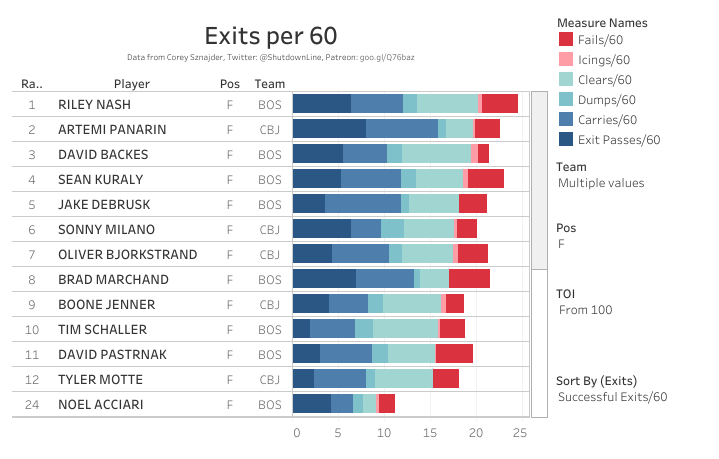 Take a look at this list: For the Jackets, after Panarin, you have Sonny Milano who hardly played, Tyler Motte who is no longer on the team, and Oliver Bjorkstrand and Boone Jenner. There's no Pierre-Luc Dubois, no Alexander Wennberg, no Cam Atkinson; the Jackets top forwards weren't great at exiting the zone. They relied a lot on their defenders to break the puck out, which is fine, when Seth Jones and Zach Werenski are the defenders. They can't be out there the whole game, so it'll be good to have Nash to help in that regard. 
Nash had good possession numbers with the Bruins. In two seasons, he had a 52% Corsi per Natural Stat Trick, however, because the Bruins have been such dominate possession teams he has been a minus relative to team each season.
Nash spent most of his 5-on-5 minutes this past season with David Backes and Heinen. Nash was a passenger on that line; they both did well away from Nash, where Nash struggled when away from them.
Nash needs skilled line mates to keep him afloat, and the good news is that he will have skilled line mates in Columbus. Pairing him with Oliver Bjorkstrand could be the start of a strong third line; Bjorkstrand played his most 5-on-5 minutes last season with Nick Foligno, who is not a center. Nash and Bjorkstrand both excel at getting the puck out – Nash likes to set players up, and Bjorkstrand like to shoot.
Nash does a lot of good things outside of just scoring. His ability to successfully get the puck out of the defensive zone is something the Blue Jackets' forwards didn't do a lot of last season. Nash will be a big help in that area, giving the Jackets a new look and making them that much harder to defend.        
Follow 1st Ohio BatteryFacebook, Twitter, Instagram and YouTube