Nick Foligno is a lot of things:
He's the team's captain. He's a venerable leader, a community ambassador, a former NHL All-Star, and one of just eight players in franchise history to have played 450+ regular-season games with the club.
Who doesn't like Nick Foligno? 
But he's not a first-line left-winger in the year 2019, no matter how hard you and I squint. 
In a recent interview with The Athletic, John Tortorella told Aaron Portzline that he would "try Nick" alongside Pierre-Luc Dubois and Cam Atkinson on the left-side of his new-look first line. "We're going to need to get more out of Nick this year."
That's true, John. But now five years away from his one and only 30 goal season (an incredible accomplishment, no doubt, I'm not holding my breath. And that's not a knock on Foligno. At this point in his career (he'll be 32 next month), he's best suited as a middle-six player, and given his ability to play both center and on the wing, he's still an extremely valuable player for this team.
Just, not top-line valuable. According to The Athletic's Dom Luszczyszyn, a line of Foligno-Dubois-Atkinson would be the 31st best line in the NHL. Put more bluntly, it would be the worst first line in the NHL. To quote Dom:
Right off the top, the new-look top line could be an issue. Pierre-Luc Dubois and Cam Atkinson looked very effective on a line with a superstar, but Nick Foligno on their left is not that. He's a responsible two-way player, but he doesn't drive play nearly to the same degree as Panarin (duh), especially when comparing the two's transitional and shot assist stats. 
Nobody on the team is going to replace Panarin's production, so it's a bit of an unfair analysis, but at the same time, if they're going to try, allotting the top offensive players the highest quality of linemates would be the more astute approach.
On the other hand, alternative options aren't plentiful. Later in the same interview, Tortorella said that he would try pairing Alexander Wennberg with newcomer Gustav Nyquist, which removes Nyquist from contention on the top line. While you will not find a bigger supporter of Alexandre Texier than me, slotting him day one into a top-line role could be a little rich for my/his blood. Other candidates, like Oliver Bjorkstrand or Josh Anderson, are career right-wingers, and while a transition is possible, it remains to be seen if either could make such a transition seamlessly. 
That leaves Foligno, a jack-of-all-trades/master-of-none type. And while he may form a formidable forchecking duo with Dubois, Foligno's forte isn't carrying the puck, and that's something this line will need to maintain any semblance of a dominant line. So while I'll acknowledge that it's borderline logical for Tortorella to start with Foligno on the first line, it's anything but ideal.  
Thanks to data from CJ Turtoro (@CJTDevil), we can see that Foligno's 2018-19 was basically a "worst of" his prior three-year composite metrics. It's just one tool, but when compared to his generally decreasing point production (.65 points/game three seasons ago versus .46 and .48 in the two prior seasons) and advancing age, there aren't many points of optimism one can effectively point to (yes, I know he's the captain and that you really like him).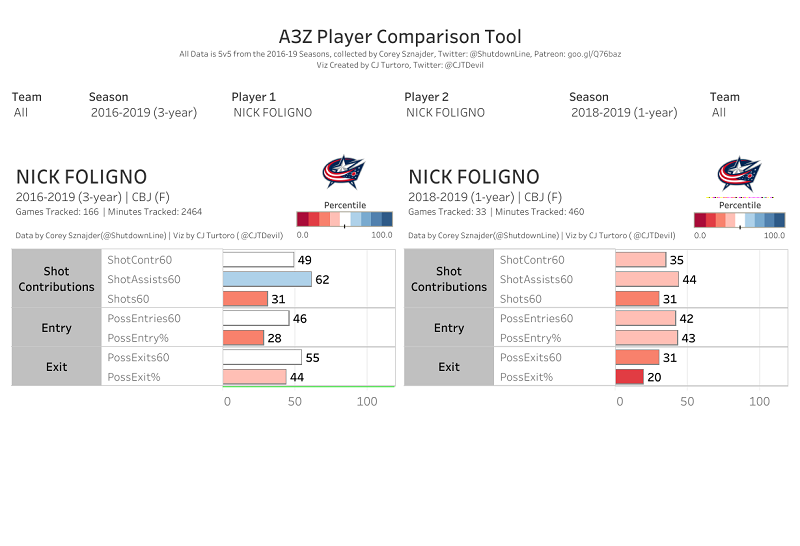 So while Foligno may be the most suitable option as a day one option to join Dubois and Atkinson on the top line - at least in the eyes of his coach - it doesn't bode well for the franchise with the captain manning the first line left-wing spot.