The Columbus Blue Jackets are finally in the win column for 2022!
That's thanks, in large part, to Oliver Bjorkstrand's two goals on Saturday against the New Jersey Devils.
Bjorkstrand scored his first goals since Dec. 11 at the Seattle Kraken, a span of four games without a goal due to five postponed games and then Bjorkstrand missing time in COVID protocol.
Bjorky with the PPG!#CBJ pic.twitter.com/FT32Ti411n

— Bally Sports Columbus (@BallySportsCBUS) January 9, 2022
His power play goal 2:01 into Saturday's contest broke a streak of eight games without a power play goal since the team's, and Bjorkstrand's, last power play goal on Dec. 7 at the Toronto Maple Leafs. His second goal—the eventual game-winner—broke a 3-3 tie five minutes into the third period.
OLIVER BJORKSTRAND AGAIN!#CBJ pic.twitter.com/yKhLsvCND4

— Bally Sports Columbus (@BallySportsCBUS) January 9, 2022
Bjorkstrand has 25 points (11 goals, 14 assists) with nine of those points coming with the man-advantage, tying a career-high set in 2017-18. He had career-highs of 23 goals in 2018-19 and 29 assists in 2017-18. He's 19 points off his career-high of 44 which he set last season. 
Jake Voracek, who had just played in his 1000th NHL game on Thursday against the Devils, was celebrated in front of the sellout home crowd for that illustrious milestone before Saturday's game. He hooked up twice with Bjorkstrand with assists on both goals.
That's what the team needs.
Similar to Bjorkstrand breaking a pointless drought, Voracek's two assists were his first points—also an assist—since Dec. 30 against the Nashville Predators. It was his first power play point since Nov. 27 at the St. Louis Blues.
Clearly, these guys help make a difference for the Blue Jackets, who will need these contributions to spark a power play that hasn't resembled much of an improvement since the early days of the season.
"I think we (Voracek) connected pretty well," Bjorkstrand said. "(We) had some good shifts out there, I just think we're hunting the puck and moving our feet and I think just playing some good hockey so that's fun."
Bjorkstrand elaborated on the chemistry with Voracek and their connection for scoring opportunities.  
"With him, I feel like you just have to find the open space and he'll give you the puck so I gotta try to find that space a little more often," Bjorkstand said. "He'll definitely pass it." "That's fun to be a part of and a game like that, you want to win it for him (Voracek) so good job by the team."
How much does his awareness need to change when Voracek is on the ice?
"He's a really good playmaker so every time he has the puck you know that there's a chance the puck can be coming towards you," Bjorkstrand said. "You just have to be a little bit aware, try to find the open ice and get open, because he likes to pass it more than shoot it so that's just a mindset and you got to be ready for it."
Every team deals with injuries, and players in and out of the lineup. It's nice when your first power play unit is reunited and together again.
"Yeah, I mean, (Zach Werenski) is obviously a really good player so when he's out of the lineup it's never a good thing so having him back is huge," Bjorkstrand said. "I think just the five guys out there, we're moving the puck better, making plays, and that's why we got some good chances."  
In 28 games this season with a man-advantage, Bjorkstrand and Voracek have been a scoring force. The duo is 1-2 on the team in power play points as Bjorkstrand has nine points and Voracek has 11. 
These stats below illustrate how much more dangerous the team can be when No. 28 and No. 93 are together on the power play:
88:49 TOI, 89:18 CF%, 14 GF, 1 GA
Seven of those goals on the power play have come when the team is trailing. For Bjorkstrand's part, he's first on the Blue Jackets in PPO (Powerplay Offense Goals Above Average/Replacement (per position)) per Evolving-Hockey.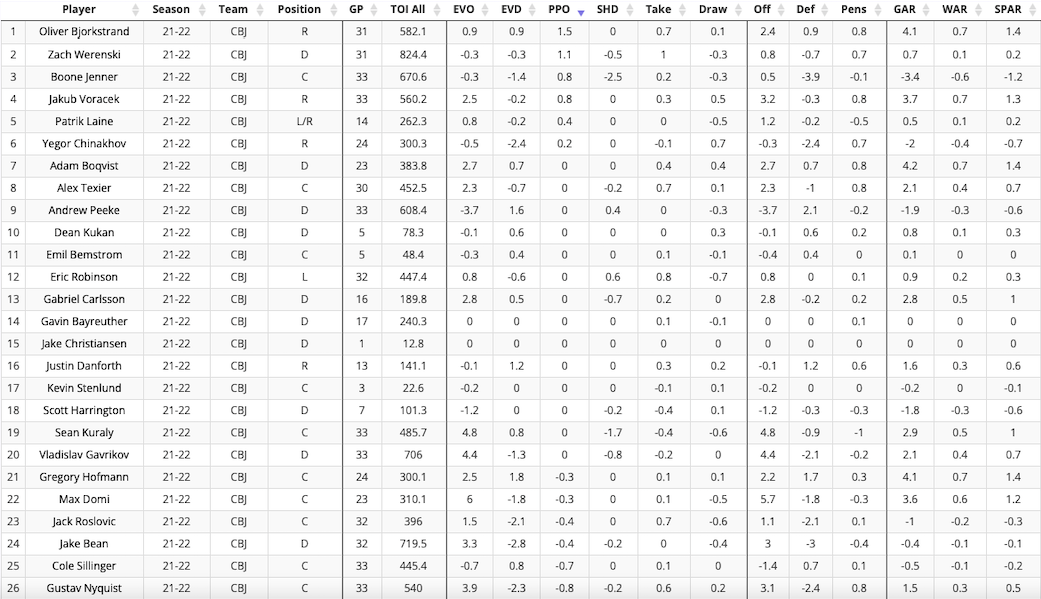 Though the power play as a whole has struggled, perhaps a reunited first unit will show the early-season flash and promise that Saturday might have forecasted. 
This is the first time the Jackets have the No. 1 power play unit together since Nov. 3 when Laine was hurt in Colorado#CBJ PP was at 25.0 percent at that point. It's was at 11.9 percent since then.

— Jeff Svoboda (@JacketsInsider) January 9, 2022
If you need any more signs of encouragement, per Natural Stat Trick, the Blue Jackets' first power play unit of Bjorkstrand, Boone Jenner, Patrik Laine, Voracek, and Werenski has only been together for eight games and has scored seven goals.

That's the type of offensive cohesion the Blue Jackets can surely use on the power play. 
Bjorkstrand and the Blue Jackets will have their next opportunity for a win on Tuesday night at Nationwide Arena when old friend Seth Jones and the Chicago Blackhawks come into town.