Jean-Francois Berube. Unless they also followed the Cleveland Monsters, a lot of Columbus Blue Jackets fans had never heard of him until Sunday when he started in goal against the lowly Buffalo Sabres. With their top three goalies down due to injuries, Columbus turned to Berube.
It had been almost four years since the 30 year-old goaltender had played in an NHL game. Berube was drafted in the fourth round of the 2009 NHL draft by the Los Angeles Kings, but he didn't see his first NHL action until October of 2015 for the New York Islanders. He would play sparingly over the next two and a half years, never starting more than ten games in a season. Then, after April 6th 2018, he disappeared from NHL play until he resurfaced on Sunday night with the Jackets.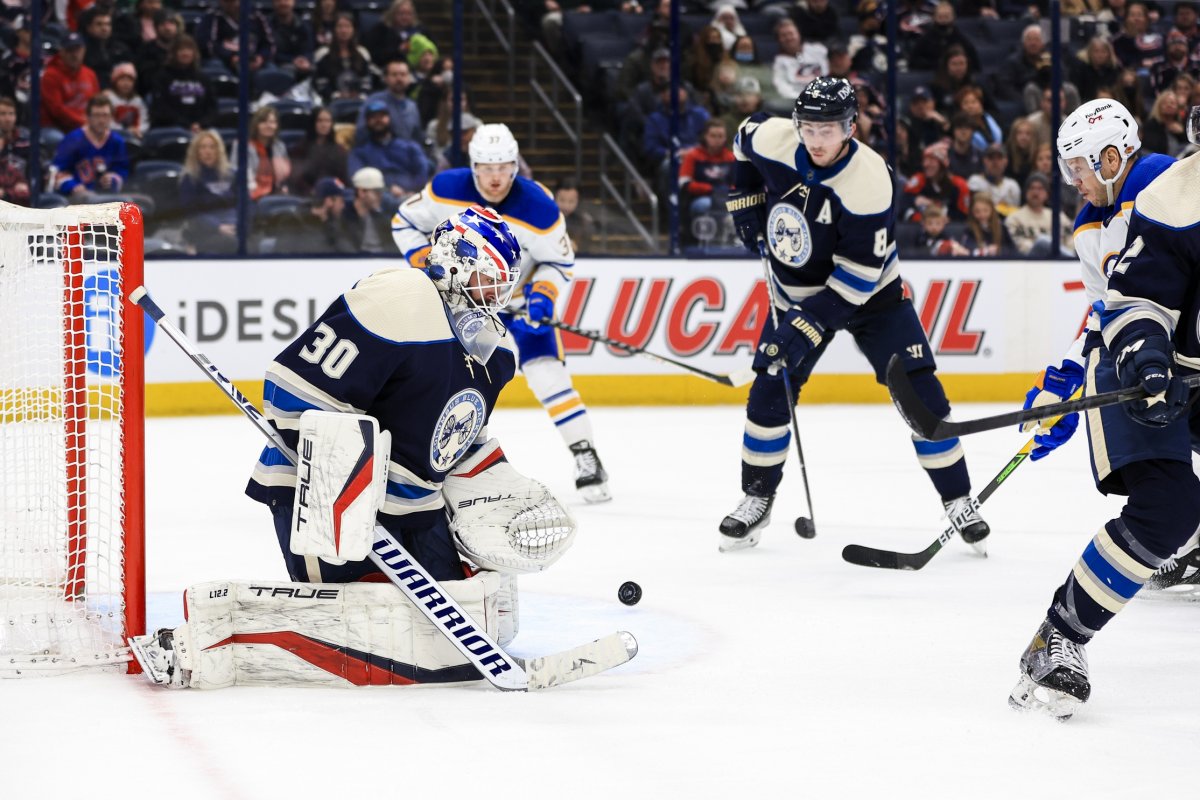 The Blue Jackets had won six of eight heading into the game against the Sabres. The club was looking to continue their strong run, but it was going to be difficult while starting their fourth string goalie. The Jackets offense did its part, pouring in seven goals against Buffalo. Berube did the rest, exceeding expectations by saving 33 of 36 shots for a .917 SV%. Berube was given the third star of the game for his performance in the victory.
Getting a win in his first NHL game in almost four years had to be a fantastic feeling for Berube. This moment was made even sweeter by the fact that his wife Michelle and 19-month-old son Cayden were able to be present for it. Berube talked about it after the game. "It was pretty amazing to see my son in warmup looking at me," he said. "It was maybe his second or third live game. I could see his eyes full of stars, and I can see myself in him, too. So yeah, it was really cool to share this moment with him and my wife."
Cayden Berube with a chance to celebrate with his father J-F after dad recorded his first #CBJ win in his first start for the team. Berube with 33 saves in the 7-3 win. pic.twitter.com/N5hG1UIQgy

— Dave Maetzold (@DMaetzMedia) February 21, 2022
On Tuesday, Berube was back in goal again, with the news that Elvis Merzlikens and Jonas Korpisalo were still not healthy enough to play. This time the Jackets were facing a Toronto Maple Leafs team that was third in the Atlantic Division and a near-lock to make the Stanley Cup Playoffs. The Blue Jackets were 1.5 goal underdogs heading into the game and even though they kept it close, they were trailing in the third period. None of this mattered to Berube who ended up saving 39 of 42 shots for a .929 SV%. He was a large part of the reason Columbus was able to pull out the 4-3 overtime victory against the Maple Leafs. He received the second star of the game this time.
While it is only two games Berube has notched wins in both with a .923 SV% and a 2.99 GAA. He has also faced a higher percentage of unblocked shot attempts than any other goaltender on the team this season, as well as the fact that he has the second highest save percentage above expected on high danger unblocked shot attempts, behind only Merzlikins.
With the strong play of Berube as well as the rumors that the Blue Jackets are shopping Korpisalo at the trade deadline, Berube may have played himself into the backup goalie role for the rest of the season.