It has been said that the only constant, in the NHL and in life, is change.
So to suggest that the end of this season's roster will look anything remotely like the beginning of next season is a fool's errand at best. But don't let that stop me!
The Columbus Blue Jackets defense corps is a fascinating case study, because, barring any free agency acquisitions or trades, we can pretty much write in Sharpie who will be manning the three pairs next season.
With only Dean Kukan set to see his contract expire, the Blue Jackets head into the 2022-23 season with Zach Werenski, Adam Boqvist, Vladislav Gavrikov, Andrew Peeke, Jake Bean, and one of Gavin Bayreuther and Gabriel Carlsson flushing out their bottom-six. All seven of these players are either under contract or team control (Boqvist and Carlsson are RFA).
On the one hand, internal growth due to young players like Boqvist, Peeke, and Bean (and Werenski, who is only 24 in his own right) growing into their prime should result in some organic growth. On the other hand, is it a good thing that a team that is clearly weak on the blueline - they're 30th of 32 in the NHL in goals-against this season - will return basically their entire defense corps?
This had me thinking about other teams around the NHL, particularly at the top of the heap. Take the Colorado Avalanche, for example (Note: I grew up an Avalanche fan and still keep close tabs on their team, so it's perhaps not that random, but it does allow me to speak with more fluency than, say, the Carolina Hurricanes), who has what is likely the best defense corps in the NHL. Aside from Werenski, does anyone on the Blue Jackets even make the team? Maybe Gavrikov? Maybe? 
Point is, there's still a ways to go, and I'm not convinced organic growth will solve their woes. If I had to boil the Blue Jackets' defensive issues down into one thesis statement, it would be that their current players just don't 'fit' into the puzzle as they ought to. Werenski is a top-pairing guy on most teams in the league. But what about after that?
Take Peeke, for example. I like Peeke, think he's an NHL player all day long. But he's probably best served in a third pairing capacity, at least, for now. In the absence of longtime right-handed defensemen Seth Jones and David Savard, though, Peeke has been thrown into the fire, playing basically the role of a top-pairing defenseman. Using The Athletic's Shayna Goldman and Dom Luszczyszyn's player cards as a representation, Peeke's market value is ... ($1.8M). I don't think that's an accurate representation - on the open market, Peeke would get signed (I do love the idea of charging a player to play in the NHL). But his metrics, both projected and pace, suggest he's a bottom-pairing player. To me, that's not an indictment of Peeke, who is being asked to play outside of his element and against high-quality oppositions on a nightly basis.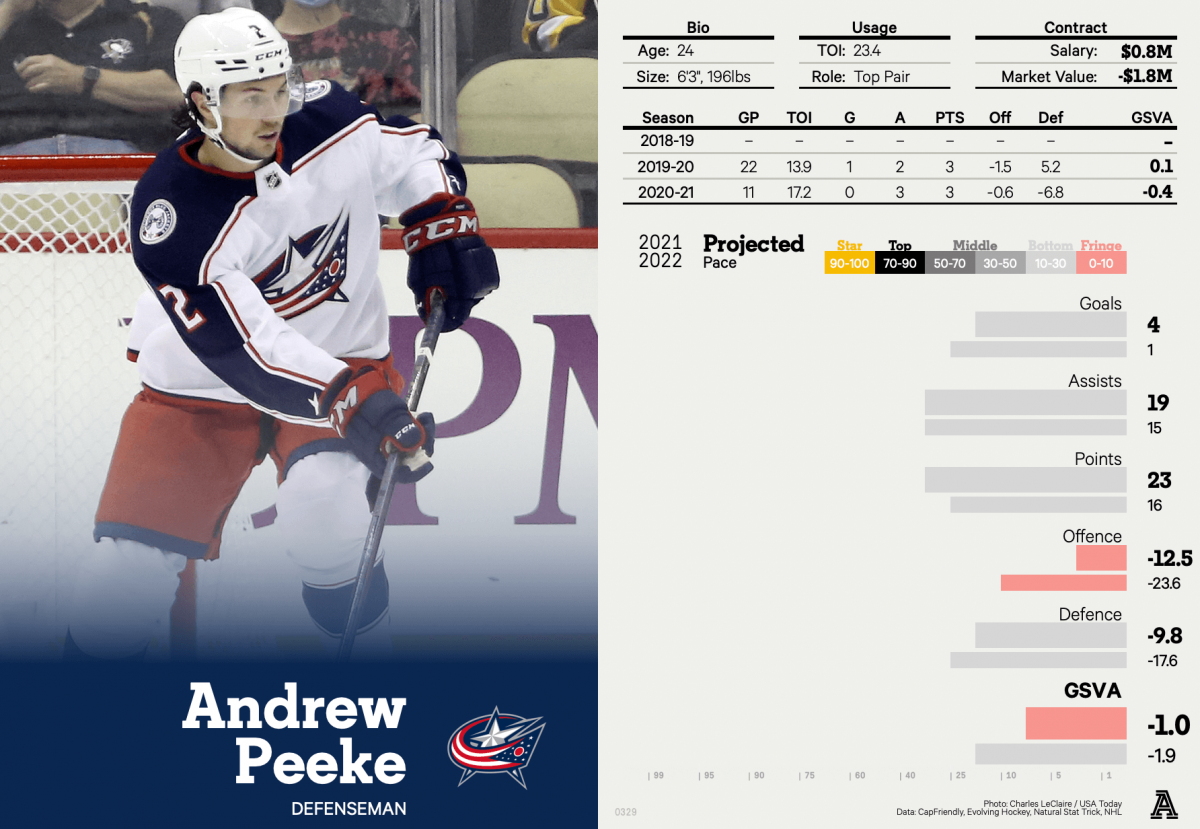 So, who should be playing top minutes alongside Werenski? Boqvist? Same problem. An offensive wizard who loves to join the rush but struggles mightily in coverage and down low in the defensive zone is probably not a good match alongside Werenski. The Blue Jackets know this. By usage, he's actually playing in a much lower role than Peeke, but he doesn't fit the profile of a bottom-pairing defenseman, either.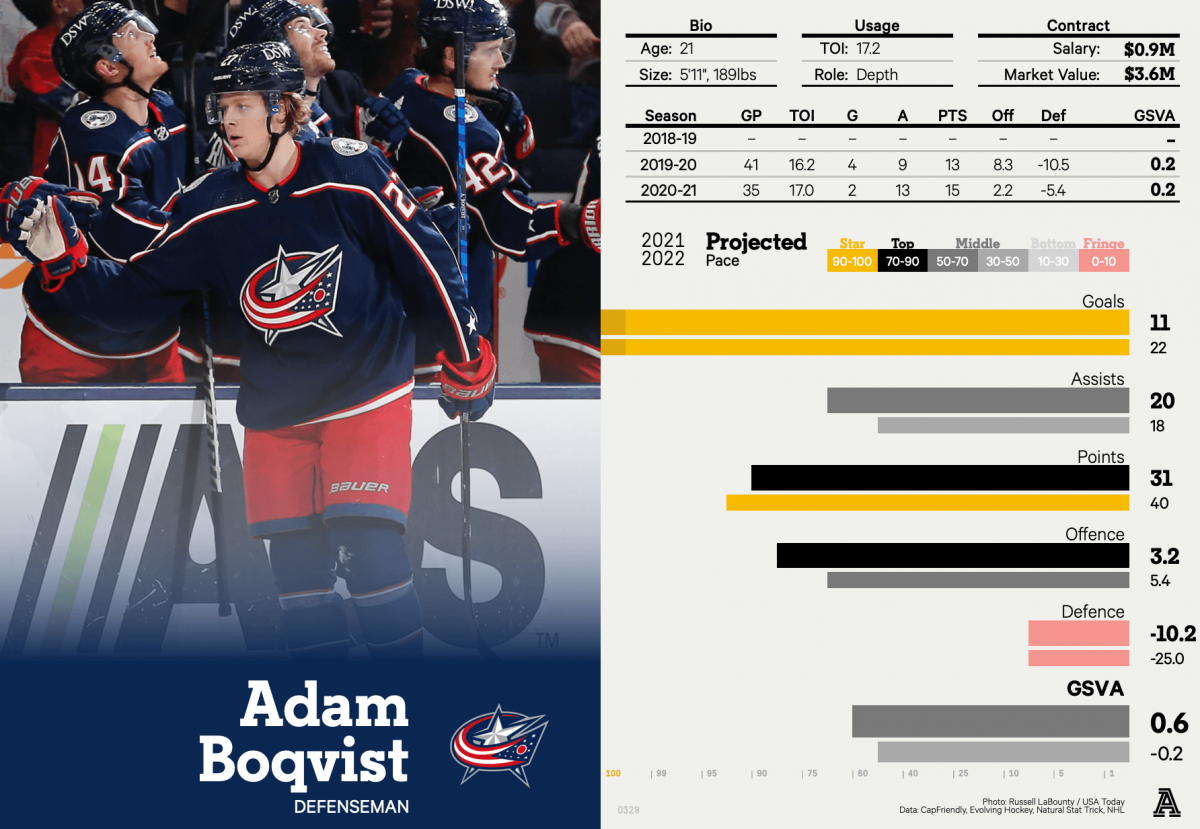 Others, like Bean, are similarly difficult to place. Maybe he's simply a lower-tier middle-pairing guy, but he's left me wanting more. When healthy, he's the club's third option behind Werenski and Boqvist to quarterback a power play, and he's their fourth regular, after Peeke, Gavrikov, and Werenski, on the penalty kill. But I'm not sure he's well-suited for that role, either.
Are he and Boqvist novelty pieces? Did Chicago and Carolina already know that?
Gavrikov is getting top-pair usage in terms of TOI but is clearly the heir to the Savard throne, where he'll be tasked with tough assignments and penalty kill in perpetuity. No problems with that, but I think most would agree that he's a second-pair defenseman on a contending team's roster, probably playing a bit less than the current 22+ minutes/night he is right now. 
Carlsson and Bayreuther are bottom-six options at the moment, but both are expendable at this point. In a perfect world, the Blue Jackets (somehow) find a top-pair right-handed defenseman to play alongside Werenski. Maybe that's Boqvist, (consider me skeptical) and that really would be optimum. Finding that mystery man, or developing Boqvist, would allow Gavrikov to flourish in a slightly lower usage role on the second pair, and could even allow for Peeke to down to the third pair, maybe alongside Bean.
The Blue Jackets have defense prospects, like Jake Christiansen, Corson Ceulemans, Stanislav Svozil, Aidan Hreschuk, and Samuel Knazko. Christiansen, 22, has played four games with the Blue Jackets this year but has starred as a scoring defenseman in AHL Cleveland. He could be ready for a bigger role next year. The others are unlikely to challenge for a role next season, but crazier things have happened.   
In any case, the Blue Jackets are in a precarious spot. They have NHL defensemen up and down the lineup, signed, sealed, and delivered. I'm just not convinced most of them are well-suited for their current role, and, barring a major shakeup, it's likely that we'll see more of the same next season.