Luca Del Bel Belluz, c'mon down.
The Blue Jackets selected Del Bel Belluz with the 44th overall selection Friday in the 2022 NHL Draft. The pick drew a fair of amount of reaction Friday, and not just because of his intoxicatingly fun name.
The kid can play — and he may prove to be an absolute steal in the middle of the second round for general manager Jarmo Kekalainen and company.
After going with defense on both of their first-round picks, the Blue Jackets organization opted to fill another sorely needed position to kick off their Friday portion of the draft; Del Bel Belluz is a good-sized (6'1", 180lb) playmaking center. That's something a bad team never has, and something a good team can never have enough of.
FloHockey's Chris Peters had Del Bel Belluz ranked 31st overall, and on twitter Friday, acknowledged the skill of Del Bel Belluz. 
Columbus gets a skilled, smart player in Luca Del Bel Belluz at 44. Feet need to improve some, but there's good skill there. I had him ranked 31st.

— Chris Peters (@chrismpeters) July 8, 2022
Patrick Bacon of Top Down Hockey was even higher on the 18-year-old, ranking him 23rd overall. The 27% chance to make it in the NHL and 6% chance to become a star in the tweet below may seem like low numbers, but those are substantially higher than most second-rounders and is higher than forwards taken in the first round, including Marco Kasper (8th overall), Noah Ostlund (16th), Liam Ohgren (19th), and six of the eight forwards taken in the last third of the round.
#CBJ select Luca Del Bel Belluz 44th overall. I ranked him 23rd overall.

— Patrick Bacon (@TopDownHockey) July 8, 2022
Del Bel Belluz played this past season with the Mississauga Steelheads of the OHL, and put up phenomenal numbers: in 68 games, the Woodbridge, Ontario, Canada native had 30 goals to go with 46 assists, averaging more than one point per game on a team that went 37-23-8 and advanced into the second round of the league's playoff. Del Bel Belluz was the Steelheads' leading scorer.
Those numbers are a night-and-day difference from the 2019-20, when — with those very same Steelheads — he scored just one goal and added five assists in nearly as many (58) games played. The Covid-19 pandemic made this one of the most wide-open drafts in NHL history, with most young players losing about one full season of in-game development. Whether or not that helped or hurt specific players is a question that won't have an answer for years, but Del Bel Belluz certainly found something to add to his game during the pandemic. 
ICYMI, Luca Del Bel Belluz with a casual end-to-end goal
pic.twitter.com/FtQVsE60jk

— Canadian Hockey League (@CHLHockey) December 10, 2021
The mocks ranged a bit on Del Bel Belluz, but very few had him on the board at #44; most projected him towards the end of the first round. The folks over at Dobber Prospects have, like many others, been steadily rising on the center. Each player gets a point-per-game potential rating based on a number of factors, and with their projection that Del Bel Belluz could peak at somewhere in the 50-55 points per season range, that would put him on par with an Oliver Bjorkstrand-like forward from a purely scoring vantagepoint.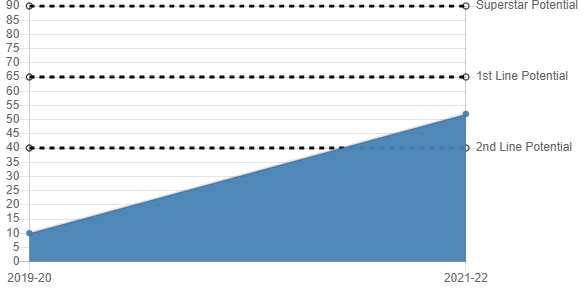 As there is with every pick and every draft, there are things that Del Bel Belluz will need to improve upon to make it at the NHL level. The good news for the 18-year-old is that there are no glaring weaknesses when it comes to his skillset, compete level, or hockey IQ. He's got size, but the strength isn't there yet. He'll need to hit the weight room and add a degree of physicality to his game. 
Skating technique and ability routinely come up, as well. Like bulking up, those are easily-addressable tangibles. The intangibles — vision, IQ, a naturally hard shot — they're already there. It's why Del Bel Belluz probably should have heard his named called Thursday night instead of Friday morning. 
The Blue Jackets aren't complaining, though. While there doesn't appear to be a path for Del Bel Belluz to pull a Cole Sillinger and play the entire season in Columbus, how far away from the NHL he is could come down to how quickly he grows into his body and fine-tunes the mechanics. They don't need to rush him along, though. Columbus is stockpiling talented forwards that are close to bursting onto the scene, with many around the league are taking notice.
Del Bel Belluz is now a part of that conversation.