Which player could be the one to break out this season?
How about Yegor Chinakhov?
The 2020 first-round selection by Jarmo Kekalainen surprised many at the time that the 21st overall pick was taken in the draft, and then made last year's opening night roster out of camp.
The 21-year-old Russian played in 62 games, scoring 14 points (seven goals, seven assists). Four of his games were multi-point performances including his two-goal game against the Carolina Hurricanes, part of the Blue Jackets 6-0 win on Jan. 13.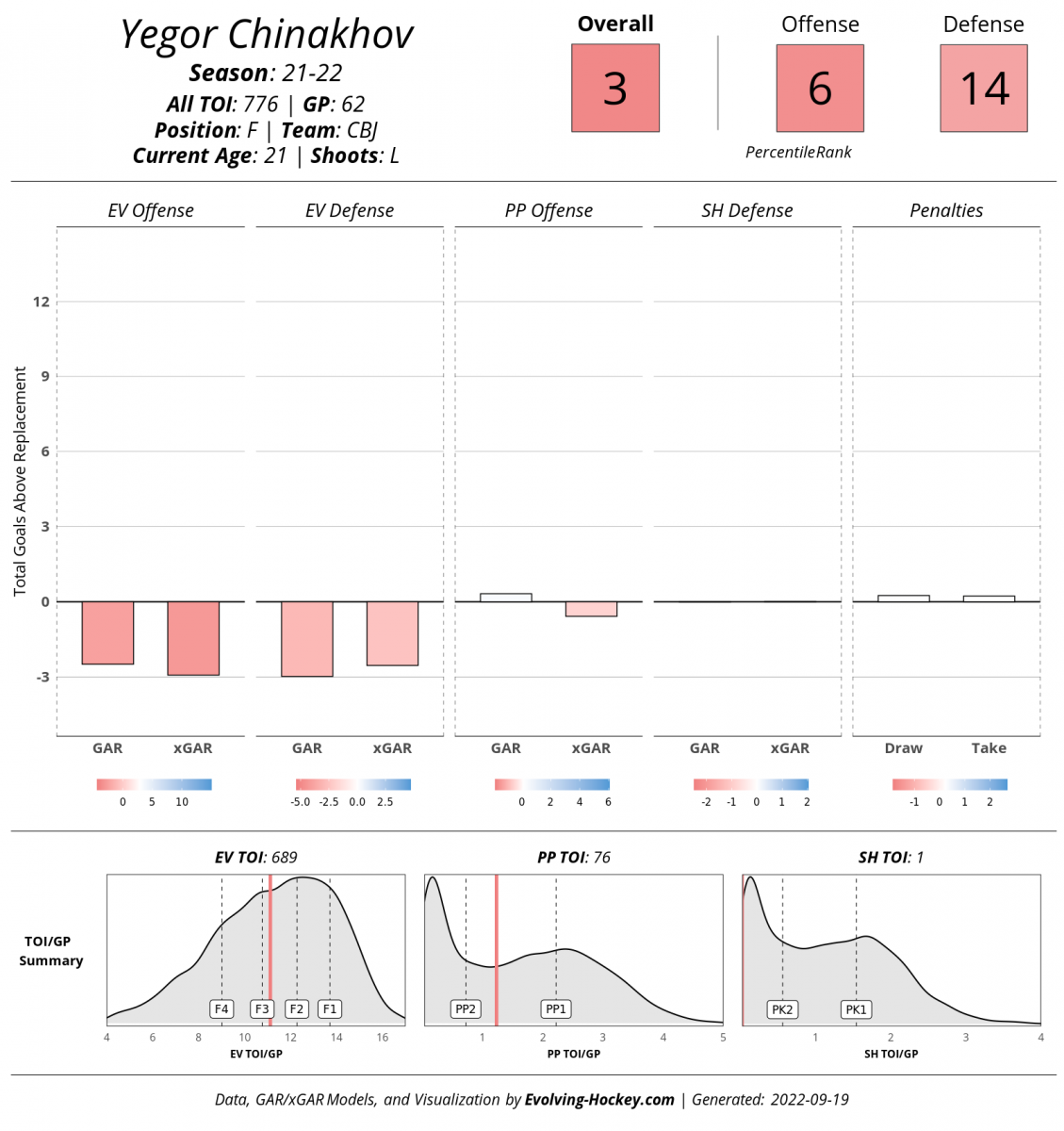 Chinakhov was among the teams' numerous questions entering last season as one of many prospects on one of the youngest clubs in the league. Now that he's entering year two with the team, what kind of player will we see?
Dan Greene projects Chinakhov will be a bottom-six forward on the third line, in the 25-30 point range, on a line with Cole Sillinger and a player to be determined now that we know Alexandre Texier won't be part of this year's club.
When talking with Bally Sports Columbus's Jean-Luc Grand-Pierre and answering my question on where Kent Johnson might line up this season, he mentioned he'd like to see Johnson on the first two lines. Grand-Pierre said right now, he'd pencil Johnson in on the third line, but training camp is the opportunity for players to raise eyebrows and certainly, that opportunity extends to Chinakhov to raise eyebrows as a second-year pro.
A line of Johnson, Sillinger, and Chinakhov might be one of the better forward lines outside of Johnny Gaudreau and Patrik Laine one day in the near future, and the potential scoring and playmaking ability on the third line right now is certainly full of intrigue should that materialize at some point this season.
.@JLGP34 and I talk about the upcoming #CBJ season. Johnson and Sillinger, what he was doing when he found out about the Gaudreau signing, Defense + Elvis taking next step, and JL GPs burning questions https://t.co/zABPxTXnr6 https://t.co/kbXIvfCvk1

— Will (@willgchase) September 19, 2022
Before coming to Columbus, Chinakhov played in 32 games for KHL's Avangard Omsk (10 goals, 17 assists) and in 2019-20, scored 69 points (27 goals, 42 assists) for Omskie Yastreby, whom he wore the 'A' for in the MHL, Russia's top junior league. He's only played in one AHL game for the Monsters, where he scored his lone goal.
In Aaron Portzline's article for The Athletic, One burning question for each Blue Jackets player entering training camp, the question around Chinakhov is can he put it together this season or even see time in Cleveland?
There are a lot of similar players all looking to prove themselves, including those who haven't had the amount of ice time that Chinakhov had last season. He might not have the same leeway if he doesn't up his performance this year.
We've heard a lot about Chinakhov's shot and if that shot gets going, it can help pave the offensive way for him.