The one position that has so often confounded the Columbus Blue Jackets is among those of the utmost importance.
You know what it is.
The Blue Jackets have always looked to solve the position down the middle of the ice: the center position. Though they don't currently feature a bona fide superstar on the roster that can fill that spot—that's not to say it won't eventually be someone like Cole Sillinger or even Kent Johnson—they have had a blend of offensive production coming from that spot, as well as struggles among their primary centers this season.
---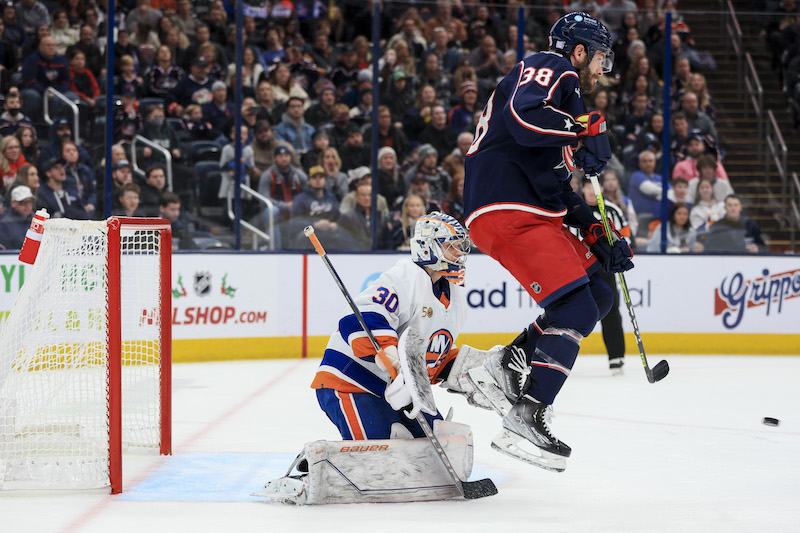 Boone Jenner is once again having a great start to his season.
It took a little while for the offense to click as Jenner worked himself back into form following the back injury that sidelined him at the end of last season.
After scoring four points (one goal, three assists) in 10 October games, Jenner went on a November tear, scoring 11 points (eight goals, three assists) in 11 games to lead the Blue Jackets. His eight goals in November equal the amount scored by Nikita Kucherov, Auston Matthews, Connor McDavid, and John Tavares to name a few. Jenner's 15 points on the season are second behind Johnny Gaudreau (22), his nine goals lead the team, and he's tied for fourth on the team with six assists.
Following a rare two-game pointless drought, Jenner scored a goal against the Vegas Golden Knights in Monday's shootout loss and has four multi-point games this season, and two two-goal games.
Though Jenner probably wouldn't be a true No. 1 center on most teams around the league, he has found instant chemistry with Gaudreau on the Blue Jackets first line which is certainly a positive. Jenner is first among Jackets regulars in individual scoring chances for per 60 (9.37) while 5v5 according to Natural Stat Trick. His 56.4% success rate leads the team in the face-off circle (256-of-454).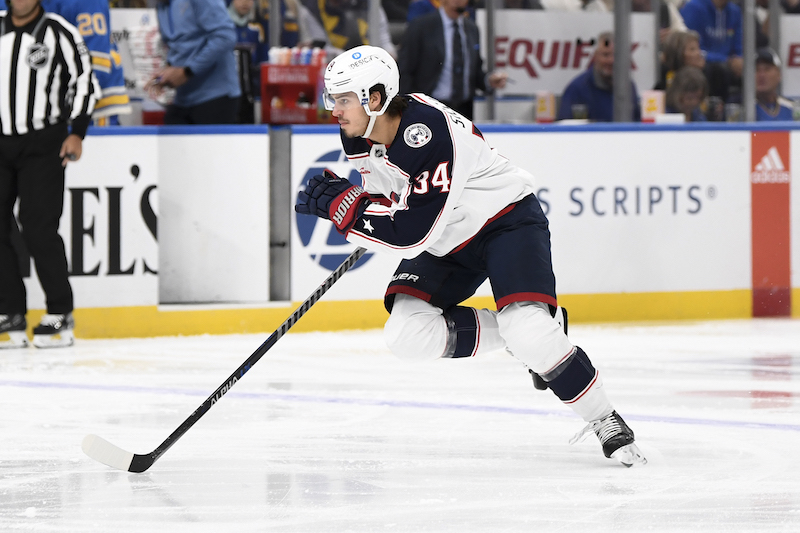 He's still so young, and yet, Sillinger already played in his 100th career game on Monday against the Golden Knights.
A solid start to his NHL career last year, it's been a little slower for Sillinger in the 2022-23 season. Our Dan Dukart wrote about Sillinger on Monday and explained why despite the slow start, it's not time to panic.
Currently, Sillinger has five points (two goals, three assists) through the team's 21 games. He did have three points, including two goals, in a three-game span from Nov. 12 through Nov. 17 when he scored his first goal of the season in a loss at the New York Islanders, recorded an assist in a win over the Philadelphia Flyers, and scored a goal in a win over the Montreal Canadiens.
Sillinger has averaged 13:07 ice time this season so he's another young player who could probably benefit from more playing time. But that might be hard to crack if he's not producing more on the score sheet for Larsen to call his number.
Sillinger is 18th in time-on-ice per game at 5v5 (11:42, per NTS) but while he's searching for more offense, one metric he excelled in last season is one that he's towards the top at this year. His 7.32 individual scoring chances for per 60 is third on the Jackets among regulars. He's third with 30 individual scoring chances.
---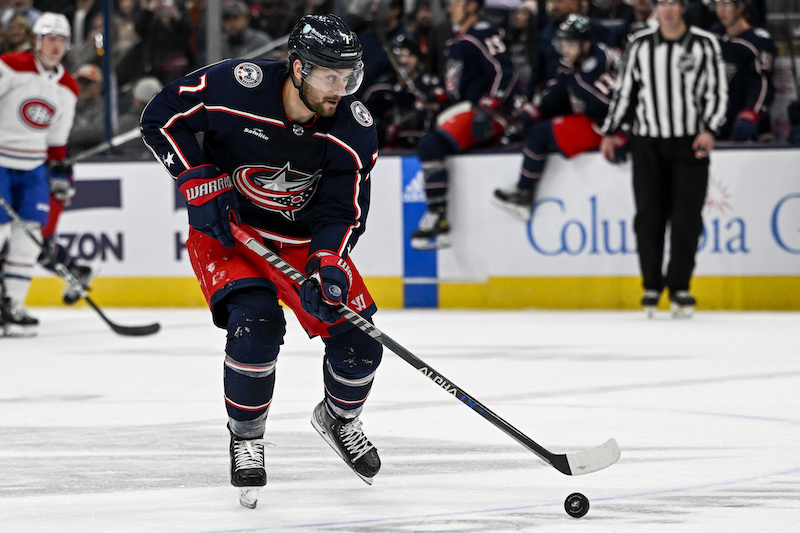 Sean Kuraly is off to one of his better starts. He has nine points (six goals, three assists) through 19 games. Kuraly scored career-highs with 30 points and 14 goals in his Blue Jackets debut last season and it looks like he might be setting new highs this season.
Kuraly and his fourth-line mates of Eric Robinson and Mathieu Olivier have been quite a storyline for Larsen, and the fans, who aren't so keen on just how often the fourth line has been relied on late in games.
However, as NTS points out, the Robinson - Kuraly - Oliver line is in the top 10 among 5v5 regulars for individual expected goals per 60.
And the conversation about how they're utilized in games aside, it's not to take away from how effective Kuraly, and his line, have been when they are called upon.
Kuraly isn't a superstar but he checks a lot of boxes that teams like Columbus need in the lineup. He's leading the team with 48 hits and has a 49.0% (151-of-308) clip in the face-off circle. Per NTS, Kuraly is second among Blue Jackets regulars with 1.13 goals per 60 and third behind Gaudreau and Johnson with 1.98 total points per 60. 
---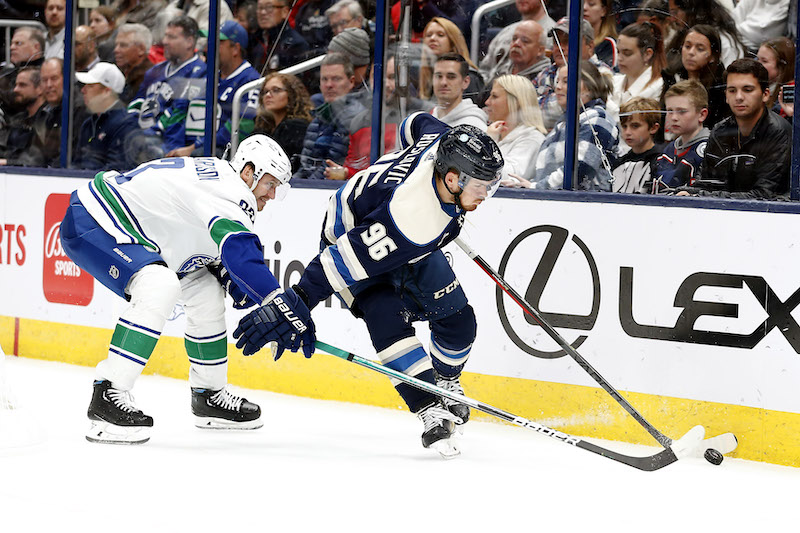 Jack Roslovic is off to another slow start, similar to how last season was playing out.
With six points (one goal, five assists) through 18 games, Roslovic just finished the month of November with one point, an assist, against the Colorado Avalanche in Finland on Nov. 5. 
From Oct. 20 through Oct. 23, he had a five-point (one goal, four assists) cluster in a three-game span. Needless to say, Larsen needs more from his center.
Between missing games as a healthy scratch and with illness, Roslovic looks to get back to the level we saw last April when he scored at will with 13 points (10 goals, three assists) down the stretch.
Interestingly enough, Roslovic's 15:59 average time-on-ice dwarfs that of Johnson (12:50) which was its own storyline. He is right behind Sillinger in individual scoring chances for per 60 (6.93).
---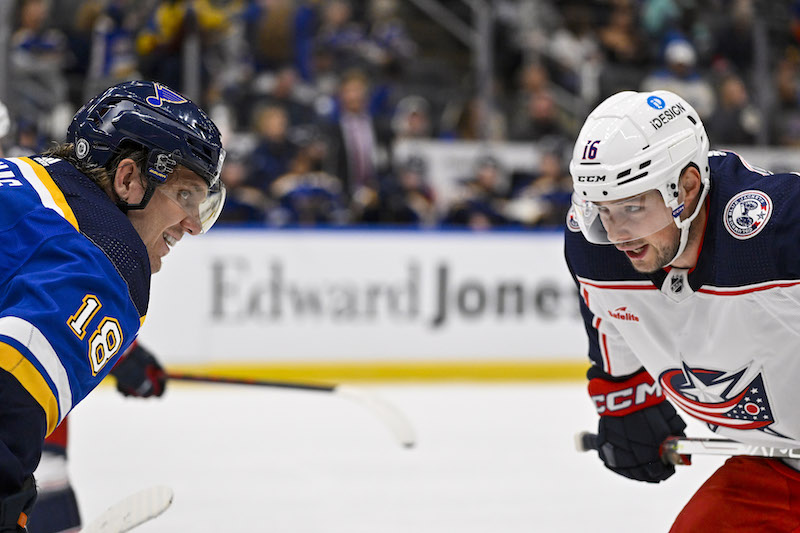 Not to be confused as a regular starter—he was sent back to Cleveland on Monday, anyway—Brendan Gaunce has been called upon in a pinch for the Blue Jackets as a replacement for Kuraly and Roslovic on a few occasions. In five games, he has one assist.
---
Overall, the Blue Jackets are getting some nice performances from those in the group listed above, but the results are mixed as they definitely need more from Sillinger and Roslovic. Sillinger might be figuring his way through a sophomore slump thus far but Roslovic's slow start is a trend. 
Will that mean he gets hot at some point soon? Even so, the Blue Jackets don't have that true game-breaker at the center position.
There is one in the upcoming draft but it will take a little luck, and then some, to have a chance at the top prize, Connor Bedard.