When you point to the many elements ailing the 2022-23 Columbus Blue Jackets, you can point to an abundance of factors pointing in many different directions.
Many factors make up a good team like coaching, scoring, great goaltending, a lethal power play, a shutdown penalty kill, and a great defense. Lots of intangibles contribute to a good season and lots can happen to derail a season. You never know when injuries will rear their head and it's something everyone deals with.
Coby Maeir talked about the many blowouts the Blue Jackets have suffered through this season. That was before their 4-3 shootout win over the Carolina Hurricanes on Saturday and one of their best efforts of the season, a 1-0 loss, to the Washington Capitals on Sunday.
Below we take a look at the good, the bad, and the just plain ugly of the Blue Jackets' defense this season.
---
The Good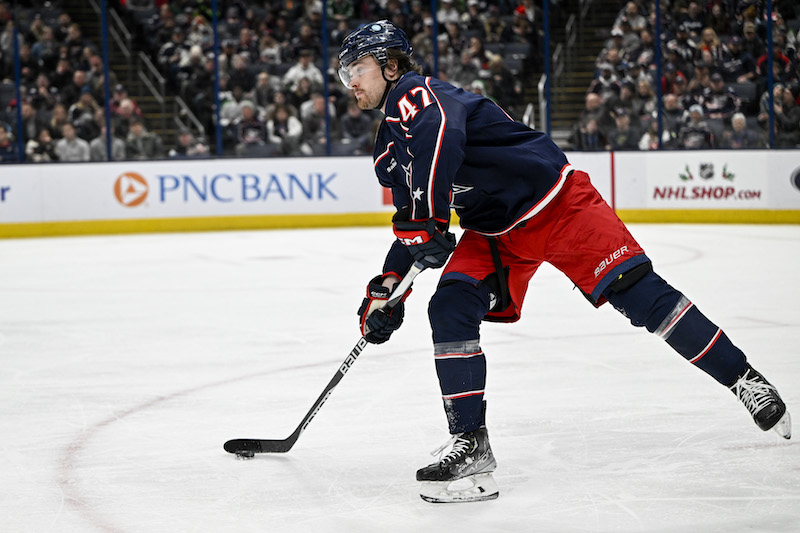 Marcus Bjork has been among the standout surprises, not just on the Blue Jackets blue line, but for the team as a whole. Perhaps he never gets to play this season if things go differently and injuries aren't as numerous as they have been, or maybe his opportunity is shorter.
Instead, Bjork has become one of the more important pieces on the team, with contributions including manning the top power-play unit and averaging 19:05 ice time per game.
With injuries to key players come significant opportunities for players looking to make their own impact. With 11 points (three goals, eight assists) in 25 games, Bjork was a healthy scratch against the Capitals on Jan. 5, breaking a string of 23 straight games played dating back to his NHL debut on Nov. 12 when he scored his first career goal. In his return to the lineup over the weekend on Saturday against the Hurricanes, he had an assist in the 4-3 shootout win.
Bjork is currently eighth among rookie defensemen in the top 10 for scoring with his 11 points and every player above him has played at least 30 games. Being that it's a long season and his first crack at the NHL, we'll see if he's able to maintain the poise and composure he's displayed to this point.
From a defensive aspect, he's still raw and might not even be a part of the future of this team when they're ready to contend. His 5v5 GA/60 (2.38) is among the better metrics on the team but he has a 2.99 xGA/60 according to Natural Stat Trick.
Another storyline that can surely fall into the 'good' element could be the defensemen of the future like David Jiricek (seven points, three goals, four assists) being voted as the best defenseman in the World Juniors.
On deck for the 2023 #WorldJuniors Directorate Awards:
Best Defender: David Jiricek
Best Forward: Connor Bedard
Best Goalie: Adam Gajan
MVP: Connor Bedard

Story: https://t.co/6kkhWQlfTf@narodnitym @HockeyCanada @HockeySlovakia pic.twitter.com/Q17SN5xUYw

— IIHF (@IIHFHockey) January 6, 2023
Stanislav Svozil, the captain of Czechia, had eight points (one goal, seven assists).
Vladislav Gavrikov (nine points, two goals, seven assists) has been the guy on the Blue Jackets' defense, thrust into the first pairings due to injuries to the supporting cast. In turn, he's probably only increasing his value as a UFA-to-be which can come in handy at the trade deadline. Although now he's day-to-day with an upper-body injury.
---
The Bad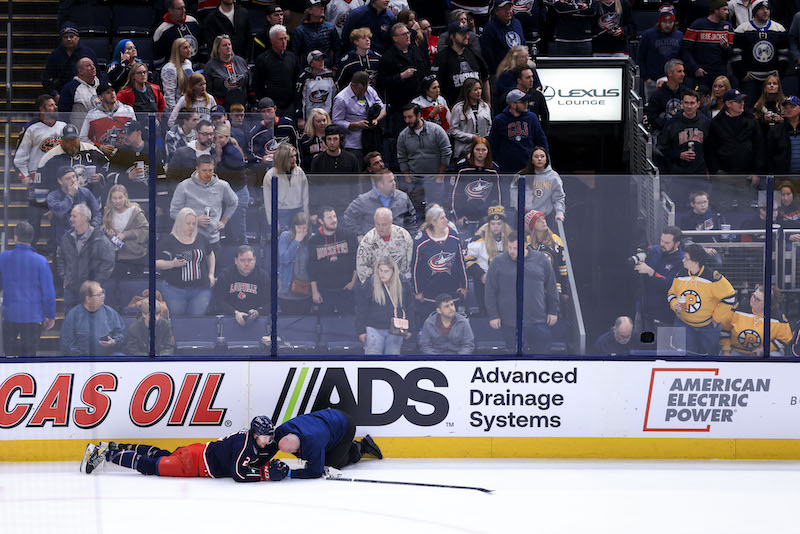 One can go in many different directions but how do you not start with the number of injuries that have taken a bite out of the blue line?
Last season, the Blue Jackets had the sixth most goals from its defense (43) and that's thanks to the likes of Zach Werenski (11), Adam Boqvist (11), Jake Bean (seven), Gavrikov (five), Dean Kukan (three), Andrew Peeke (two), Gabriel Carlsson (two), Nick Blankenburg (one), and Jake Christiansen (one).
This season, the blue line has scored 16 goals.
Werenski (three) is out for the remainder of the season with a torn labrum, Peeke (three) has scored the most goals in his career now but hasn't had the same overall consistency as last season, Bjork as we mentioned has three goals, Blankenburg (two) has missed nearly two months with a fractured ankle and should return soon, Gavrikov has two (both in overtime) and could be traded at the deadline, Gavin Bayreuther (one), Bean (one) is out for the rest of the season with a shoulder injury, and Erik Gudbranson, the big signing on defense, has one goal.
Christiansen is currently in Cleveland and the Blue Jackets said goodbye to Kukan who is playing overseas. Boqvist has missed most of the season with a broken foot, after signing a three-year extension last summer ($2.6 million AAV), and was held out of the lineup as a healthy scratch over the weekend.
---
The Ugly
While you can't necessarily conflate this with only the defense, the Blue Jackets have let in 151 goals, the fourth most in the league tied with the San Jose Sharks, behind the Anaheim Ducks (167), Montreal Canadiens (156), and Vancouver Canucks (152). Their 3.87 goals allowed per game is 30th in the league and only worse than last season (3.62/28th) although it's fair to suggest that injuries obviously play a part.
The goaltending hasn't been great, but a little better thanks to Joonas Korpisalo and Daniil Tarasov, but everything goes hand in hand among the defense, the goaltending, and the forwards when it comes to sound play and keeping the puck out.
As mentioned, aside from Johnny Gaudreau, the only real significant signing for the Blue Jackets last summer was Gudbranson, and that was while already knowing how poor the defense was last season.
Gudbranson isn't a defensive stalwart, and though he can help address another glaring issue from last season—lack of grit—this season hasn't gone similarly to last year for Gudbranson, though his term was apparently the going market price for any team and the Blue Jackets committed the four years at a $4 million cap hit and $16 million total.
Erik Gudbranson had a somewhat resurgent season with CGY last year, but he has historically been very close to a replacement level defensemen. Regardless, we projected his next contract, with a new team, at 4 year contract at $3.6M. https://t.co/2lCHJCBzJb pic.twitter.com/GJpFjhOk9B

— Evolving-Hockey (@EvolvingHockey) July 13, 2022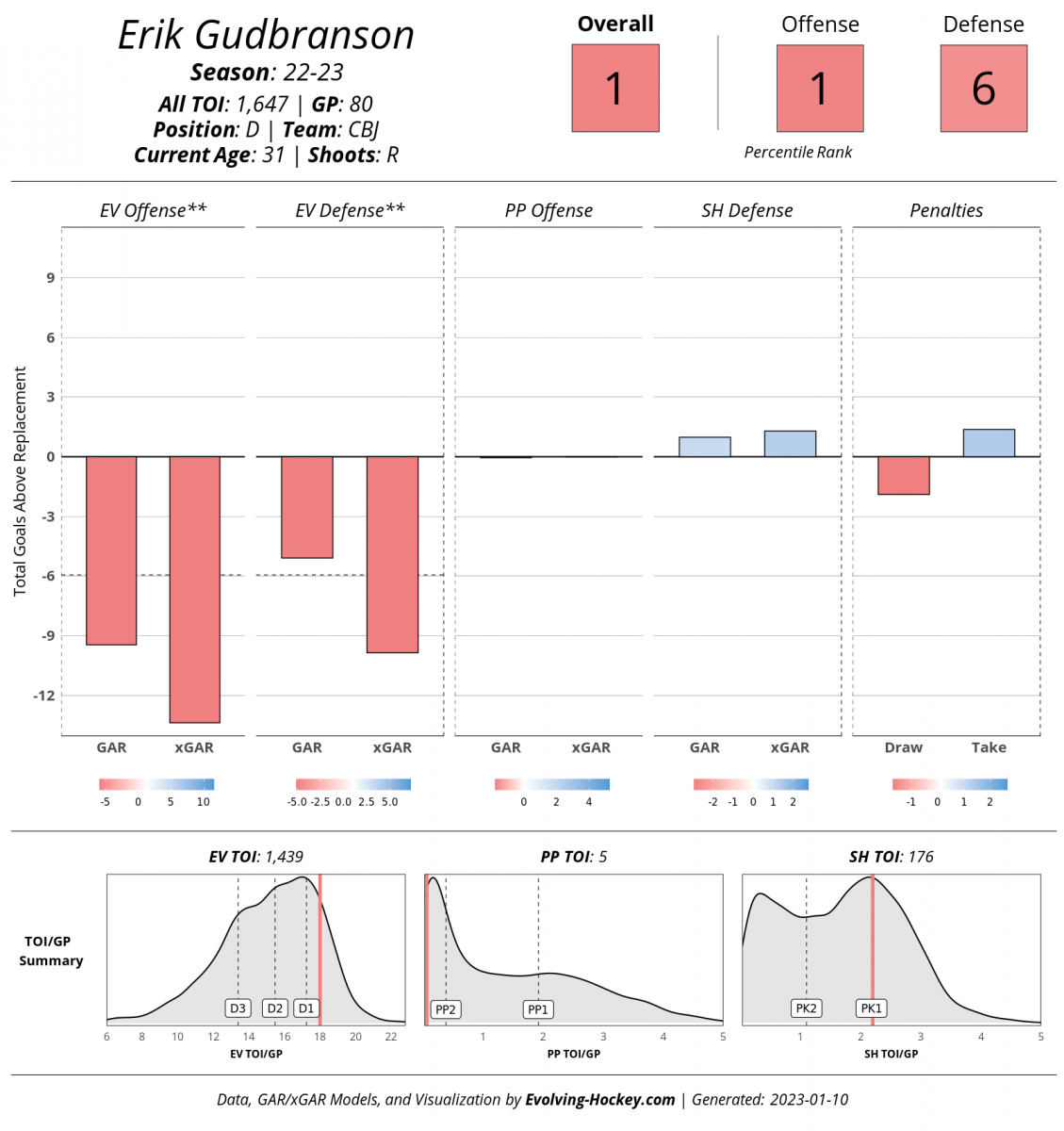 The Blue Jackets turned in one of their best games of the season in Sunday's 1-0 loss to Washington, outshooting the Capitals 38-19, and having the edge of the expected goal statistic per Natural Stat Trick (2.28-1.16).
Columbus will look to continue their elevated defensive play on Tuesday when they take on the Tampa Bay Lightning from Amalie Arena.