I've been waiting for at least a month to put this article out, but the time seems right after Friday night's game. 
In case you missed it, Kent Johnson pulled off the "Michigan" lacrosse-style goal in one of the goals of the year.
Kent Johnson, University of Michigan product, does The Michiganin Columbus. #CBJ
pic.twitter.com/aAN3dk2pYN

— Coby Maeir (@CobyMaeir) March 25, 2023
As my colleague Dan Dukart wrote Monday morning, it wasn't your typical "Michigan" ether. 
While Johnson is the team's fifth-leading scorer with 15-23--38 in 69 games played, he's first on the team in goals above replacement (8.2), tied for first wins above replacement (1.4), and first in standings points above replacement (2.7), per evolving-hockey.com.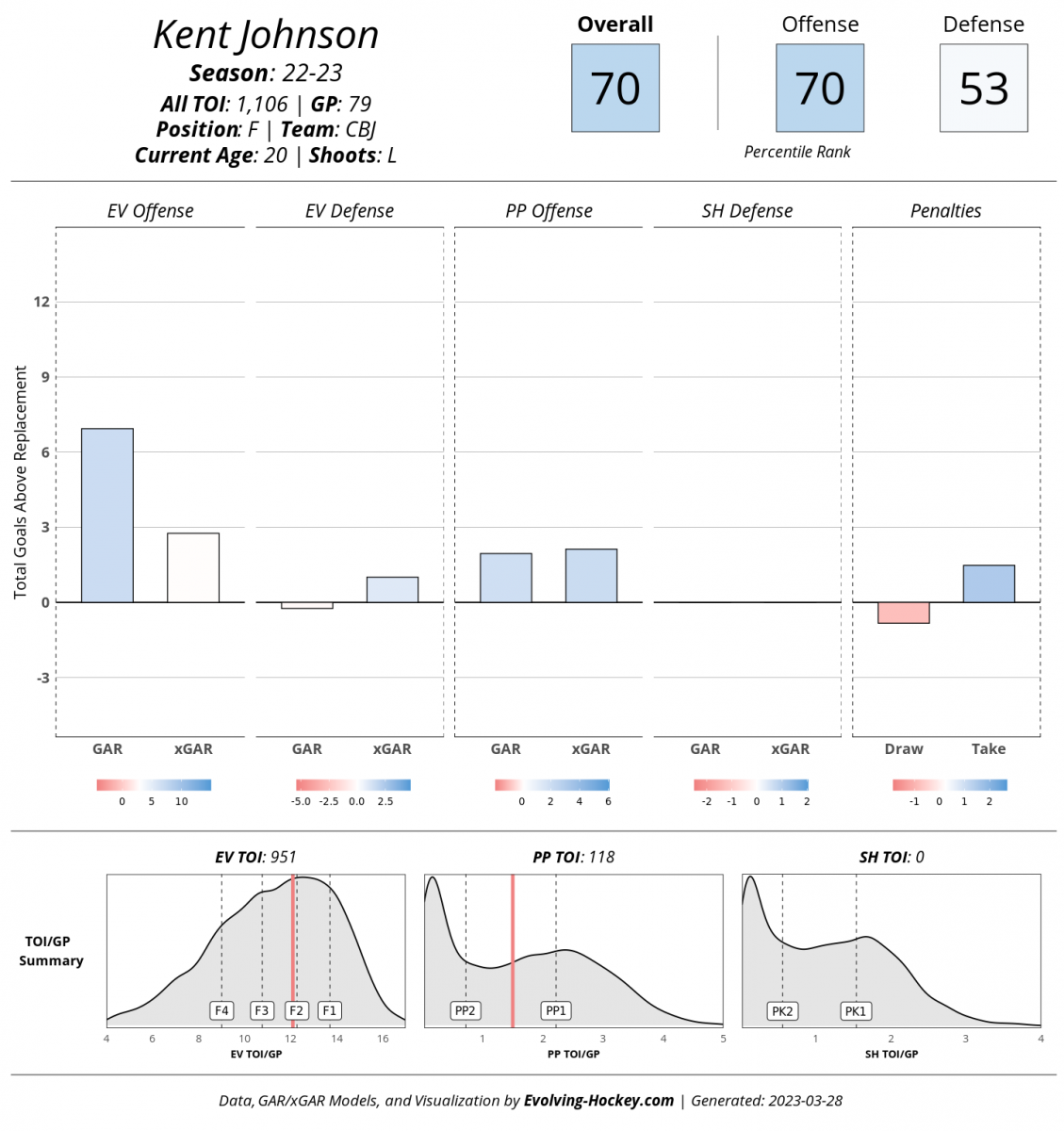 But the stats don't really do him justice, do they? He does so much to impact that game on both ends of the ice. For example, he was the main catalyst for Lane Pederson's goal on Saturday, making a nice defensive play and getting the primary assist. 
#CBJ Pederson (3) goal pic.twitter.com/Rxhtq5GVoU

— Coby Maeir (@CobyMaeir) March 25, 2023
Maybe he wasn't the team's best player in the first half of the season, but his play post-all-star break, in my eyes, has been the best on the team, vaulting his play over the course of his rookie campaign to the best on the team. Now, I have to add that Zach Werenski, when healthy, is the team's best player, but he's been out since November with a torn labrum.
As he's shown, he's the most skilled player on the team, he's up there with Johnny Gaudreau as the best passer on the team, and he's got a good shot, as well. The fact that he's displaying this confidence as a 20-year-old is a great sign, especially because he deserves to be confident in his superstar abilities. Not only does he have that going for him, but he's an extremely hard worker, always one of, if not the last player off the ice after practices and morning skates. Combine hard work with talent, and you get elite players. That's what Johnson has the chance to be for a long time.
This season, where he's already established himself as arguably the best player on the team, is just a small sample of what may be in store for the future.