The Columbus Blue Jackets are beefing up their blue line.
Friday's big trade was the second of the week for Columbus who acquired Damon Severson in a sign-and-trade with the New Jersey Devils.
Not to bury the lede, there's also Tuesday's trade that saw Ivan Provorov come over to Columbus from the Philadelphia Flyers as part of a three-team trade with the Los Angeles Kings.
This week's moves are among the first steps to the off-season for general manager Jarmo Kekalainen.
Head coach Mike Babcock will be officially introduced after the month of June and the NHL Draft will be taking place later this month from Nashville.
But during the pause between Game 2 and 3 of the Stanley Cup Final, hockey trades began to play out.
It's no secret the Blue Jackets needed to improve their defensive corps. So what does Provorov's career retrospective look like?
Provorov, 26 years old, was the seventh overall draft pick in 2015 and has been with the Flyers since his debut season in 2016-17. One thing that sticks out is he's been healthy throughout his career to this point. In seven seasons, he has played every game in a season five times, and he played 79 games in 2021-22.
Provorov has 217 career points (65 goals, 152 assists) in 532 games. He has 10 power-play goals and 47 power-play points.
The 2015 NHL draft is headlined by the first two selections from that class, as Connor McDavid went to the Edmonton Oilers and Jack Eichel went to the Buffalo Sabres.
That deep class also saw Dylan Strome to the Arizona Coyotes at No. 3, Mitch Marner to the Toronto Maple Leafs at No. 4, Noah Hanifin to the Carolina Hurricanes at No. 5, Pavel Zacha to the New Jersey Devils at No. 6, Provorov to the Flyers at No. 7, and Zach Werenski to the Blue Jackets just one pick later at No. 8.
Now the seventh and eighth picks from that draft are together.
In that draft eight years ago, there was speculation about the Blue Jackets trying to trade up to the third pick but ended up staying pat to draft Werenski. An inside view from their draft table sheds insight including calls general manager Jarmo Kekalainen had with other teams prior to the Jackets' selection at No. 8.
At that point, Kekalainen seemed to know Werenski was their guy.
Today, the Blue Jackets defense is better than it was at the outset of the week. A healthy Werenski is set to return for the 2023-24 season and now you add Provorov. Not to mention Severson.
Below is his chart from Evolving-Hockey depicting Provorov's 2022-23 season.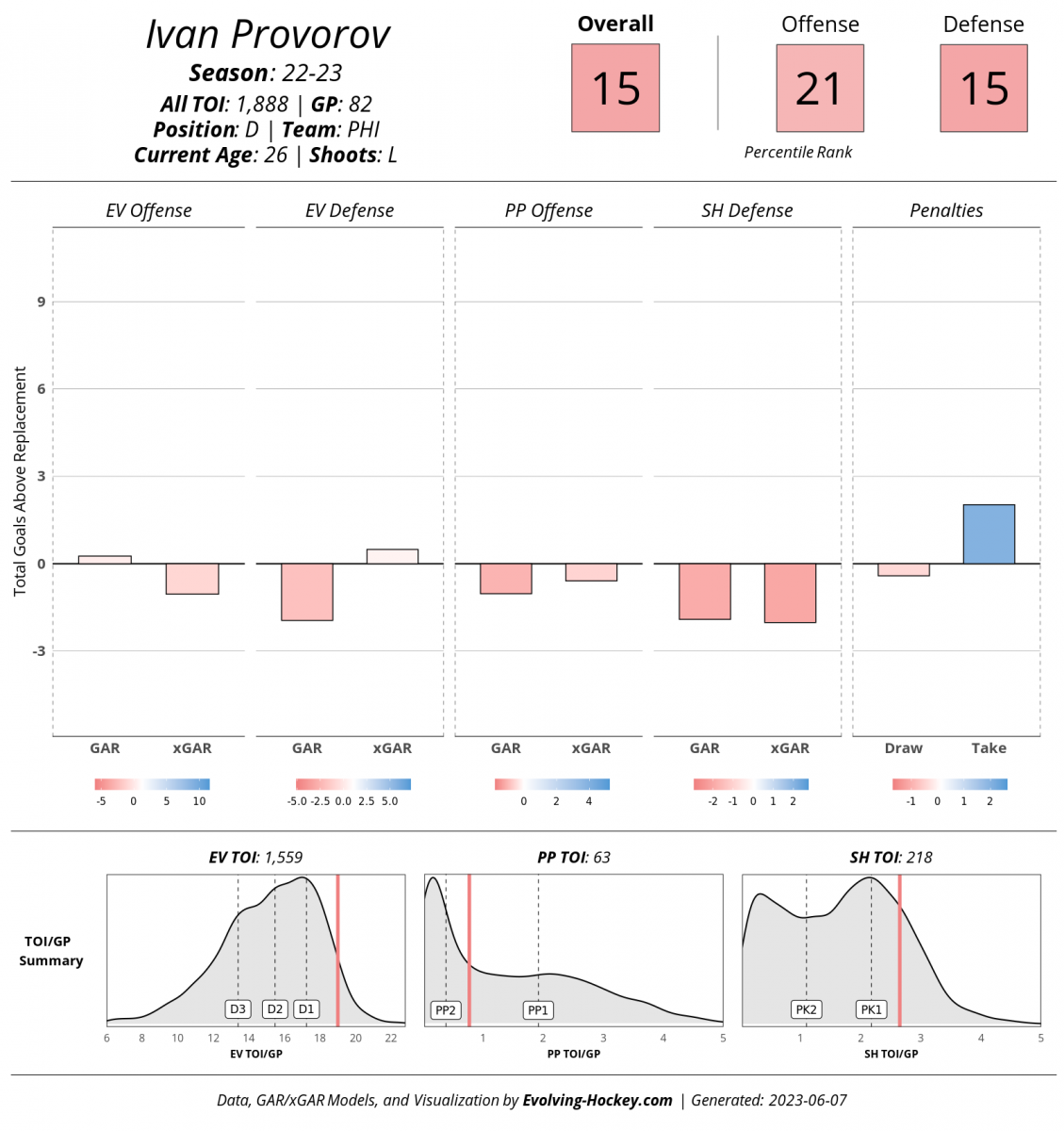 And his chart from the past three seasons.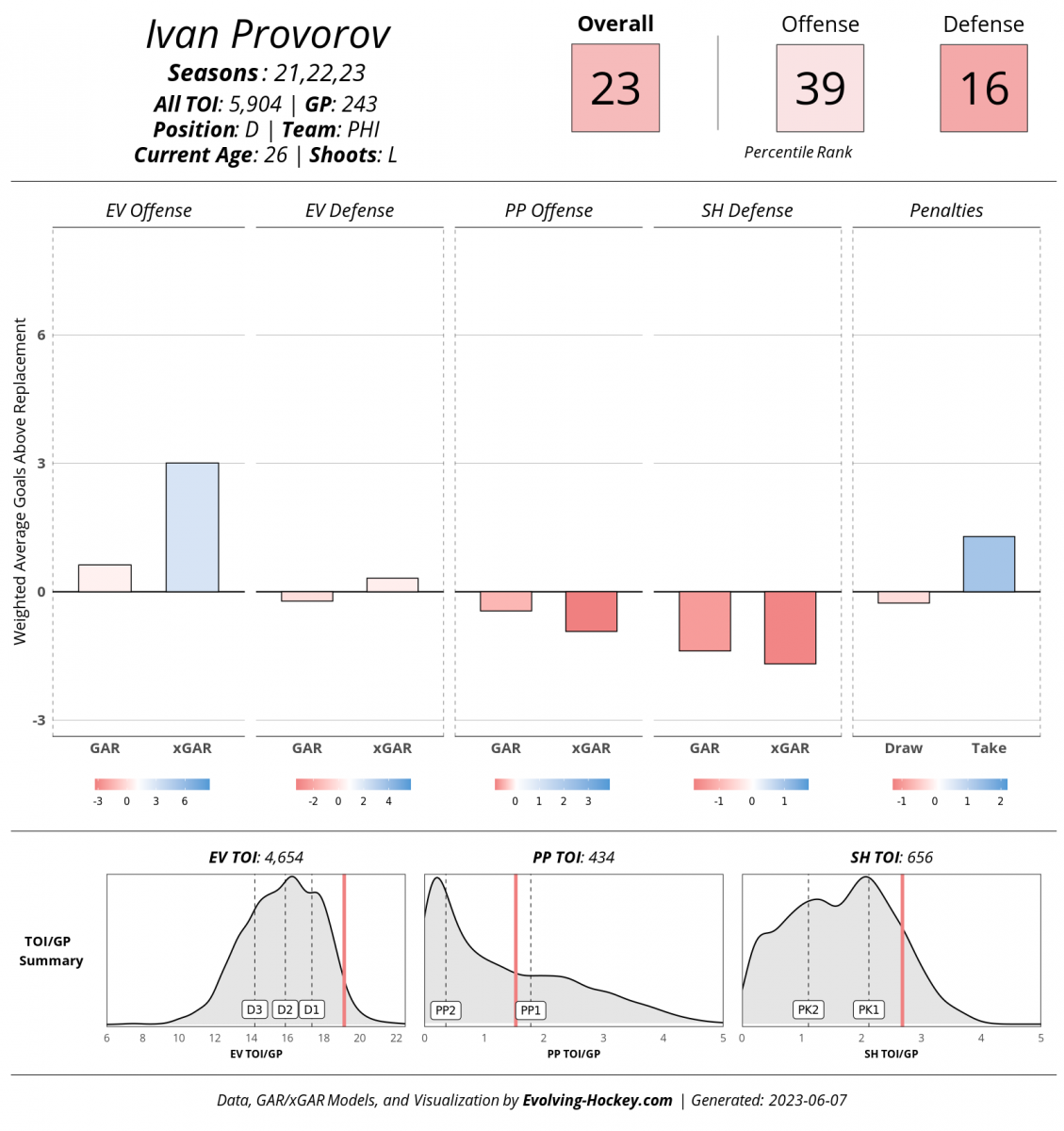 Below is what Provorov's chart looked like from 2018-20. If he can get back to what he was prior to the 2021 season, the trade could be a steal for the Jackets.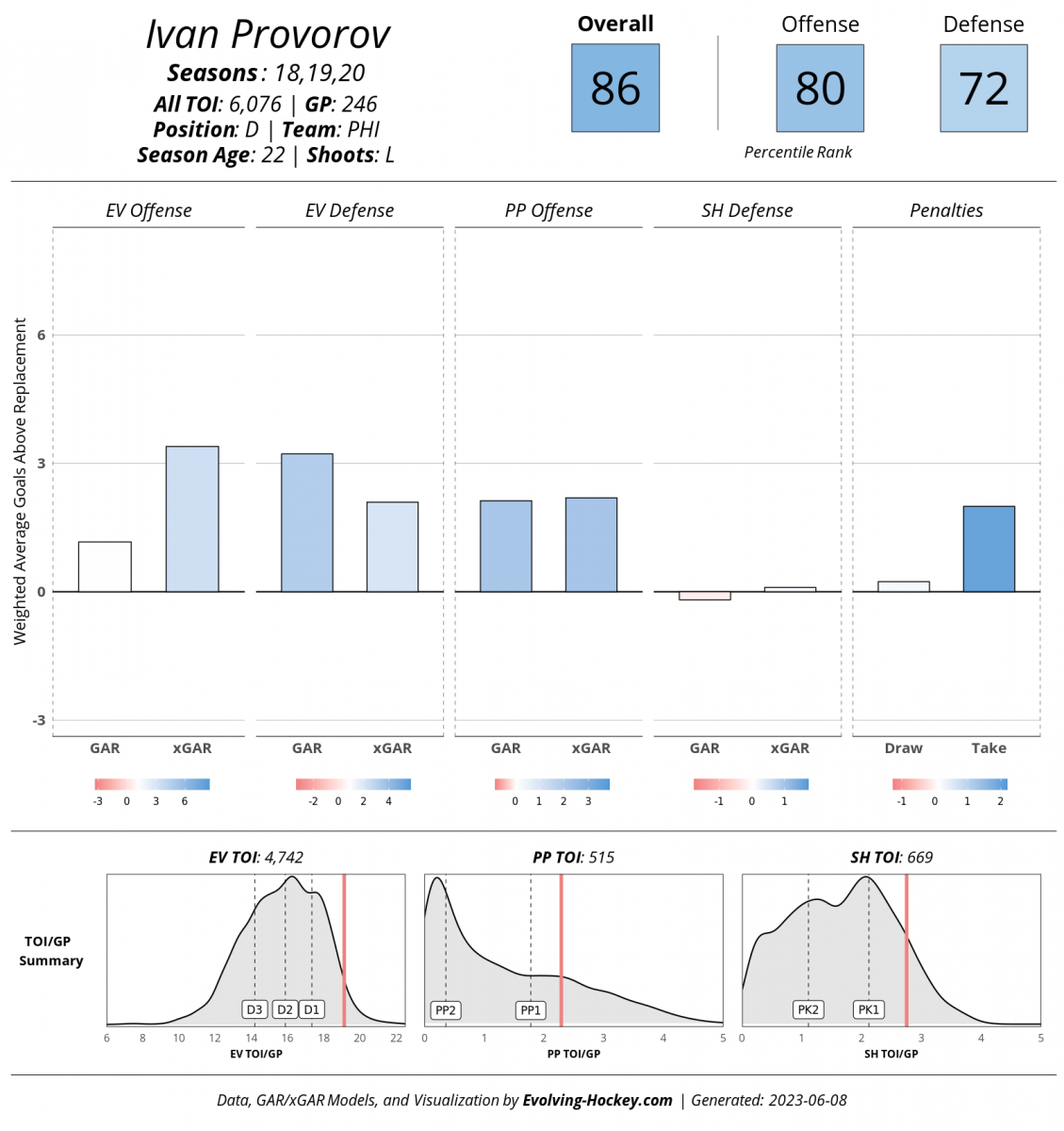 Provorov is signed for the next two seasons, while defensive prospects including David Jiricek, Denton Mateychuk, and Stanislav Svozil are in the wings.
In The Columbus Dispatch on Tuesday, Kekalainen mentioned the team's interest in Provorov going back to the draft.
"We've got two great defensemen now from the same draft," Kekalainen said. "We were very high on Provorov the year we drafted (Werenski) and we've always liked him. He's a good defenseman, so he's a good defender. That's why they are called 'defensemen,' and I think that's a real important quality to have in a defenseman, that you are a good defender. He's also a good puck-mover and is still young."
After allowing the most goals in franchise history each of the last two seasons, with over 300 allowed for the first time in 2022-23, the Blue Jackets are putting a heavy emphasis on defense. We'll see if Jiricek can make the team out of camp this fall but already, the blue line is looking much stronger.
| | |
| --- | --- |
| Zach Werenski | Damon Severson |
| Ivan Provorov | Andrew Peeke |
| Erik Gudbranson | Adam Boqvist |
There is also Nick Blankenburg, Jake Bean, and RFA Tim Berni.