Both head coach John Tortorella and Boone Jenner described Seth Jones the same way within a half-hour after Tuesday's practice.
"He's our main engine to this club," Tortorella said.
"With his presence back there, I think he's the engine for the back end," Jenner said shortly thereafter.
As both of them found out the hard way, it's tough to drive the Columbus Blue Jackets where they want to go down the stretch without their engine. 
Seth Jones' team was sitting firmly in playoff contention with a 30-16-9 record in the middle of a Feb. 8 home loss to the Colorado Avalanche when he fell to the ice, crashed into the net, limped off and was whisked away to the locker room for evaluation. Three days later, it was revealed that he would need 8-10 weeks out of action to recover from an ankle injury that might need surgery. Columbus proceeded to go 3-5-6 over its next 14 games, scuffling as injuries piled on top of each other.
Everyone within the organization has been careful not to talk down on those who entered games down in February and March as injury replacements, but it was impossible not to see the difference in the Jones-less team.
"It's been very well talked about how our team has handled some of the injuries, and I respect our team doing that," Torterella said. "We were in a tough way there when Jonesy went down and when Oliver (Bjorkstrand) went down. You could see us sputtering there. You could just see how much he means to us in every aspect of the game."
When he when down with the injury, there was a chance he wouldn't return at all, even if the Blue Jackets earned a spot in the playoffs. Jones laughs now when asked whether he would've played saying, "I'm glad I didn't find out, to be honest."
Of course, he doesn't have to worry about that anymore.
The months-long wait for the NHL to return to action after the pandemic forced a mid-March stoppage allowed unexpected time for Jones' ankle to heal. The three-time All-Star is now back to full health.
"This could have been a lot worse," Jones said. "I could have missed the whole season. Depending on how my ankle was around playoff time, I could have missed the playoffs as well, which is something that I really didn't want. A little bit of a blessing in disguise that I get to do it slowly."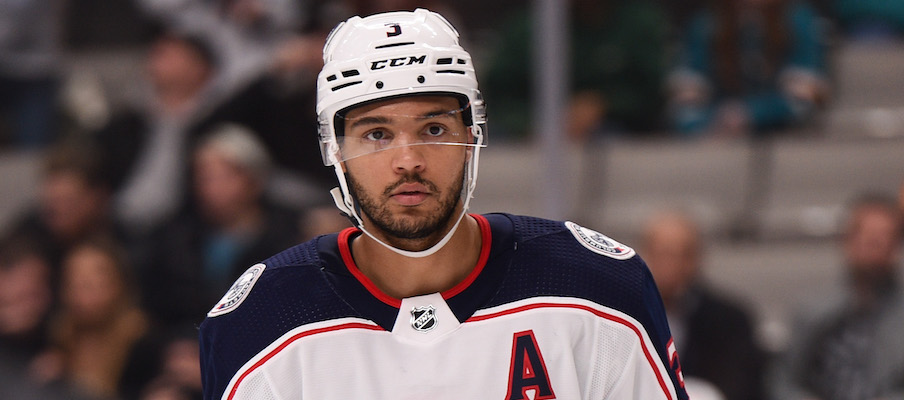 The way Jones tells the story, the recovery process wasn't the straightest of lines.
He initially was told to expect 8-10 weeks of recovery. It helped that he was going through the process in Columbus with Oliver Bjorkstrand, who had also been sidelined with a fractured ankle. Jones got his surgery a week or two ahead of his teammate, with Bjorkstrand saying he was "a little bit the test dummy." They compared the size of their ankles, went over recovery techniques and figured out how to walk easiest. But while Bjorkstrand's healed as expected, Jones' ankle took longer to get back to full strength.
He got to the eight-week mark and began to get frustrated. Two weeks passed. Not much progress. Two more weeks went by. A similar feeling of stalled rehabilitation.
"I'm not a very patient person, so when the ankle wasn't getting better when it was supposed to, I was a little bit worried and concerned," Jones said. "But I really had to take a step back and just take a step back, listen to the trainers. Not everyone's ankles are the same."
Jones returned to the ice after eight weeks, but he went through seven more weeks before feeling like himself again on the ice.
"You kind of think you're invincible when it comes to sports," Jones said. "It really was an eye-opener to let this thing heal up and do it properly and slowly."
That's now all behind him. No longer does he have to think about getting that pesky ankle healthy. All he needs to do is focus on the Stanley Cup Qualifiers, which begin two-and-a-half weeks from now.
Jones will team up with Zach Werenski, Tortorella said, presumably doing so as the first pairing of defensemen.
"When him and Z are playing together, that dicates our pace," Tortorella said. "That dictates a lot of this for our team, as far as what Jonesy has become as a player. The thing that Seth does not get enough credit for still is how hard he defends, how much roof he takes up on the ice and how hard he defends. Because I think the way he can skate, the way's up the ice and the offense that he brings overrides that sometimes."
Due to the suspension in play, Tortorella will get his engine back for the postseason.
"Missing him was hard on us, for sure," Jenner said. "To have him back healthy, it's been great just seeing him out there in practice again. You know when he's in control of the game. He does so much for us offensively and defensively. I think he runs it back there."