Columbus Blue Jackets president of hockey operations John Davidson and general manager Jarmo Kekalainen addressed the media Monday at the team's annual media luncheon. While they usually speak about the roster heading into training camp, today's focus was on Mike Babcock's resignation as the team's head coach and the hiring of Pascal Vincent to that role.
Davidson and Kekalainen took full responsibility for the hiring of Babcock.
"I am very disappointed," Davidson said. "We went through a process earlier this summer prior to hiring Mike Babcock as our head coach, but we got it wrong. And that's on us. I can promise you, we will learn from this moving forward. I also understand the criticism that we are getting, it is deserved. All we can do now is learn from it and do everything we can to help our coaches and players get ready for the season. My excitement about our team and what we can accomplish this season has not changed. And we're looking forward to going north. We understand the expectations of ownership, and we will continue to be evaluated every day as part of the job. We understand that. But our focus right now is on our players and our coaches and getting ready for the season."
"We got it wrong. And that's on us. I can promise you, we will learn from this moving forward. I also understand the criticism that we are getting, it is deserved."– John Davidson
Babcock resigned Sunday following a joint investigation by the NHL and NHLPA into photo-sharing allegations made by Spittin' Chiclets host Paul Bissonnette on Sept. 12. 
Bissonnette alleged that Babcock had "been asking various Blue Jackets to see their phones then AirPlaying their photos on his office TV.".
Sportsnet's Elliotte Friedman reported that despite the NHL and NHLPA being initially satisfied with the responses from Blue Jackets captain Boone Jenner and Johnny Gaudreau, who stated they had no issue with the interactions they had with Babcock, the investigation later found that "some of the younger Blue Jackets were uncomfortable with what occurred."
"According to multiple sources, one of the most serious concerns was a meeting that occurred away from team facilities that included "several minutes" of looking through a phone," Friedman reported. "That was beyond the scope of what was initially understood to have occurred."
Kekalainen said that he apologized to the team Monday morning and that he understood both the dynamics of hiring Babcock when they hired him and the criticism they are receiving. Controversial interactions with young players are nothing new for Babcock, who, according to Terry Koshan of The Toronto Sun, "was alleged to have asked one of the Leafs' rookies to list the players on the team from hardest-working to those who, in the eyes of the rookie, didn't have a strong work ethic. The rookie did so, not wanting to upset his coach, but was taken aback when Babcock told the players who had been listed at the bottom."
"Mike was hired based on personal relationships we've had with him," Kekalainen said. "The feedback we'd received from numerous people in the game that we know and respect and extensive conversations with Mike. It's obviously fair to question our due diligence, but I can assure you that it was done thoroughly. At the end of the day, I believed that Mike Babcock deserved another opportunity to coach. Obviously, that was a mistake. And that responsibility is mine."
Kekalainen said that he participated in the exercise with his phone to introduce his family to Babcock, and while he didn't have a problem with it, he understands how it could put someone in an awkward spot.
"I do not believe there were any ill intentions on Mike's part in the way he conducted interviews with our players to get to know them," Kekalainen continued. "However, whether there was intent or not, some of our players weren't comfortable with his methods, and I was concerned. As we gathered information and had numerous discussions, both internally and externally, it became very clear that the distractions caused by this were too great, and were having a negative impact on our players."
Kekalainen also outlined the values most important to the organization.
"Our organization's built on values that we take very seriously," Kekalainen said. "We value heart, character, and attitude, with the emphasis on pride, professionalism, and respect. These are the ideals that guide how we operate on the ice, in the community, and in everything that we do. We are committed to doing the best we can and doing things the right way to represent our organization, city, [and] fans in a manner that earns their respect, trust, and support. Nothing is more important. We believe our players and everyone else inside and outside our organization should be treated with respect all the time. Failing to live up to that standard is not acceptable. Are we perfect? No. Can we do better? Yes, and we will."
Davidson added information about this process's timeline.
"I know this is a major misstep that we have to move past," Davidson said. "I would like to thank the NHL, and I would like to thank the NHL Players Association. When we first heard of these issues, when we had discussions with both of those groups, we welcomed an investigation. They were very transparent with the information we received. And we digested the information. And from there, and talking with Mike Babcock, we decided there was no going back. The resignation went forward from that point on."
He later described the phone call he received from NHL Commissioner Gary Bettman who was joined by NHL Deputy Commissioner Bill Daly and members of the NHLPA staff. Davidson believes this to have occurred on Friday.
"They filled me in with what had transpired through their investigation," Davidson said. "And with that, I went to Jarmo and our group, Mike Priest, who represents our ownership, and we started the process of what we were going to do. We had to digest it, figure it out. And with that, Jarmo ended up meeting with Mike Babcock. And basically, there was going to be no end of this. This is what we had to do. And the resignation process started at that point. That's the exact traffic, there was no way to resolve it. [Kekalainen] was a player, I was a player, we have to understand our players. And it wasn't going to work with our players. It just wasn't going to work. So we had to go forward."
Kekalainen addressed the concerns over the communication between the players themselves and the players and management. 
"I've been here now for 10 years," Kekalainen said. "And I've had numerous players come to me with some of the problems they may have on the ice, off the ice, with their families, different things. It's a complex relationship with the management and the player. It isn't always comfortable for them to come to me with their problems. We may be in the middle of a contract negotiation or something. And then they don't want to let me know that they're having problems. I'm just making it up. But that's one thing I mentioned to the team too, that I want to keep building a relationship with the players, [and] that they can trust us and always come to us, in any situation, [no matter] how difficult it may be and trust us that we always have their best interest at heart, and will help them no matter what it is."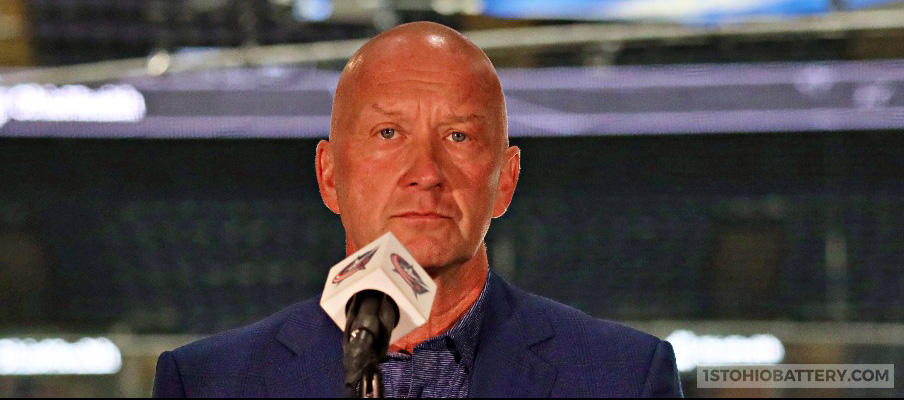 "But it is a complex situation," Kekalainen continued later. "It is not as simple for the players to always be honest about how they're feeling or what's going on in their lives. And so I guess [they show] vulnerability to us that are in this position to decide about their future in hockey and that makes it difficult."
Davidson said that he's tried to learn and evolve the longer he's been in this business.
"We're responsible with the evolution of the young player of today," Davidson said. "Which is different than back when I played. Actually, maybe in some ways not, we had problems back then, too. We really did. But it's on us, it's on me, to evolve with this, to learn, to go forward the right way. And that being said, [it has] to do with total respect for the players."
He also addressed the people who disagreed with Babcock's hiring.
"Maybe they were right," Davidson said. "It's on us. It's on me. And I respect opinions around. We did a lot of research. When we went through this process, Mike came to Columbus two or three different times and came to my home. And with our group, we went through a lot of different things. And sometimes you just flat out make a mistake. We made a mistake. I'm free to sit up here and tell you that and to our fans. I think some were excited, and some are going, 'Whoo, what's this going to be about?' It didn't work. I think as a group, we owe them [an] explanation and apology. But we're also very comfortable in going forward with Pascal once we get through this. He's a good coach. He's a terrific human being. So we have to look in that direction. We've learned. There's nothing more that I can say [than] that we've learned."
Davidson added that he and Kekalainen spoke with ownership, who he said were supportive, and discussed their goals for the upcoming season. 
"We need to make a major improvement compared to a year ago with all the issues we had," Davidson said. "And I think we still can. So I believe that the ownership is in a situation where they believe that, and it's on us to prove it. So we're going into the season, we need improvement," later adding that they are in "the win-loss business."
Kekalainen does not believe this will be a setback for the team, who begin on-ice training camp work on Thursday. 
"Players love to play hockey," Kekalainen said. "I think they'd love to put this behind them and move forward and get to do what they love to do, [which] is [to] get on the ice and compete and win hockey games. That's what they're focused on. For their own careers and for the sake of the team and based on my conversations, they're really looking forward to just moving on and getting on the ice."
The Blue Jackets will be on the ice Thursday to begin training camp and play their first preseason game Sunday against Pittsburgh.