Remember when he didn't make the opening night roster?
It's hard to believe that this same player received a four year extension at $2.7M per year, but that is exactly what happened to Markus Nutivaara this season.
Entering the season the Blue Jackets were expecting to rely on a young defense group, led by Seth Jones and Zach Werenski. Ryan Murray was healthy, he and end of season breakout Gabriel Carlsson were going to be a good shutdown third pair, with veterans David Savard and Jack Johnson on the second pair. That left Nutivaara as the odd one out and he spent the first three games of the season down with Cleveland.
Carlsson got hurt just four games into the season, opening the door for Nutivaara. He made the most of his opportunity putting up five points in his first eight games, and from that point on was a staple on the blue line.
With Jones and Werenski getting all the attention I don't think people fully grasp how young and inexperienced Nutivaara is. He's the same age as Jones with the playing experience of Werenski. He's always going to be overlooked but after the season he just had its clear he's the third best defensemen on this team.
Scratching the surface is a phrase thrown around a lot when discussing Nutivaara, when you watch him he always shows flashes of his potential but was unable to put it all together as a rookie. As a sophomore those flashes became more and more frequent. John Tortorella likes his defensemen to be aggressive and that was embraced by Nutivaara. Nutivaara took no time adjusting to that play style, check out this pass from October 30th.
Tyler Motte scored his first Blue Jackets goal, and boy did Markus Nutivaara ever make it happen. #CBJ pic.twitter.com/kLwOOsDSJ3

— 1st Ohio Battery (@1stOhioBattery) October 31, 2017
Nutivaara is a really good passer, and it's not just stretch passes either.
Nutivaara does a lot of the leg work here and Bjorkstrand finishes it off. #CBJ pic.twitter.com/rw247oDoKT

— 1st Ohio Battery (@1stOhioBattery) December 13, 2017
This play you can see the confidence Nutivaara has. Most young defensemen in that situation dump the puck in and stay at the point. Nutivaara opts to deke two players and sets up Oliver Bjorkstrand. There is no chance Nutivaara makes that play as a rookie.  
He's more than just a passer, he can score too.
Alternate angle... Nutivaara is given a lot of time and space here. He has plenty of time to get his shot off. #CBJ pic.twitter.com/YHHdMEF1pX

— 1st Ohio Battery (@1stOhioBattery) January 24, 2018
When all was said and done Nutivaara finished the season with seven goals, 16 assists for 23 points in 61 games. It was a good season, but again Nutivaara is still scratching the surface of his offensive potential. With the way Nutivaara plays, a 40 point season isn't out of the question.
Nutivaara is far from just an offensive defensemen. His defensive game took strides as well. This graph from CJ Turtoro shows that pretty much across the board Nutivaara was better this season.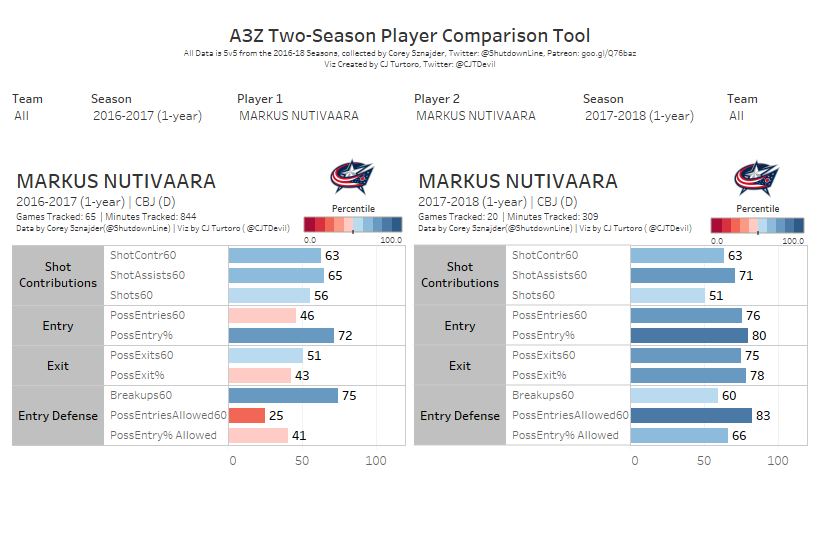 Nutivaara went from a decent offensive defensemen with a poor defensive game, to a solid two way defensemen. Nutivaara drastically improved his zone exits, showing confidence carrying the puck out of the zone. His zone entry numbers were fantastic, as we saw in the highlight above. His entry defense was very good as well. He didn't break up as many plays, but he allowed fewer controlled entries.
Put this all together and you have a player with a 53.20% Corsi at 5 on 5, 24th among defencsmen who played in at least 900 minutes. That puts Nutivaara in the same range as a Roman Josi, John Klingberg, and Drew Doughty. Nutivaara doesn't have the same gaudy point totals that those players do but if you account for the fact that Nutivaara didn't play much on the power play  and therefore had less ice time his offensive numbers are way more impressive.
On a per 60 basis, Nutivaara had 1.37 points at 5 on 5. Among those defensemen who played 900 minutes, Nutivaara ranked fourth, sandwiched between Erik Karlsson and John Carlson. No matter how you slice it Nutivaara was an elite defensemen this season.
Jones and Werenski get all the attention, rightfully so, but where would this team be without the play of Markus Nutivaara? He emerged as one of the best defensemen in the league with rate stats similar to John Carlsson and possession stats similar to Drew Doughty. His contract already looks like a major bargain and it hasn't even started yet. Pretty good for a player who didn't even make the team out of camp.
All stats from Natural Stat Trick.
Follow 1st Ohio BatteryFacebook, Twitter, Instagram and YouTube