Flashback: The New York Rangers acquired defenseman Keith Yandle.
This was a massive trade when it broke at the trade deadline in 2015. The Rangers, fresh off a Stanley Cup Final appearance, added one of the top available players in Yandle. In return, the Rangers sent top prospect Anthony Duclair to Arizona (among other pieces). Duclair was a huge get at the time for the Coyotes, as he was fresh off of making the Rangers out of camp as a 19-year-old and was a big part of Team Canada's World Junior team which took home gold.
Now three years later, it's pretty remarkable to think how far Duclair has fallen. He's gone from top prospect to 44-point NHL scorer to, at just 22 years old, signing a "show me" deal with the Columbus Blue Jackets.
Duclair's stock has fallen considerably, but he still carries many traits that made him an elite prospect just a few years ago.
First of all, he's a great skater.
Duclair showing that speed pic.twitter.com/EQryWBDCW3

— Scott Powers (@ByScottPowers) January 13, 2018
We know the Blue Jackets covet players who can skate, and Duclair is just that. He can handle the puck at high speeds which helps him gain the offensive zone and leave the defensive zone with possession of the puck.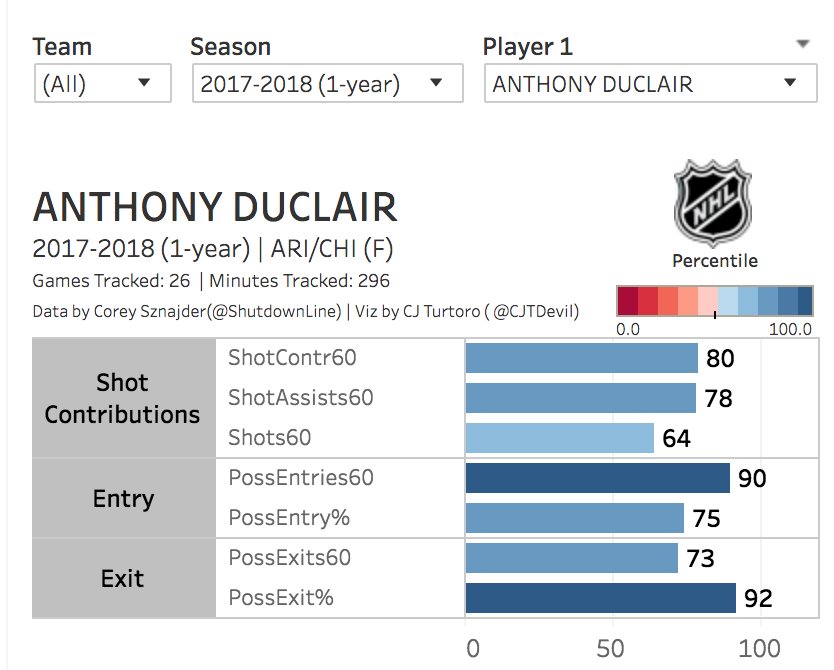 Last season, Duclair showed really well in zone entries and exits. The exits in particular were an area where the Blue Jackets forwards had some problems last season.
The points weren't there for Duclair last season but he is a strong offensive player. At 5-on -5, he does a very good job at generating shots and chances. How well? On a per 60 basis there is a comparison to be made to Artemi Panarin. Data from Natural Stat Trick.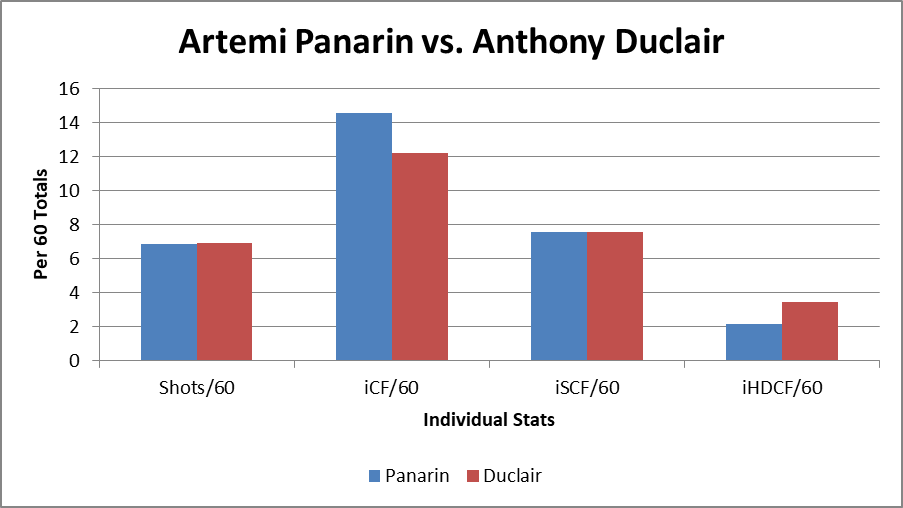 Now Duclair and Panarin are not the same calibre player and this is not trying to suggest that. What it shows, however, is that Duclair can create offensive chances with the best of them. He gets himself into scoring areas with his speed and he gets pucks on net.
Duclair gets chances, but he's had some issues finishing those chances off. In Chicago his all situations shooting percentage was 6.9% – well below his career 12.5%. With Arizona it was at 13.2% but he had an on-ice shooting percentage at 5-on-5 of just 5.65%, which was in the bottom rung of the league. That's a big reason why he only had four assists in 33 games. When he got to Chicago it rebounded slightly to 7.74%, but that was still lower than it had been in his career.
The reason behind that was who Duclair was playing with; in Arizona, his most common line mates at 5-on-5 were Christian Dvorak and Max Domi. As a trio, they simply did not work. They had a 39.23% Corsi, they were below 40% in both shots for percentage and scoring chance percentage, and below 30% in high-danger chances. All this while starting 54.55% of shifts in the offensive zone. Not good.
Away from those two, Duclair was much better. He had a 53.74% Corsi, had 61.11% of the scoring chances and 55.22% of the high-danger chances. His play was much better; unfortunately he was on the ice for four goals for and seven against, a 36.36% goals for percentage which really clouds how well he played.
In Chicago he played alongside Jonathan Toews and Alex DeBrincat and, as expected, he fared much better. Duclair is not a great defensive player, which needs to be acknowledged. His play off the puck is not great. He needs to be paired with someone like Toews who is good in their own end. Looking at the Blue Jackets roster, playing Duclair alongside Riley Nash and someone like Oliver Bjorkstrand or Sonny Milano could be the best situation. Nash can handle the defensive responsibilities while Bjorkstrand or Milano have the speed and skill to play with Duclair and work off of him.
Duclair isn't perfect, but for $650,000, you could do a lot worse. He's a skilled player who was in a bad situation in Arizona. He's still young and possesses all that talent and upside that made him a top prospect just a few years ago. If he can be put in the right situation in Columbus he could, much like Sam Gagner did, thrive and remind everyone why he was so highly touted.
Follow 1st Ohio BatteryFacebook, Twitter, Instagram and YouTube