There's a storm coming, Mr. Kekalainen.
That storm goes by the name of unrestricted free agency, and it's not looking to be very kind to the Columbus Blue Jackets this summer. With arguably their three best players free to walk away in July, there could be a massive shift of team dynamic for the club this upcoming season.
Matt Duchene, Artemi Panarin and Sergei Bobrovsky played crucial roles in the club's deepest playoff run to date. Bobrovsky was lights out for nearly every game, boasting a .925 SV% and a 2.5 GAA. Considering he was playing arguably the two best teams in the NHL in back-to-back series, that's incredibly impressive.
Then there's Duchene and Panarin, who pulled equal weight for the team in many ways. Both had five goals in the postseason (which led the team), that combined for 33.3% of the team's total goals. They also had 21 points total between the two, accounting for about 25% of the club's total points.
It's not a secret. If they all leave, they will be missed greatly.
The silver lining, though, because we need to look at it - is how the Blue Jackets are one of the youngest teams in the league and will have a great opportunity for players to step up and make a name for themselves. Offensively, the face of the team is up for grabs, and defensively, there's an overwhelming amount of depth. The goaltender pipeline runs deep as well.
Out of all those chomping at the bit to have a breakout season starting this fall, there are certain players that might be needed more than others to step up. And they are...
---
OFFENSE:
Pierre-Luc Dubois
The No. 1 center job application might be back on Pierre-Luc Dubois' desk as this summer progresses. The 20-year-old has had two of the most successful rookie and sophomore seasons in club history, and that trend will need to continue into his third NHL season.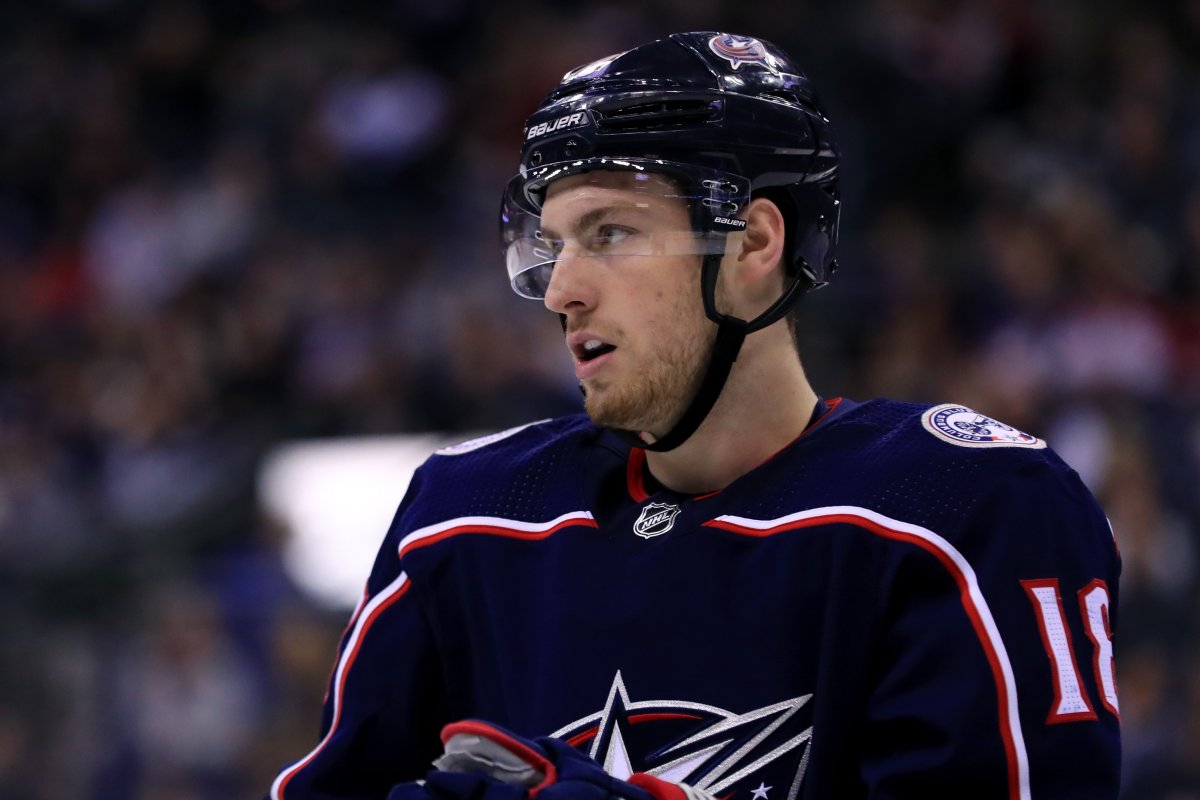 By the numbers, Dubois' most recent season was one of great growth and success. His +/- rating doubled, his shooting percentage rose and his goals and assists went up as he tallied 13 more points than his rookie year. He also became the fastest Blue Jacket ever to reach 100 points.
Contextually, though - Dubois struggled down the stretch of the season and into the playoffs. Perhaps it was the arrival of all-star Matt Duchene that intimidated Dubois, but regardless of the reason, Dubois' production dipped at an inopportune time. After being on pace for an 80-point season, Dubois recorded just ten points in his final 25 regular season games.
If Duchene dips in free agency, Dubois is in prime position to regain control of a spot on the first line for the Blue Jackets this upcoming season and be a crucial component of their offensive production. He will be relied upon heavily to anchor the middle of the ice for a team loaded with wingers. 
Josh Anderson
Big Josh Anderson had a big 2018-2019 season. He blew his previous career highs out of the water - racking up 27 goals and 20 assists, good for 17 points more than his previous best tally in a single season.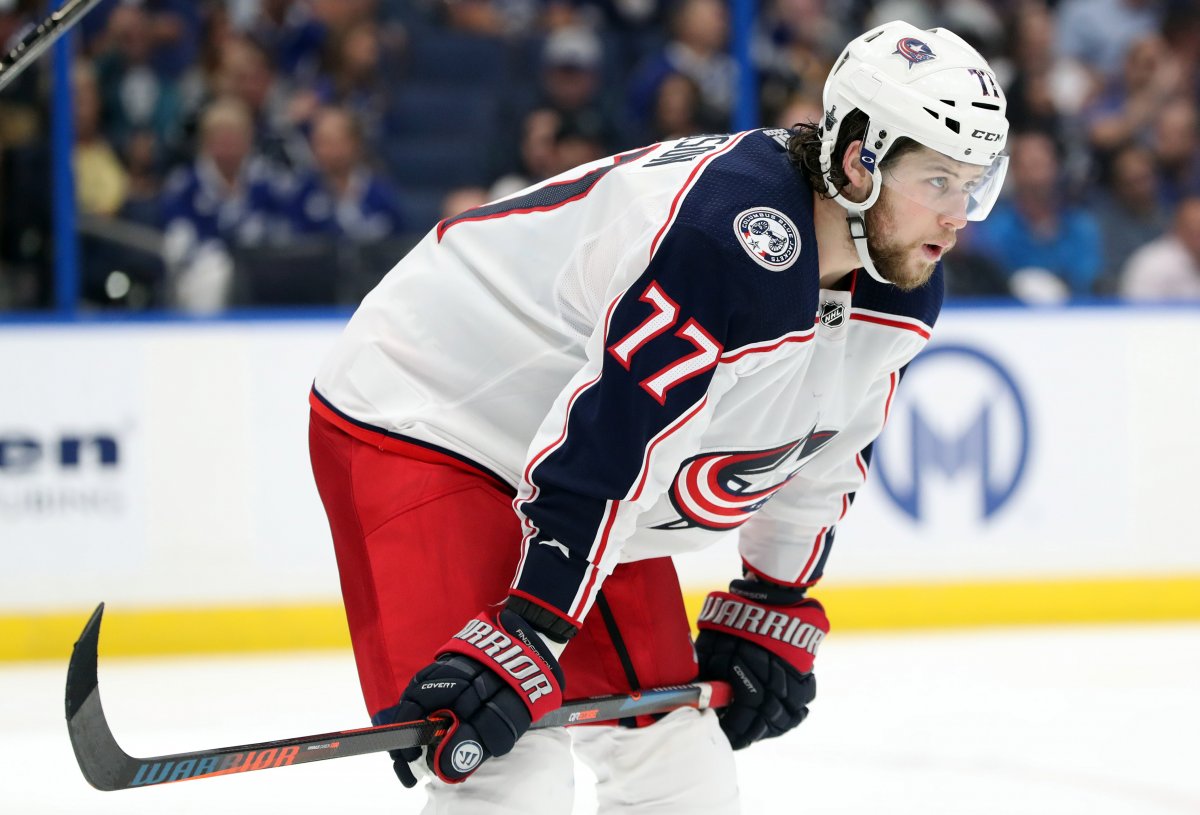 Along with Dubois, Anderson will be expected to continue to make big strides in his game to become a consistent scoring presence for the club, something he struggled with a bit throughout the previous season. He was arguably one of the most consistent Blue Jacket players throughout the regular season in regards to his overall effort and non-scoring impact, but there were a few stretches where he went MIA on the score sheet.
Throughout his 82 games, he experienced a six, seven, eight and nine-game stretch, all in separate instances, where he failed to register a goal. After a clutch goal in Round 1 Game 1 against the Tampa Bay Lightning in the playoffs, he didn't score for the remainder of the postseason. 
Anderson was nearly a 30-goal scorer with all of those patches of scoring droughts, and we can only imagine the numbers he'd put up if he could find a little consistency with lighting the lamp.
Alexandre Texier
In just ten NHL games, Alexander Texier set the bar pretty high for himself and what fans should expect from him heading into 2019-2020. After being a late-season call-up to the club, he wasn't thought to make much of an impact, but after putting up four points in those ten games, including a crucial power play goal in Game 4 against the Lightning, Texier will have high hopes from many this fall.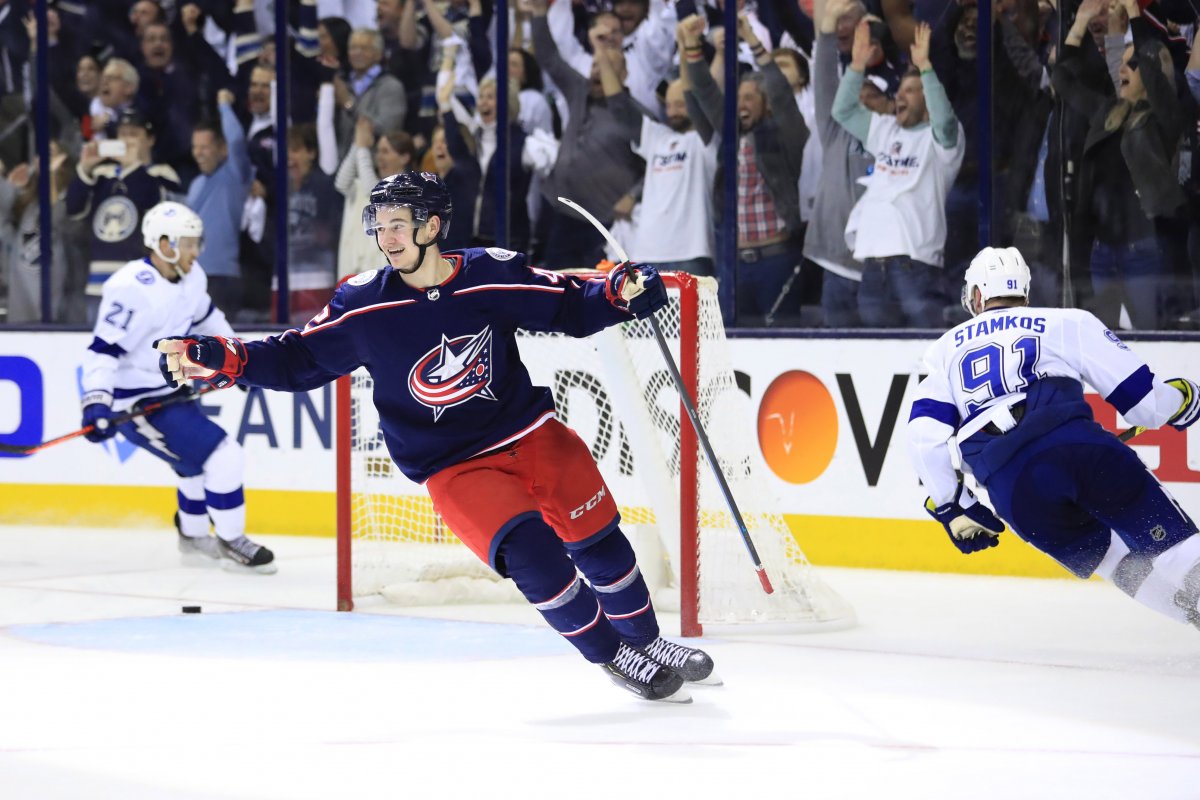 How high should they be, though, for the 19-year-old? He won't come anywhere near the presence of Artemi Panarin, but he could be looked at to somewhat emulate the Russian star who will (likely) be leaving this summer. A big void left by Panarin will especially be his presence on the left hash of the first power play unit, which it seems like Texier fit into pretty well already.
Are there other forwards like the Cam Atkinson's, Oliver Bjorkstrand's who will likely have more points than Texier by season's end? Sure, but Texier has barely scratched the surface of his potential, and his playmaking could do wonders to replace an Artemi-Panarin type player.
DEFENSE:
Markus Nutivaara
2018-2019 was supposed to be a big year for Markus Nutivaara, and we didn't quite see what we expected to. After recording 23 points in 61 games in 2017-2018, it looked the Blue Jackets struck gold with the young Fin. He took a slight dip this past season, however, recording just 21 points in 80 games.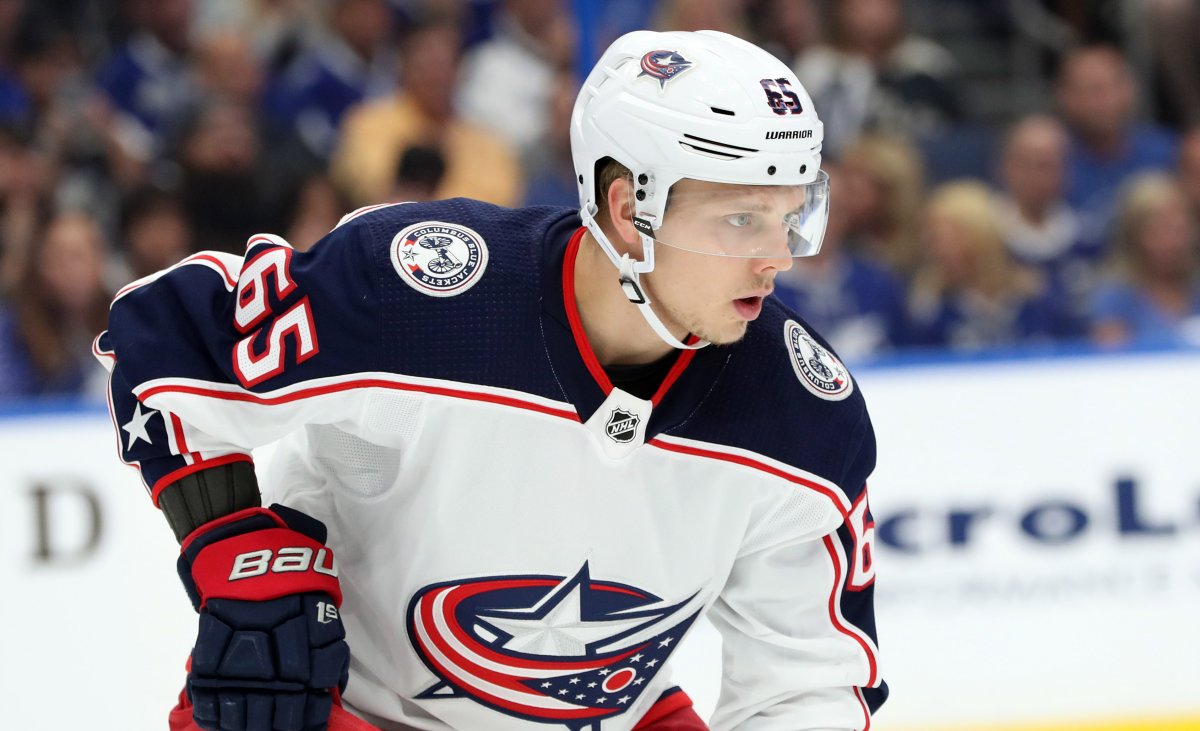 Five of those points did come in his final ten games of the season, though - and we didn't get much of a taste for how that would continue when his year ended due to the infamous Nikita Kucherov hit he received just two games into the playoffs. 
Seth Jones and Zach Werenski have their potential marked out for them in a sense, David Savard has likely capped out and Ryan Murray, well, who knows with him. But for guys like Markus Nutivaara, there's a lot of growth to still be seen as a lockdown defender and playmaker on the offensive side.
Dean Kukan
The most underrated performance of the postseason goes to Dean Kukan. After playing in 25 regular season games and putting up five points, his one point in ten playoff games seems on par. This is not a fair way to look at his impact for the Blue Jackets in the playoffs, though.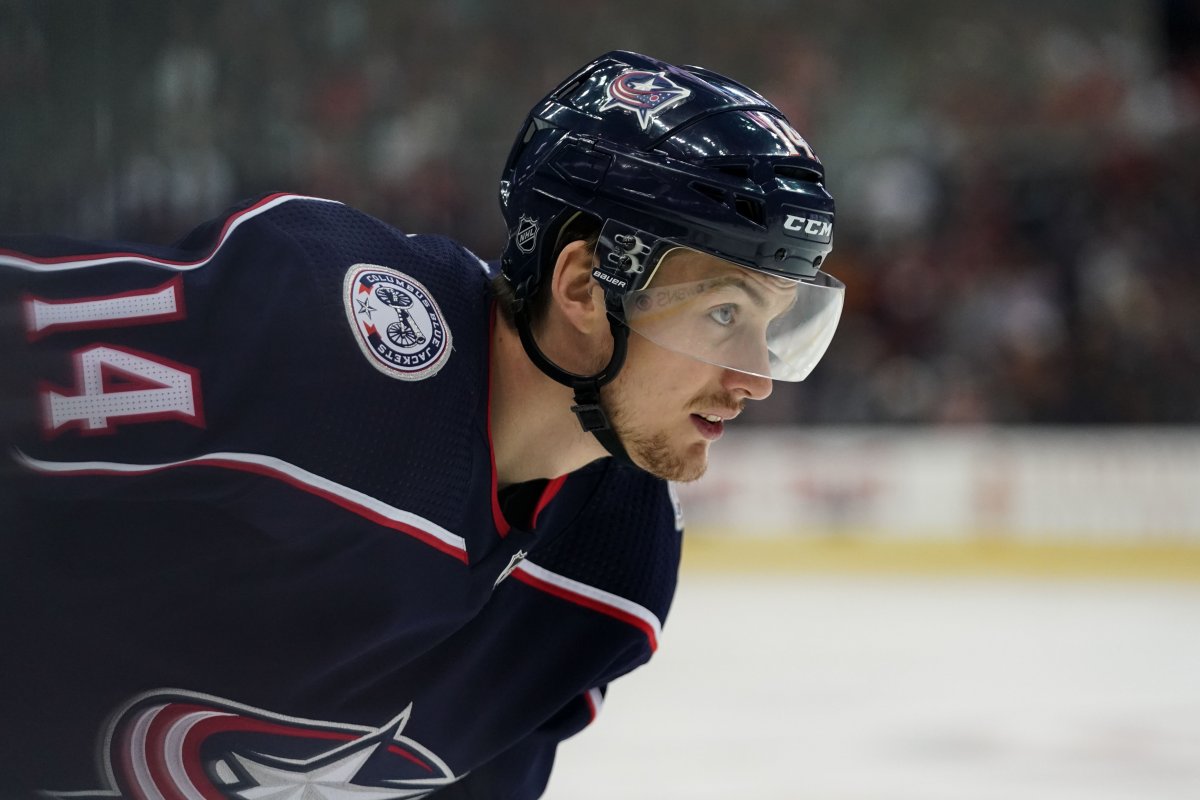 Out of players that played in all ten postseason games, Kukan was tied for fourth in CF% at 49.1 with his partner Scott Harrington, while averaging over 15 minutes per game. The only three above them? Atkinson, Duchene, and Panarin, of course.
His goal against the Boston Bruins in Game 5 of the ECSF was as clutch as can be, and he was sure due for it. By the eye test, Kukan was fearless when carrying the puck - a smooth skater that dictated possession when he took the puck out of his defensive zone. Outside of Werenski, the Blue Jackets lack a defenseman with an elite ability to carry a puck up the ice, through and around defenders.
Kukan has likely earned himself a solidified spot in the top-six defensemen, and depending on how he produces on the score sheet, could be in the top-four sooner than later.
GOALTENDING:
Elvis Merzlikins
This one is pretty much a given. In the history of the Blue Jackets, there hasn't been as much expectation and pressure for a new goaltender to perform in their first season with the team then there will be on Elvis Merzlikins.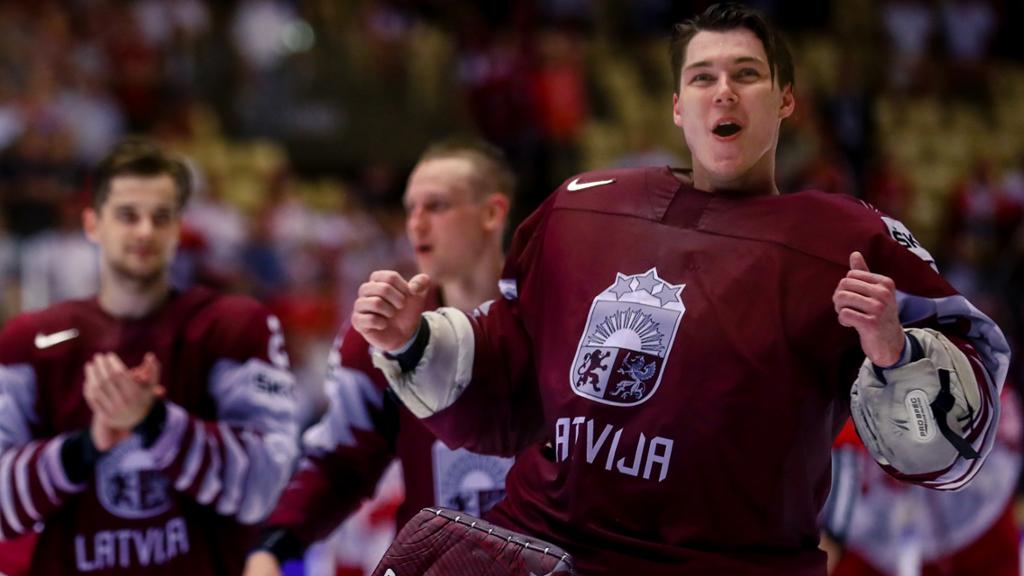 Merzlikins has been touted by many as one of, if not the best goaltender in the world that's not playing the NHL, and now he will get his shot in 2019-2020. Joonas Korpisalo will likely share in a good amount of starts, at least early in the season, but it's clear that the organization is hoping Merzlikins will take the reigns as the franchise goaltender at some point or another.
The biggest struggle out of the gate for Merzlikins being in net for Columbus may not even be his fault, too. The Blue Jackets have had the luxury of having Sergei Bobrovsky between the pipes for seven seasons, and when you have a goalie that good behind you, it can allow you to relax a little too much at points. The team will need to step up heavily in front of Merzlikins as the Latvian goaltender gets settled in, but if all pans out, he could be the exact replacement the Blue Jackets are looking for (though it might take some time).
Follow 1st Ohio BatteryFacebook, Twitter, Instagram and YouTube