Let's overhaul things, shall we?
The departures of Matt Duchene and Artemi Panarin will hurt for obvious reasons - and one of those being their presence on the top power play unit for the Columbus Blue Jackets. 
During the 2018-2019 regular season, the Blue Jackets had 34 power play goals, and Panarin contributed to more than half of those (six goals, 12 assists). 
The postseason told a similar story: Duchene and Panarin teamed up for four of the eight Blue Jackets power play goals. Bottom line - these two will be missed (and will need to be replaced).
Who should step up and fills the roles? Let's first take a look at the top two power play units from the club that was active towards the end of the season and into the playoffs, and how they contributed in totality:
Blue Jackets' Power Play First Unit Statistics (Regular Season + Playoffs)

|   | Goals | Assists | Points |
| --- | --- | --- | --- |
| Artemi Panarin | 7 | 15 | 22 |
| Matt Duchene | 4 | 2 | 6 |
| Cam Atkinson | 8 | 9 | 17 |
| Nick Foligno | 2 | 3 | 5 |
| Zach Werenski | 3 | 15 | 18 |
Blue Jackets' Power Play Second Unit Statistics (Regular Season + Playoffs)

|   | Goals | Assists | Points |
| --- | --- | --- | --- |
| Pierre-Luc Dubois | 2 | 8 | 10 |
| Josh Anderson | 3 | 4 | 7 |
| Oliver Bjorkstrand | 4 | 0 | 4 |
| Alexander Texier | 1 | 1 | 2 |
| Seth Jones | 1 | 13 | 14 |
In the playoffs, the Blue Jackets worked an umbrella approach, at least for their first power play unit. You can see it thriving in this Zach Werenski goal against the Tampa Bay Lightning in Round 1, Game 2.
You'll notice to form this umbrella, Werenski, Panarin and Atkinson form the canopy, with Foligno and Duchene being the poll: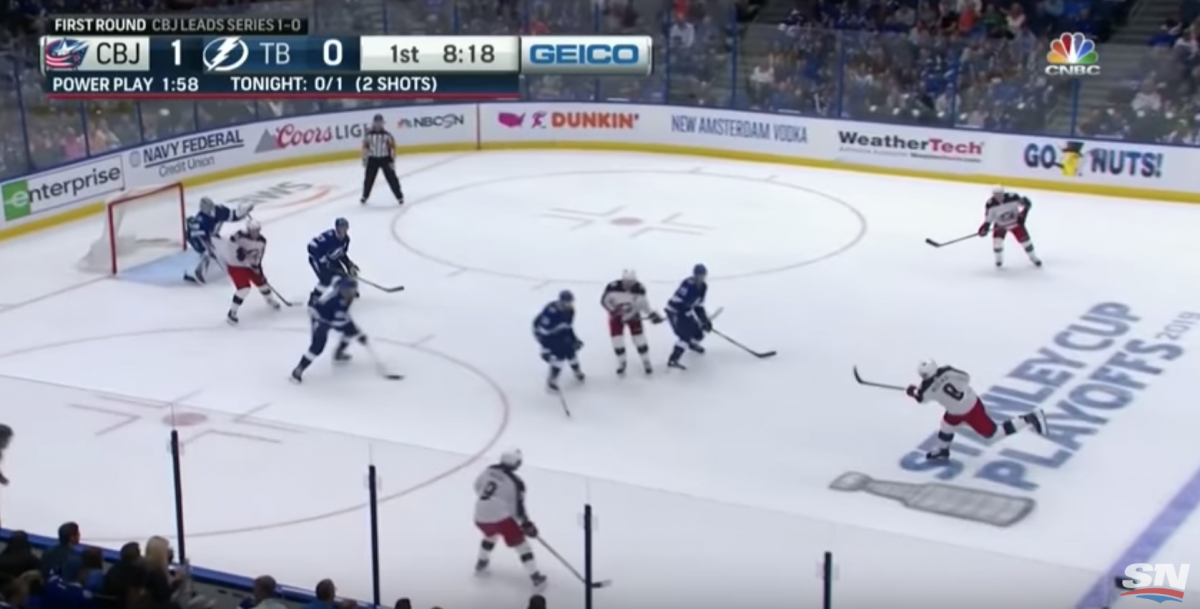 Now, the structure can surely change with the losses of Duchene and Panarin, but let's say for discussions' sake, we keep the umbrella format. Who jumps in for those two stars, and should anyone else get bumped?
And understandable choice to replace Panarin would be Alexandre Texier. He's surely at the bottom of the totem pole in regards to all ten players above, but the youngster has a laser of a shot and can play well on the left side of the ice. Here's the evidence:
Next up is Duchene. An initial thought would be to have Gustav Nyquist fill this role, and even though his power play production has dipped in recent years, he still would be a great skilled fit. However, Duchene has more than ten pounds on Nyquist, and it may be better for a big body to slide into that spot.
If someone says big body, Josh Anderson comes running. It might be wise to stick Nyquist in the middle of the ice where an aging Foligno currently camps out. Nyquist had ten power play assists last season and could excel even more with more talent surrounding him. 
In Foligno, the 31-year-old captain's role of a bruising net-front presence on the man advantage is solid, but could the bigger, stronger and faster Josh Anderson be a necessary upgrade? Imagine the annoyance Anderson would provide standing a foot in front of the opposing goaltender, providing screens for long shots and slamming home rebounds.
Foligno could then help, alongside Seth Jones, lead a younger second-unit in Pierre-Luc Dubois, Oliver Bjorjkstrand and maybe...Emil Bemstrom?! To play it safe, it's more likely that the likes of Boone Jenner or even Alexander Wennberg would take the final spot, but we'll see what John Tortorella pulls out in October.
The bright side of these new-look units is that even with all the firepower the club had last year at season's end and through the postseason (seven players who scored more than 23 goals), the Blue Jackets finished the regular season with the fourth-worst efficiency on the man advantage in the entire NHL. Yikes. 
Fresh blood could help spark a turnaround on the Blue Jackets' special teams, and they will likely need that help if they hope to make a fourth-consecutive playoff trip.
Follow 1st Ohio BatteryFacebook, Twitter, Instagram and YouTube