Breaking news: Zach Werenski is on a hot streak.
The NHL's reigning third star of the week continued his goal-scoring streak Tuesday night in Anaheim and now leads all defensemen with 15 goals on the season. Even more ridiculous? He's doing so despite missing nearly three weeks of action. 
The Michigan native leads the Blue Jackets in goals, too, and his next goal will tie the franchise record that both he and Seth Jones set in 2017-18 when they each lit the lamp 16 times. With seven goals in his last five games, Werenski is playing at an insanely high level, but what is allowing him to see this much success? 
---
Quality Uptick
Werenski possesses one of the best shots in the NHL, a trait that helped him become the eighth overall pick in 2015. He may not have the hardest shot, but he's got a wicked release and an uncanny ability to get pucks through traffic. In researching this piece, I was surprised to see that Werenski isn't shooting any more than in prior years. His 6.88 shots/60 (all strengths) is more than last season (5.37) but less than his first two years (6.92 and 7.14) in the league. And while his power play time is up slightly, his offensive zone starts % this season is the lowest of his career, a clear sign that John Tortorella trusts him in a defensive role more than ever before (all stats via NaturalStatTrick).
More than likely, Werenski is riding a hot shooting streak that will probably regress a bit to the mean. His 11.27% 5v5 shooting percentage is nearly twice as high as his prior career-high, and he's tied a career-high with four power-play goals despite only having taken 19 shots (21.05%). For context, he's never eclipsed 10% shooting on the power play in his career.
Still, it's hard to say that his hot streak is a coincidence. He's been given the green light by Tortorella to join the rush more. With scorers like Cam Atkinson and Oliver Bjorkstrand sidelined, more of the heavy lifting, offensively speaking, rests on Werenski's shoulders. 
The below videos represent all six of his goals (we excluded the empty netter) from the past five games. As you watch the clips, I want you to isolate him and see if you can see what he says. Werenski found one measure that NaturalStatTrick, HockeyReference, or any other website is unable to measure (yet): his brain. 
Slippery Z
Like many gifted goal scorers, Werenski can 'get lost' in coverage. Typically this description is reserved for elite scoring forwards who pop in and out of space effectively. When Atkinson is going, he's among the NHL's best at getting lost in coverage. Since Werenski is apt at jumping up in the play, he often becomes a de facto forward, which puts a lot of strain on the opposition, who is accustomed to matching the Blue Jackets' three forwards with their two defensemen and a center. 
Now that you've watched the videos, take a look at the below screenshots, taken just before Werenski scores each of his goals. Two things stand out: 1) he is nowhere near the blue line on any of these shots, and 2) he has a ridiculous amount of time and space (given NHL standards) to release. Most of these shots are fairly high percentage looks. So long as Werenski can continue to feel his way through the offensive zone and his teammates can continue to find him in these dangerous spots, there's no reason to think his torrid scoring pace won't continue.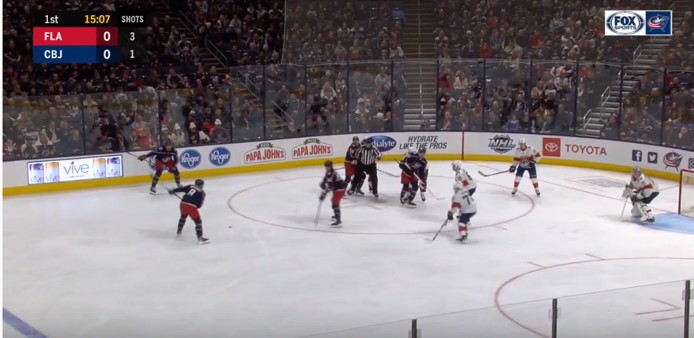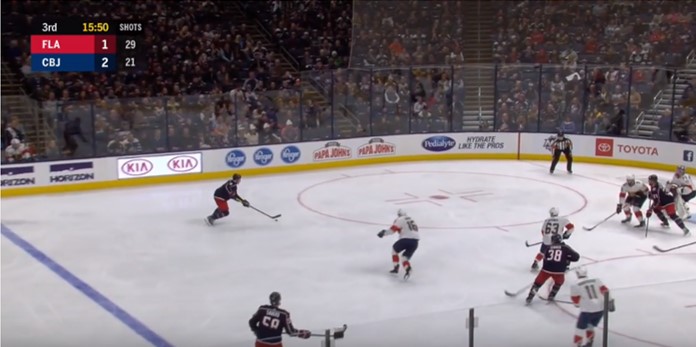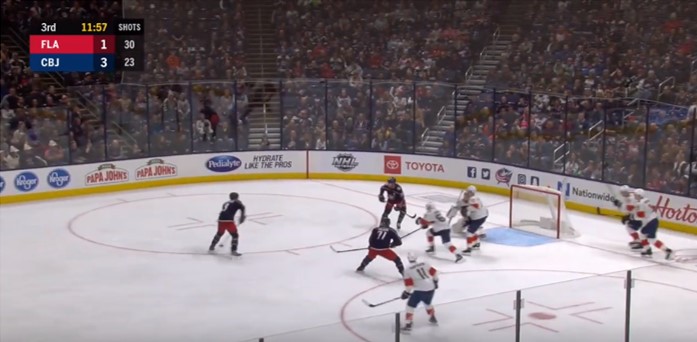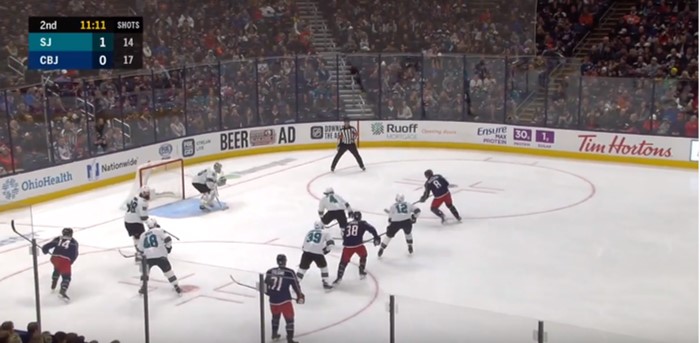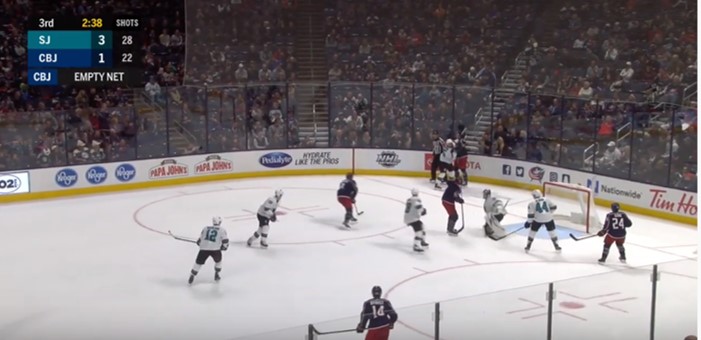 Note: this last one is a bit unfair since it's a power play, but you get the idea.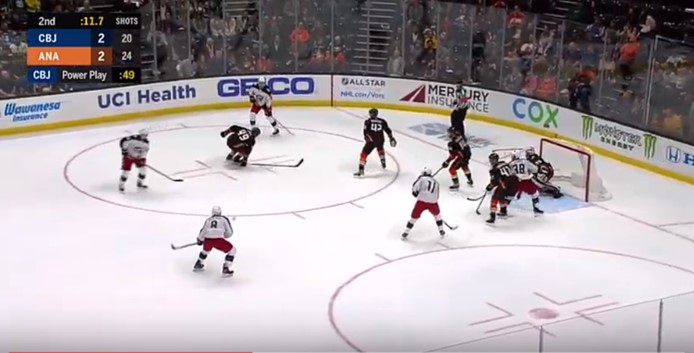 Simply put, Werenski's special sauce his ability to get lost in coverage coupled with a high-end shot. Put those together and you have an All-Star level defenseman. 
All videos courtesy of SpecmenceCBJ. You can check out the YouTube channel here.