It's here – hockey that matters!
The "postseason" starts tonight for the Blue Jackets with Game 1 of a five-game Stanley Cup Qualifiers series against the Toronto Maple Leafs. Win, and you're into the playoffs. 
But in a shortened series, every second of performance matters more, and when you have two teams that are built differently – offense (Toronto) vs. opportunistic defense (Columbus) – it can be hard to tease out which team is playing "the right way."
So let's look at five key metrics that you can find on public sites like NaturalStatTrick.com or Evolving-Hockey.com to watch and know if the Blue Jackets are building the right kind of advantage to win the series.
Quality vs. Quantity (DON'T LOOK AT SHOT COUNT)
You've heard the Blue Jackets are one of the best defensive teams in the League this year, but how do we know? The answer lies not just in what our eyes see. In fact, it can be found in something different than what our eyes might see, or more to the point, read. 
A common stat we see on the screen when we're watching games is shot count. When it comes to shots against per game (5v5), the Blue Jackets rank ninth best with 29.32 shots per 60 minutes of play. Columbus usually out shoots its opponents by about two shots per game – a minimal difference – and often were outshot.
But that's just shot volume. What really matters is how good are the shots that are being taken. That's what we need to pay attention to. 
When it comes to preventing opponents from generating quality offense, Columbus was third best in the NHL behind only Boston and Minnesota, with just 2.08 expected goals per 60 minutes of play. More games than not, Columbus could win the quality battle while losing the quantity battle.
We see this in the shot map below from HockeyViz.com that measures shots against – blue shows below league average, red shows above league average.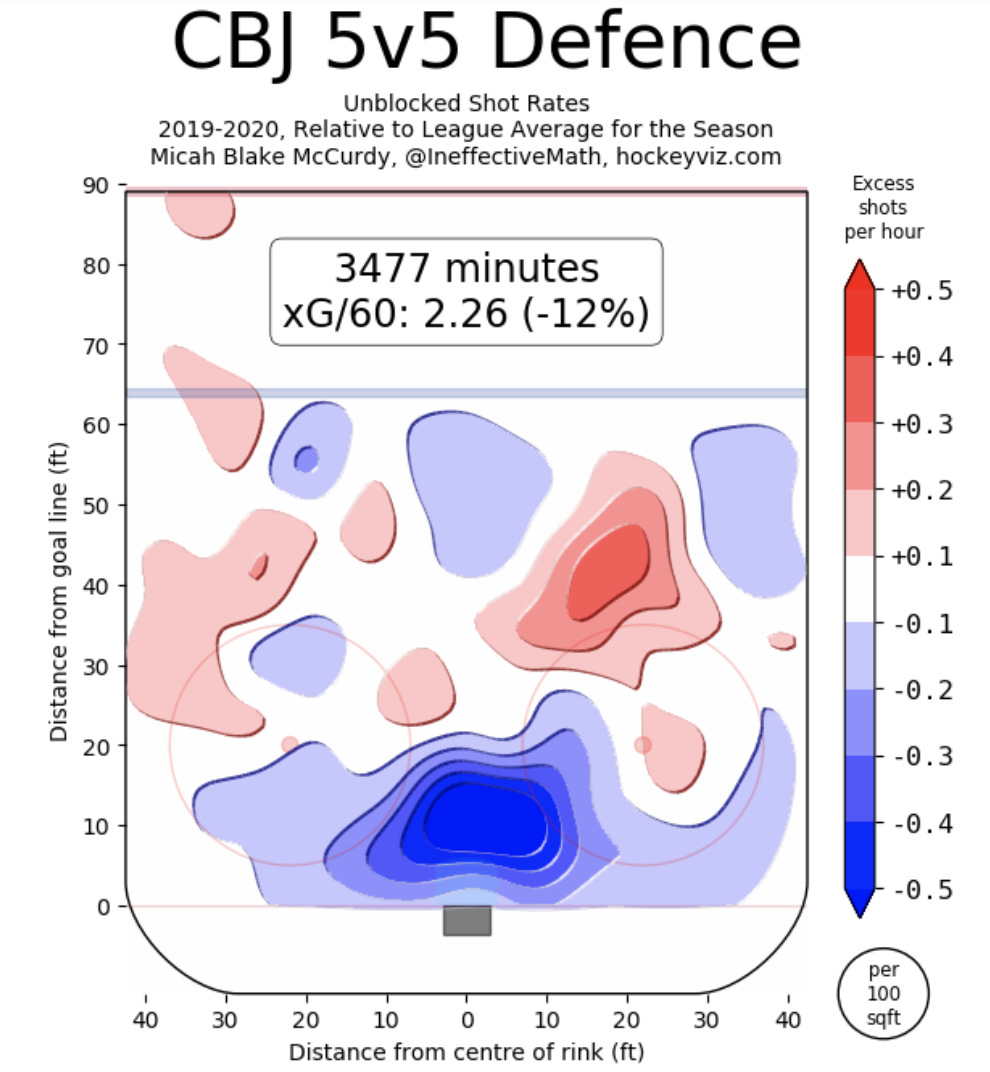 We see the Blue Jackets have proven they can lock down the dangerous areas while letting opponents shoot from all the other areas all day long. So, don't worry if Columbus is out shot, worry if Columbus starts to be out-chanced in terms of allowing a lot of quality against.
Which brings us to our next measure.
Make the saves you should…and then some. 
Blue Jackets goaltenders have benefitted from the stout defense outlined above. Elvis Merzlikins and Joonas Korpisalo rank in the top 20 of all NHL goaltenders (300+ minutes of ice time) in terms of the lack of dangerous shots they've faced. They've been protected – and then they've answered the bell.
But the next challenge is to go beyond that ask and make the more difficult saves. Going into the postseason, Merzlikins is ninth best in the NHL in goals saved above average per 60 (.38) while Korpisalo is 21st (.19). Making those difficult saves after the defense does its job will be key, so they each need to be above expectations because what they will see in terms of shots against is rare. They have to make the most of it.
The Reverse Advantage
Everyone knows Toronto has a high-powered offense. Just like Columbus' defense becomes offense at even strength, so too must it perform on special teams…I'm talking about the penalty kill.
Last season, the Blue Jackets' power kill set a single-season record for shorthanded offense, earning the illustrious "power kill" label. This season, it was hampered by injury, but now, with everyone back except for Josh Anderson, it can be not only a momentum stopper against Toronto but a momentum creator for Columbus. 
Last season, the Blue Jackets' penalty kill generated just under 20 shot attempts and one goal per 60 minutes of play. This season it was down to 16 shot attempts and .23 goals. But if a healthy penalty kill can even regain half of its previous form, the effects not just on emotion, but also the scoreboard, could be significant. We'll have more on this next week.
Generate More
We know the narrative has been "score by committee" for Columbus, but the simple fact is that the committee is going to have to do more.
Going into this series, the Blue Jackets ranked 26th in shot quality, (2.28 expected goals per 60) while Toronto ranked fourth (2.67 goals per 60). The small difference in the actual numbers compared to how great the difference is in the rankings shows how meaningful it can be to create just a bit more quality and thus up your chances of putting the puck in the net. Fully healthy, and armed with speed (Eric Robinson and Liam Foudy), Columbus needs to drive to the net and see that expected goal total go up – not down – game over game to give themselves a chance. But chances aren't enough…
Finish
For this Blue Jackets team, it's not just about creating chances, it has to be about putting the puck in the net. This season, the team has suffered from one of the weakest shooting percentages in league history. When the season hit pause, Columbus had the fourth-worst shooting percentage (5v5) in the NHL at 6.96%. For reference, the league average was 9.48%. 
As a team that feeds off its defense, the Blue Jackets have to make the most of the chances they get. Closing the deal is going to be key. Players like Cam Atkinson and Oliver Bjorkstrand have to capitalize. Watching shooting percentage at an individual and team level is going to be an important barometer.
Overall
A series or even a game is more than what's measured in numbers, but these metrics will help us understand how rapidly Columbus has returned to the style of play that brings them success. It's that kind of performance that gives them the best chance to contest the Leafs and advance into the field of 16 for this year's Stanley Cup playoffs.
NOTE: All data via Naturalstattrick and Evolving-hockey.