John Tortorella has never been afraid to shake things up.
After identical lines in practice prior to the first two games of the Stanley Cup Qualifying series, the seemingly inevitable changes to the lineup were seen for the first time in Wednesday's skate, and it appears the Columbus Blue Jackets will look a little different for Thursday's crucial Game 3.
RELATED Game 3 Preview: Blue Jackets Staring Down A Critical Series-Swinging Matchup With Maple Leafs

Alexander Texier, Pierre-Luc Dubois, and Cam Atkinson were paired together on the top line Wednesday, replacing a Game 2 line of Nick Foligno, Alexander Wennberg, and Atkinson. Foligno was found on the third line with Boone Jenner and newcomer Liam Foudy, and Wennberg was skating on the line two with Gus Nyquist and Oliver Bjorkstrand.

Only the 4th line of Eric Robinson, Riley Nash, and Emil Bemstrom remained untouched. They have looked solid as a trio through the first two games, despite limited ice time.
Seeing Texier on the top line may come as a surprise to some, but it shouldn't, and a unique graphic courtesy of HockeyViz.com that helps show why: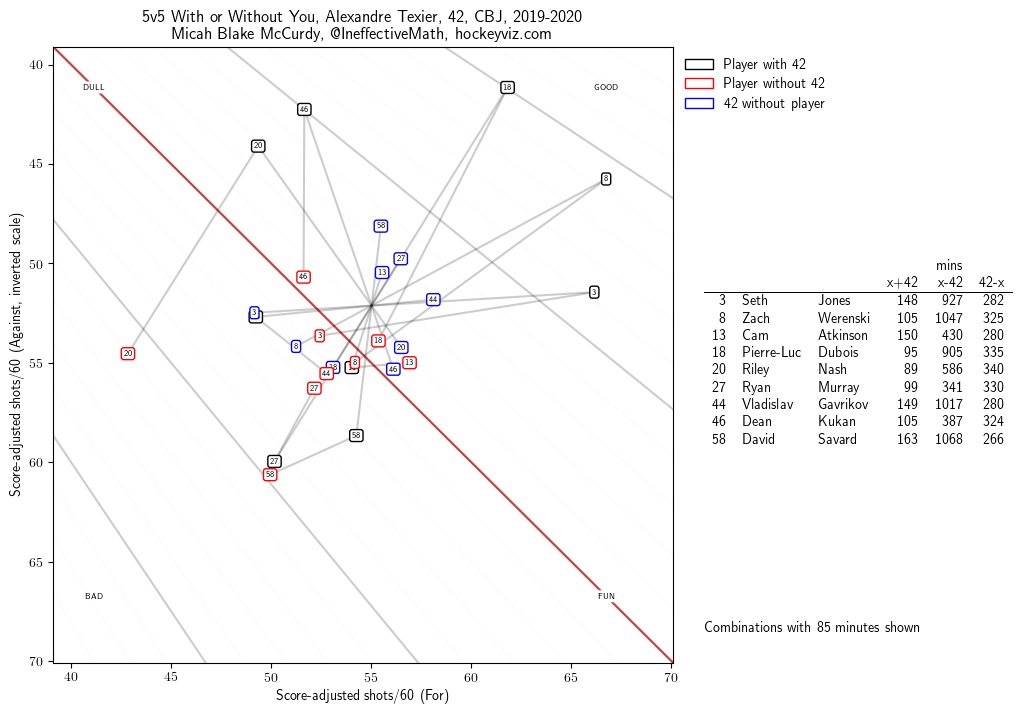 Let's break that down. This is a look at how good (and how fun) a player is with specific linemates in 5-on-5 hockey, and how good specific linemates are with that player. Let's skip the fun factor, and focus on the "good" factor. That's the top right quadrant, and it's where you'll find both Dubois and Atkinson, Texier's presumed top line partners for Game 3.

On the blueline, a fresh face looks to draw in for game three: Markus Nutivaara, scratched for Dean Kukan in Games 1 and 2, was skating with Ryan Murray on the third pairing. Tortorella implied after Game 3 that Kukan was not injured after a first period hit from Maple Leafs forward Kyle Clifford.

If that's true, it would seem that the Blue Jackets coach may favor Nutivaara's ability as an offensive defenseman. He's no Zach Werenski, but Nutivaara certainly gets a nod over Kukan when it comes to helping create offensive opportunities. For a team that needs to find a way to score goals, it's a low-risk, high-reward change that could pay quick dividends.
Follow 1st Ohio BatteryFacebook, Twitter, Instagram and YouTube