Earlier this week, The Athletic's Aaron Portzline wrote on the hope for a resurgence in Cam Atkinson's game after a year that – if you look strictly at points – was not what the player nor his team wanted it to be. Of course, Atkinson has reason to chafe at assumptions that this was all due to the loss of Artemi Panarin as his line mate, but is he right to believe that last year was an anomaly and not a new normal?
We know Atkinson's scoring wasn't what it has been in previous years. In five-on-five play, he had 0.99 goals per 60 minutes of play – a career low. And yes – points matter. Goals win games of course, and there are few Blue Jackets who take more pride in being a goal scorer than Atkinson. But points don't tell us what has changed in a player's game, or if anything has at all.
So, was something really off last year and if so, what was it, and can it be fixed?
Lest I do all the investigation myself, I asked Twitter what they might look up to understand a player's "off" season. Here's how you all responded.
Hockey player X has uncharacteristic (not great) season. Whats the first variable you consider?

— Alison (@AlisonL) December 28, 2020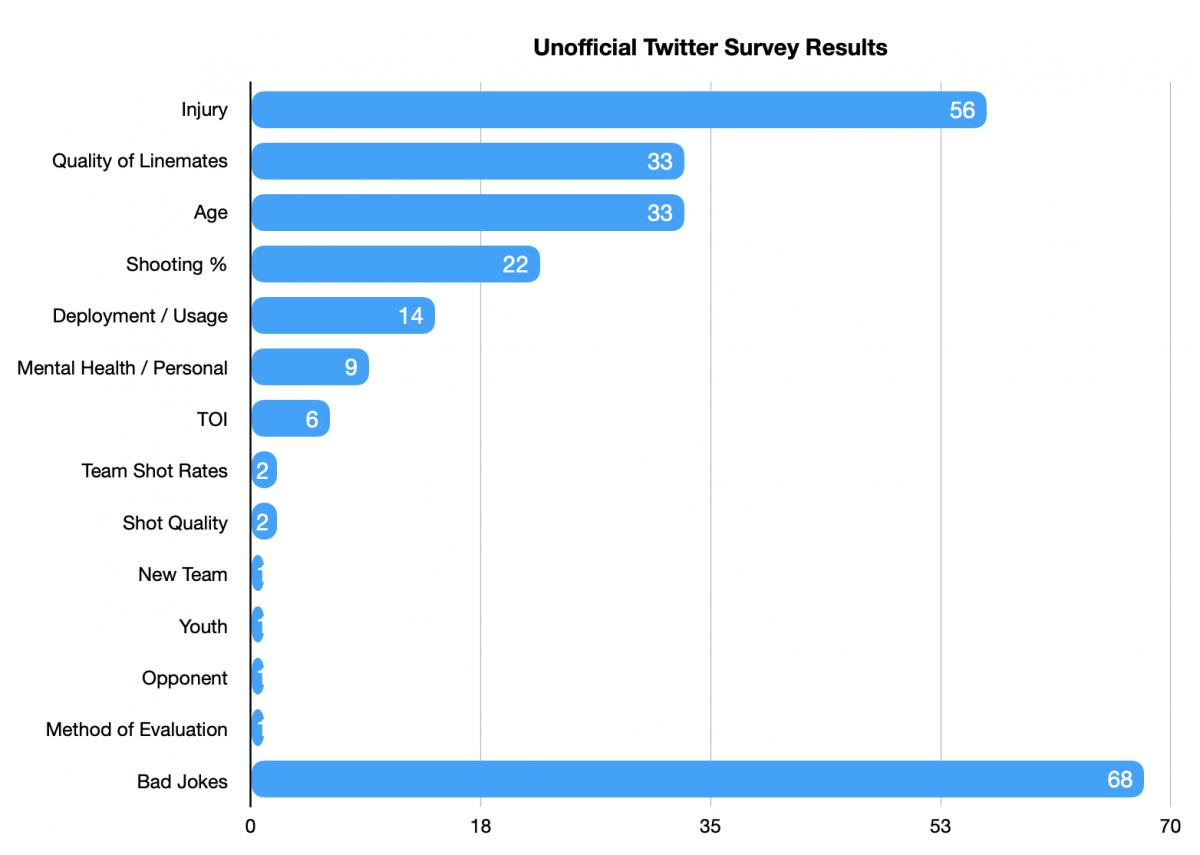 Let's take a look at some of the most commonly mentioned items.
INDIVIDUAL FACTORS
Injury
Yes, Atkinson had an injury last year, a sneaky high ankle sprain, but that didn't happen until three months into the season, so we can probably take that off the list.
Age
Age was a big vote getter in our poll, and that shouldn't be disregarded. If we look at NHL aging curves, it's fair to expect some drop-off as any player ages, but Atkinson certainly isn't in the range of total decay.
Individual performance (shooting volume, quality, and finish)
Here's where things get interesting. Atkinson was firing shots at almost the exact same rate (11.31 per 60) as he was the past two seasons – the three highest campaigns of his career. However, he wasn't generating as many quality shots as he has. Last season's expected goal rate per 60 (0.89) was the lowest of his career, off from his career average of 1.15. It is worth mentioning that his best season quality-wise was not the season he had 35 goals, nor the season he put 41 pucks in the net, it was the 2017-18 season (1.43). It's fair to challenge this behavior as necessary to rebound, but also not panic and think quality was the only ingredient of success.
To that end, last season was the worst for Atkinson in terms of shooting percentage (8.11) so last year's stat line wasn't just about the shots the winger was taking, he was suffering from some insanely bad luck (as was the whole team). Atkinson also played more second line minutes than the previous four years, so deployment certainly contributes here. And, all the while, if we look at Evolving-Hockey's goals above replacement model (GAR) the player's offensive contributions actually slightly increased.Ultimately, when it comes to the behaviors that lead to scoring, some faltered, some did not, but we certainly don't see the player falling off a cliff in every stat imaginable.

TEAM FACTORS
Systems
It wasn't just Atkinson's individual shot quality that decreased last year, it affected the whole team. However, if we look at what numbers improved for the two-time All Star, we start to see something fascinating. We know John Tortorella asked his team to play defensively-minded last year, and last season's shots against, goals against, and shot quality against all improved for Atkinson – in fact all three measures were at or near career bests for the player. HockeyViz's impact model tells us that 2019-20 was the best defensive performance of Atkinson's tenure with Tortorella.
The coach is now saying that this year will loosen the reins on his offense, and that shift in focus may free up all players, not just Atkinson, to push for more quality chances, fight to spend more time in the offensive zone, and bump up stat lines as a result.
Quality of Linemates
Here it is, the dreaded "Panarin Impact." No one should ever take an ounce of credit away from Artemi Panarin, but let's flip the coin and look at the individual impact of Atkinson instead to see if that changed last season. If you compare the last two years, the Blue Jackets actually held more or less steady as a team with Atkinson on the ice: the team's goals for percentage increased; shots for stayed almost exactly the same.
And if we look at the promise if Max Domi, will full respect for Pierre-Luc Dubois' game, the new Blue Jacket center may – as hoped – help create that beautiful space for Atkinson to "get lost in."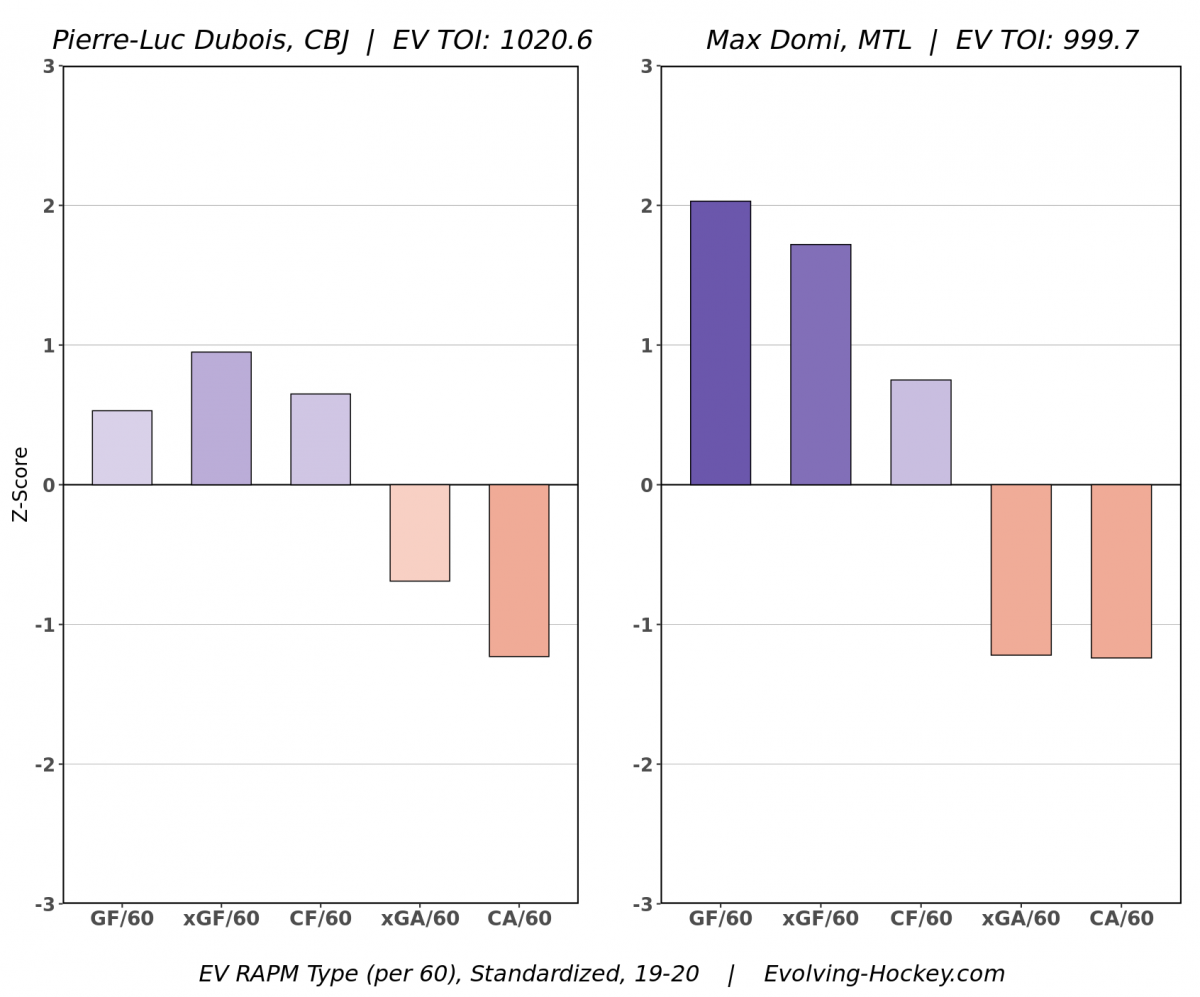 OPTIMISM OR PESSIMISM
Overall, while no one can defeat age, and it will impact every player's game eventually, there's reason to believe that Atkinson – aided by full health, a freer system in which to play, and strong centers – can return to his scoring ways. The kind of dip he saw in shooting percentage is surely due for regression (in the right way!) and if he can bump back up the quality of his chances, we don't see signs that his game faltered in any meaningful way.
Atkinson is one who thrives on proving people wrong, and he might just be primed to do it again with a strong season. The Blue Jackets will certainly need it.