The Columbus Blue Jackets traveled to Detroit with a massive opportunity. 
An opportunity to take four points away from a team that is squarely in the midst of a full-on rebuild. An opportunity to gain momentum before a grueling stretch of games against legitimate Stanley Cup contenders. An opportunity to show GM Jarmo Kekalainen how he ought to proceed in advance of the April 12 trade deadline.
Instead, the Blue Jackets were outscored 7-2 in two games, losing twice to a goalie who had previously not won a game in the NHL since November... 2018.
John Tortorella was, unsurprisingly, curt in his postgame press conference. 
John Tortorella speaks to the media following today's game in Detroit.#CBJ | @pedialyte pic.twitter.com/I0zSD5TeTH

— Columbus Blue Jackets (@BlueJacketsNHL) March 28, 2021
Tortorella, on his team's lack of response: "You want your guys playing at their best. We didn't make a play. We didn't make a play, it was a struggle for the past six periods." #CBJ

— 1st Ohio Battery (@1stOhioBattery) March 28, 2021
I've done plenty of coach bashing during this season, and I don't think that there's much more original thought on the subject. Tortorella probably (definitely?) isn't the long-term solution for this club. But that won't change this season, as Kekalainen made clear when he gave a vote of confidence to the coach. 
So the question becomes... what will change this season?
With the trade deadline looming large, the message after this weekend's debacle should be received loud and clear: this team, with 34 points in 36 games, should be a seller, no questions asked. It's not just that the Blue Jackets are losing games, it's how they're losing. NBC's Ryan Callahan, who played for Tortorella, was rightly critical of the Blue Jackets' once-formidable defensive structure. 
Ryan Callahan on #CBJ: The big thing is the fashion they are losing these games is shocking to me. They are not in the game emotionally, physically ... Its too easy thru the middle of the ice. I played for John Tortorella and this is not what hes about.

— Tom Reed (@treed1919) March 28, 2021
Even the Blue Jackets' Fox Sports Ohio crew, typically a team-friendly panel, had no choice but to bash the team after the first (of six) terrible periods in Detroit. After just 20 minutes, analyst Jean-Luc Grand-Pierre questioned their work ethic. Jody Shelley reminisced of the early days of the Blue Jackets-Red Wings 'rivalry' when Detroit was a Hall Of Fame-laden team and not a bunch of retreads on expiring contracts that will be moved in a matter of weeks for draft picks and prospects.  
The Blue Jackets look lost at both ends of the ice. We've already touched on how they were only able to get two goals in two games past a purposefully bad NHL team playing in front of an AHL goalie. But defensively, the lack of execution from reliable players is bewildering. 
On Anthony Mantha's 3-1 goal in Saturday's game, Seth Jones and Zach Werenski both chased nobody (!?) behind the net. One second later, Mantha had a back-door tap in. 
Mantha buries his 9th of the year. #LGRW pic.twitter.com/4zpFQZAk1W

— Detroit Red Wings (@DetroitRedWings) March 27, 2021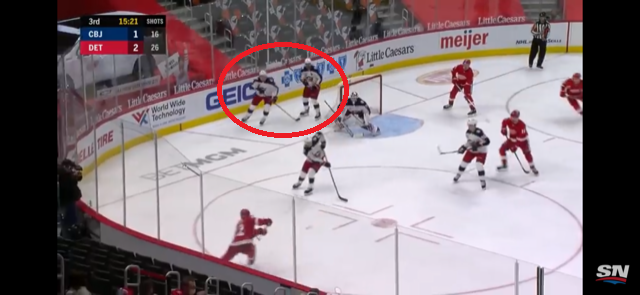 Then, in Sunday's loss, the Blue Jackets inexplicably allowed Evgeny Svechnikov, who was 1-on-4, a comfortable cushion, to walk in and face a screened Elvis Merzlikins, as if they were trying to prove a point.  
The lone Wing in the picture scored on this play, which is not ideal. #CBJ pic.twitter.com/Y3kEAvyW0m

— Jeff Svoboda (@JacketsInsider) March 28, 2021
If this feels like a different team from prior years, it's probably because it is. None of Michael Del Zotto, Patrik Laine, Jack Roslovic, Max Domi, Mikhail Grigorenko, etc. were on the roster last year, and none of them are notably strong, defensively, either. And for whatever reason, typically steady players, like Jones, David Savard, Vladislav Gavrikov, etc. have been uncharacteristically subpar defensively. The combination of bad and inconsistent led us to this weekend's fiasco. 
Kekalainen has repeatedly shown that he's unafraid of making a move to give his team a boost through a splashy trade. But this season, the team has shown him and the rest of the front office that they're not deserving of that boost. And that's okay.
For years, this franchise has traded away picks and prospects for short-term upgrades. Today, they have the 27th ranked prospect pool (no matter what Kekalainen and co. say about Alexandre Texier and Emil Bemstrom, they're clearly not ready for an elevated role in the NHL) and a 2% chance of making the playoffs. With just 20 games remaining, the math has gone from challenging to brutal (below chart via The Athletic). With a 77-point pace (in an 82 game season), it's hard to say they deserve better.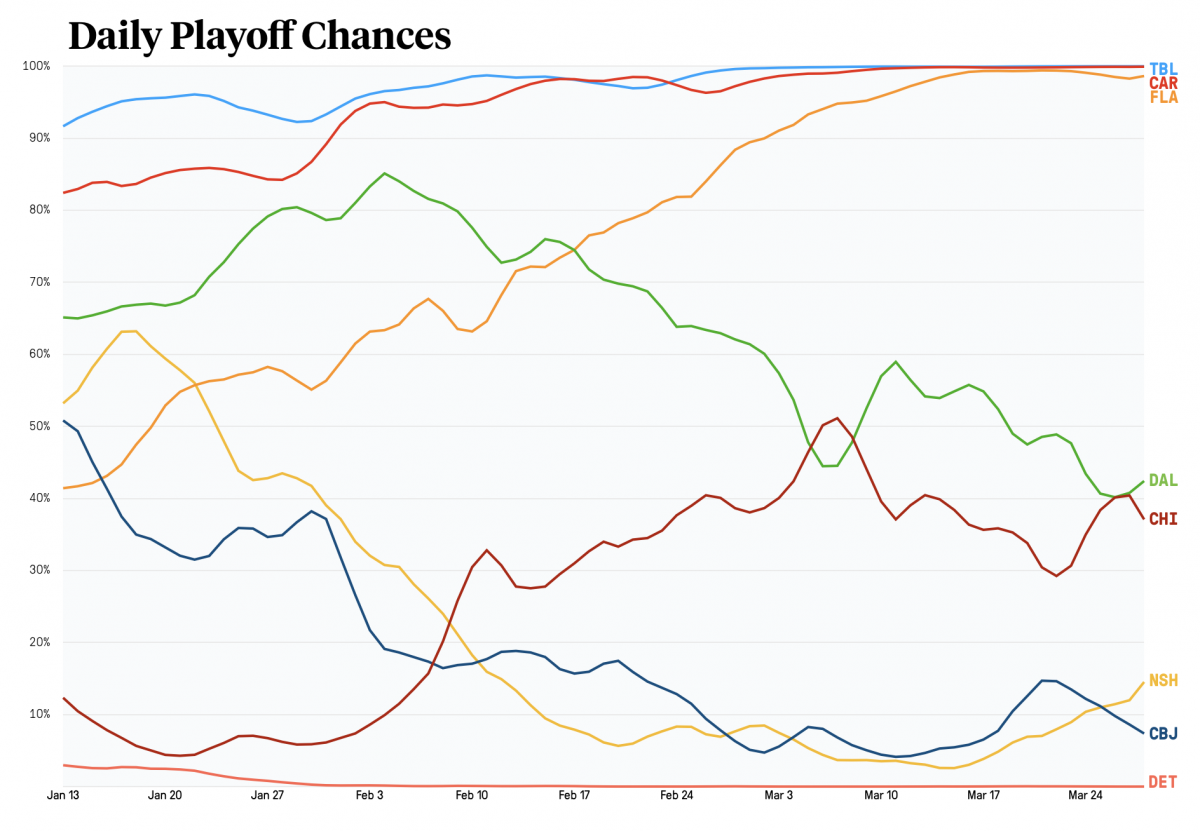 Sure, it would signal the end of an era in many regards. Who knows, maybe Nick Foligno re-signs in Columbus in the offseason even if he goes on a playoff run with a contending team. But nothing so far this season has indicated that this Blue Jackets team can make the playoffs, much less do damage once they get there. Hell, they haven't even strung together a three-game winning streak, and we're 35 games deep.
Put simply, recouping assets for their pending UFAs should be the priority, but Kekalainen should be at least willing to listen on virtually the entire roster.  
The #CBJ have more regulation wins than:

San Jose (Sharks have three less games and one less reg win)

Ottawa (equal number of GP; one less reg win)

Anaheim (one less GP; three less reg wins)

Buffalo (three less GP, five less reg wins)

Thats it. That the list.

— CBJ Stats (@BlueJacketStats) March 28, 2021
After a certain point, you are what your record says you are. Don't shoot the messenger. The Blue Jackets players are the ones that gave management a loud and clear message of what to do next.