It feels like the Blue Jackets are at a crossroads, no?
First it was described as a reload, but with the news that Seth Jones is choosing to pursue free agency, as is fully his right, it started to feel like the organization is headed for a full-on rebuild.
But what if it wasn't? Is there a situation where, if the stars aligned and everyone played nice, the Blue Jackets could be a legitimate contender? There just might be and, in some ways, it's oddly reminiscent of the Rick Nash trade that catapulted the Blue Jackets into their first true phase of legitimacy.
With full credit to my friend Derek who helped break this all down with me…let's get weird, folks.
---
Trade #1: Seth Jones for Mitch Marner
Our Jacob Nitzberg already broke down why this just might work, so let's assume it happens! Toronto gets cap relief and stronger defense (that has an offensive upside). Columbus gets bona fide top-tier offensive talent.
Using Prashanth Iyer's trade machine, we see that Columbus might have to throw in one of those first-round picks to sweeten the deal, but... Marner is the kind of talent a top THREE draft pick secures and there's no guarantee where this pick falls in the order.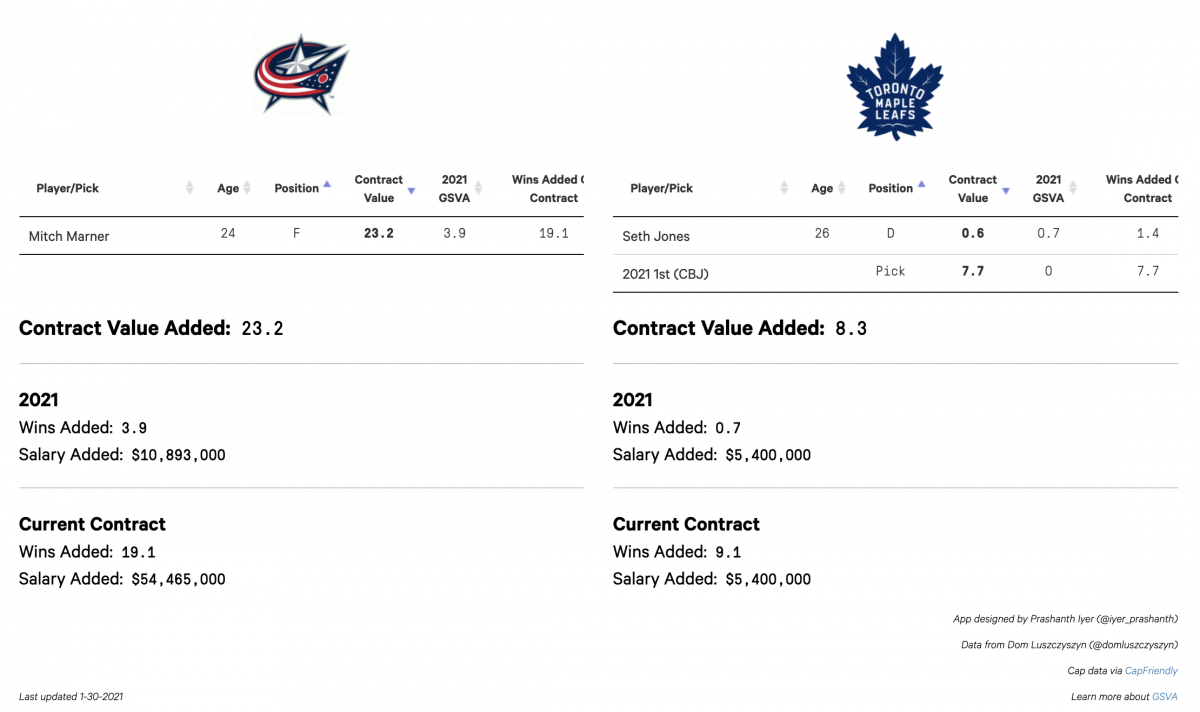 The dollars might be scary here, but in terms of actual money for Columbus, Marner's contract was massively front-loaded so $8 million is a bit more palatable, (on the other side of the deal, Toronto gets some much needed cap relief). It's also worth noting that Jones would likely sign a new contract with Toronto and once that stability and cost control is in place, his value as used in this Trade Machine would increase.
Trade #2: Go Get Eichel
As Columbus has seen, just one elite piece isn't going to get it done with the current roster. And, of course, this group desperately needs top-tier centers. Enter Jack Eichel. Yes, there are some injury concerns with his neck issue, but we are not doctors here, we are crazy trade proposers, so let's assume it's the piece you need - the injury may also make it easier to coome in with a trade proposal if it scares other suitors away.
What would it take to get Eichel? Does Columbus have the pieces? Again, using Iyer's Trade Machine, here's what it might take.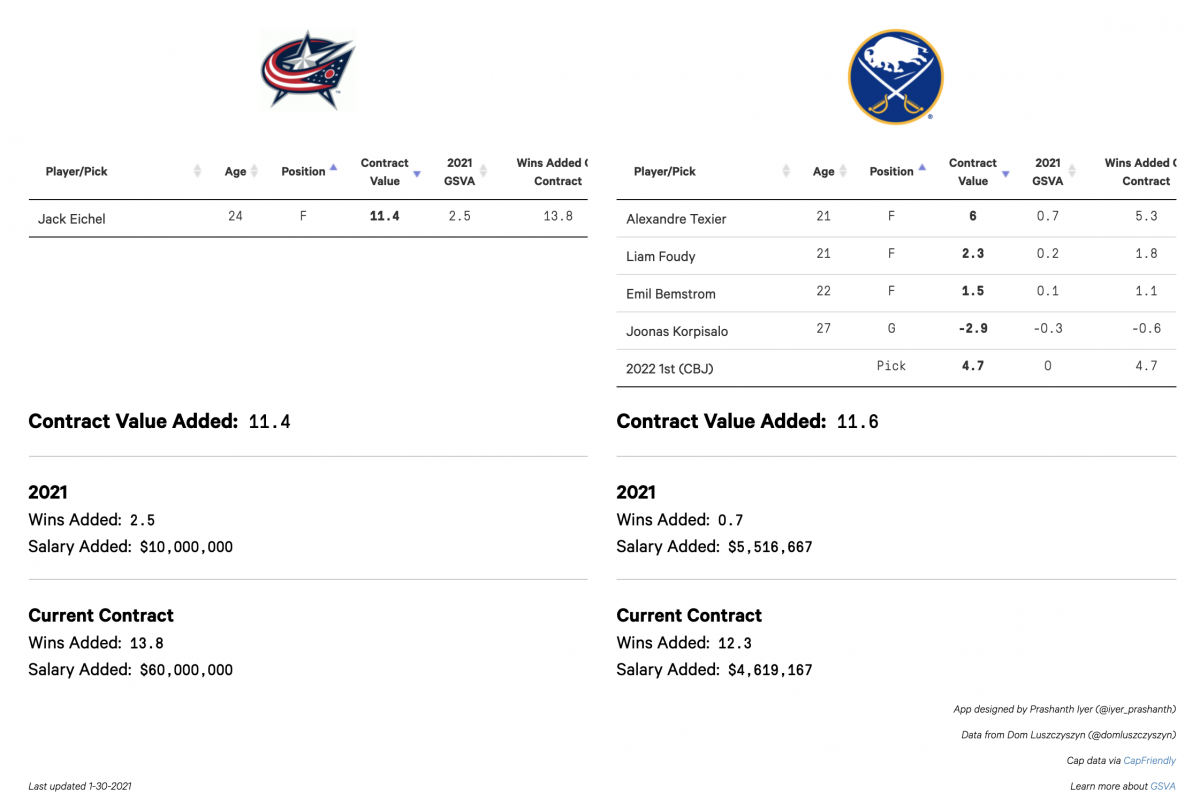 Just like the Nash trade, one big piece comes to one team (Eichel to Columbus), while Buffalo gets three pieces back: some youth, a developing center, and something that they need in a goaltender – all perhaps more suitable to their window of opportunity and Columbus' top six becomes an actual threat.
The Lineup
So why do this? Here's what Columbus' lineup could look like as a result.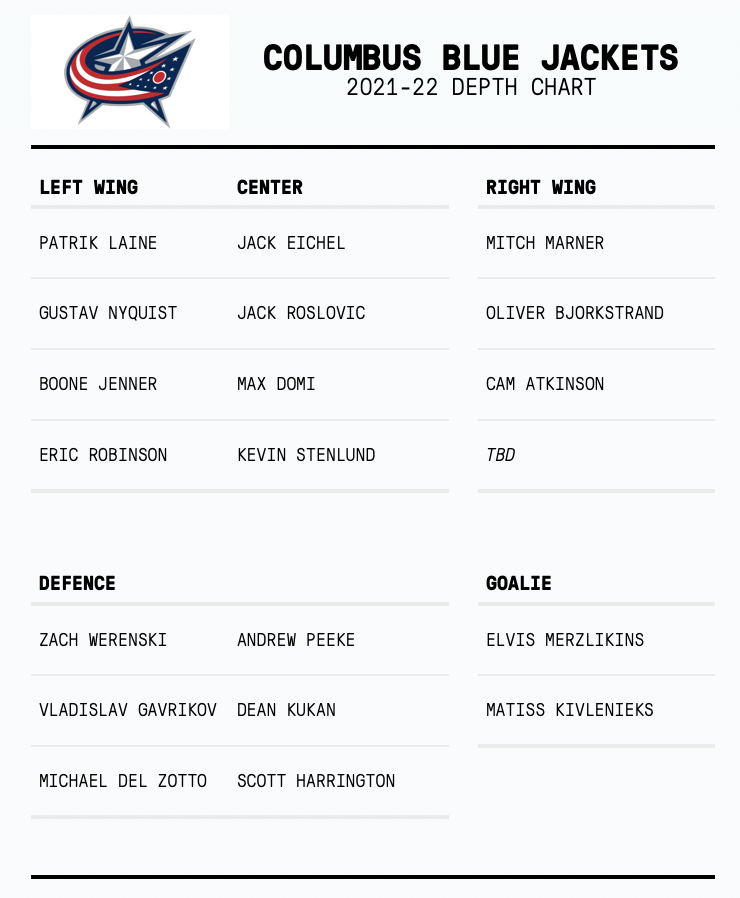 That defense isn't as strong as it's historically been in Columbus, but there may have some flexibility if Del Zotto and Mikko Lehtonen come back. Gabriel Carlsson could be in the mix.
And the right side of the forward group may be moving around to find space for Yegor Chinakhov. Don't forget about him.
So no, it's not a rebuild, no, it doesn't refortify the prospect ranks, but it does keep the Blue Jackets in the fight. And if winning begets winning, that may mean more talent comes along soon.
Again, this was all to have some fun, and the merits of the strategy itself can always be up for debate, but two big splash trades could keep Columbus out of the NHL basement for the proverbial future.