Have you ever wondered how head coach Brad Larsen decides when to challenge a call in-game?
There is so much that goes into the behind-the-scenes of an NHL game, with tireless staff that you may never see or know the names of throughout the course of an 82-game NHL season, and if that team is so lucky, deep into the summer months for the Stanley Cup playoffs.
Alongside the players on the ice and the coaches behind the bench, there are important people who are as vital to the success of the team.
Recently we sat down with Columbus Blue Jackets hockey video assistant, Aron Augustitus, to learn more about his role with the club and how everything works from the video element of the team's success.
Augustitus' responsibilities with the team cover a wide array of video-related needs for the club, from breaking down film to tracking stats, and anything the coaching staff can use to be as prepared as possible at any point during the season.
What's a typical day in the life for Augustitus?
"The thing that's interesting about being on this side of things is while there are pretty standard things that may happen before and after each game, every day is so different," Augustitus said. "One day you're playing a game, one day you're traveling, one day you're at home.
"The basis of a non-game day is come in the morning, get whatever video coaches may need on the game from the night before as well as who we're playing next.
"If it's a back-to-back coming up you're typically doing two teams at a time just so they have everything prior to the first of the back-to-back ending. It's always changing. I just try to be as much of a helping hand in as many areas as I possibly can."
Where you may not see Augustitus himself during the game, you've likely seen the coaching staff view the iPad in-game, closely monitoring the latest play and reviewing anything from goaltender interference to an offsides play.
This is where Augustitus and video coordinator Dan Singleton are in communication with Larsen, associate coach Pascal Vincent, and everyone else associated with reviewing plays and deciding when to review and challenge plays during a game.
A picture story of the #CBJ watching Laine's first of three goals on the giant video board in Chicago, while it was under review.

The last frame is after they watch Jenner dive into the net like he was spearfishing.

Jenner to Domi: "You see what I did there?"#CBJ pic.twitter.com/dLTBDnHzpN

— Brian Hedger (@BrianHedger) February 18, 2022
"Basically in-game, the way that our setup works is (Vincent) is on the walkie talkie on the bench, (assistant coach) Kenny McCudden is on the walkie talkie up watching the game in the stands or up in the press box, then (Singleton) and I are on one in the room.
"(Singleton) is live-tagging the games which is saving the video. I'm watching the hawkeye computer throughout the game, communicating with (McCudden) and (Vincent) on the bench. If they see something they want to have checked, whether it's an entry while a play is going on or a high stick that may have been missed, they'll point something out.
"I'll be looking for things on my own as well to see if I picked up on anything. If it comes down to a decision that needs to be made...the offsides ones are typically black or white. Goalie interference typically becomes a conversation (amongst the staff)."
How stressful does it get in the moment when trying to decide whether to review a play or not?
"For me personally, I thrive off that adrenaline that you get in those situations," Augustitus said. "At the same time, we're making a decision on what we want to do but at the end of the day, it's always put into the league's hands of what the ultimate decision is going to be.
"The fear is less of 'Am I going to get this decision in time?' or 'Am I going to get this out to the bench in time so they can make the right call?' and more of 'Are we going to get the result that we want to be getting?'"
How much of a challenge was it for Augustitus to do his job amidst the Covid pandemic?
"I have more responsibility this season than I did in the past seasons," Augustitus said. "From a job standpoint, the difficulty wasn't there because when the team would go on the road I would do some stuff upstairs with Jim Viers, our scouting coordinator. I would do stuff with (assistant general manager) Josh Flynn.
"My job wasn't tailored strictly to what the coaching staff is so I was doing stuff for the coaches but I could do them at my own discretion.
"You feel a little less connected with the team when you're not traveling with them so that was the biggest thing for me this year was that I felt way more involved in things."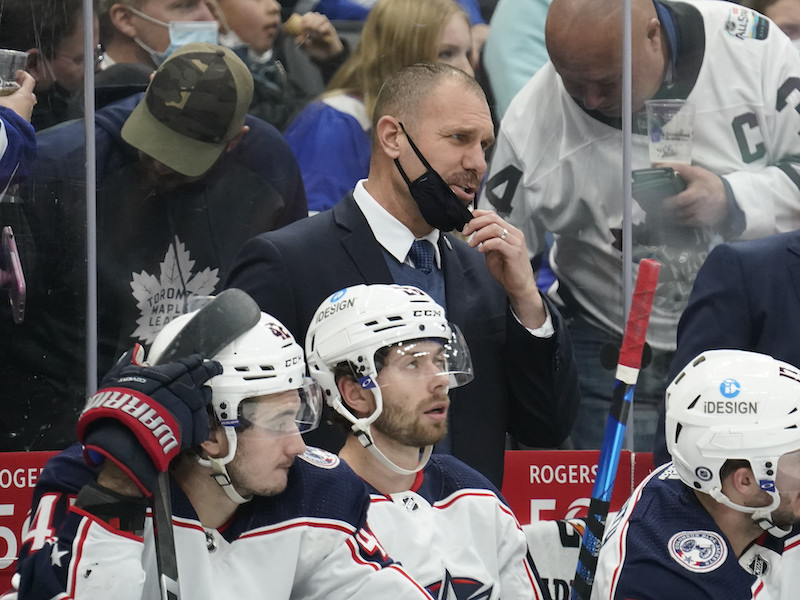 Augustitus is in the unique scenario of already having a relationship with the head coach in Larsen, who has been with the Blue Jackets since 2014. Was it much different working with former Blue Jackets head coach John Tortorella?
"I personally didn't have a lot of interaction with (Tortorella)," Augustitus said. "A couple of trips that I went on last year I did, and as the season progressed, I was a bit more ingrained. I saw what he did all the time and I was always in awe of how he captured a room and how he conducted himself in the day-to-day that he went about.
"My relationship with (Larsen) is much different because I'm a lot closer with him than I ever was with (Tortorella), even just in the year, year and a half that I've been hands-on with (Larsen). The way that he conducts a room and the respect that he has of every single person in the organization is really what I am in awe of with him.
"Larsen is one of the most disciplined, well-put-together people I've ever come across. I can't speak enough about how much I learned from just watching him this year. He, for my money, was one of the best coaches in the NHL this year and should get a little bit more recognition league-wide for the job that he's done."
Even though the Blue Jackets season is over and it's the off-season, it's hard to turn off that in-season coaching mindset, even when casually viewing the teams remaining in the current playoffs.
"I'm watching it to see what neutral zone forechecks are they running, what set breakouts are they running, what (defensive) zone coverage are they running," Augustitus said.
"I'm looking at it from a very systematic standpoint now, whereas opposed to growing up I was always like 'Oh that was an awesome play.' Goal's scored and I'm thinking 'Where did that play start not how did it finish.'"
With the NHL draft in July, free agency after that, and team-related on-ice events to follow, there isn't a lot going on but still enough to stay busy.
"I'll go in a little bit, help out with our draft prep, go to the draft in July, help out with development camp after the draft," Augustitus said. "For the most part, I really don't have much to do outside of little projects I want to work on myself.
"This was always a dream of mine to do all this stuff. I'm just a kid that's living out his dream. I'm very grateful for (general manager Jarmo Kekalainen), (assistant general manager Basil McRae), and (Flynn) who really give me the opportunity to do these things throughout the year.
"They believed in me to give me this position so I try to just make sure that I'm paying that back to them and working hard enough because they have that belief in me so I want to make sure that they know it was worth it."
Special thanks to Augustitus for the time and incredible insight.