The 2021-22 NHL season came to an end Sunday, with the Colorado Avalanche hoisting the Stanley Cup in a six-game defeat of the Tampa Bay Lightning.
If Vegas is correct, the Columbus Blue Jackets won't be having that kind of fun anytime soon.
Sportsbooks in the Sin City have set the Blue Jackets at around +10,000 to win the 2022-23 Stanley Cup, amongst the worst odds in the league. That approximates about a 1-in-100 chance to end next year as the champions of the NHL.
Seneca Casino's have Columbus and the Montreal Canadiens at +10,000, tied for the second worst chance — though well ahead of the +50,000 they give the Arizona Coyotes.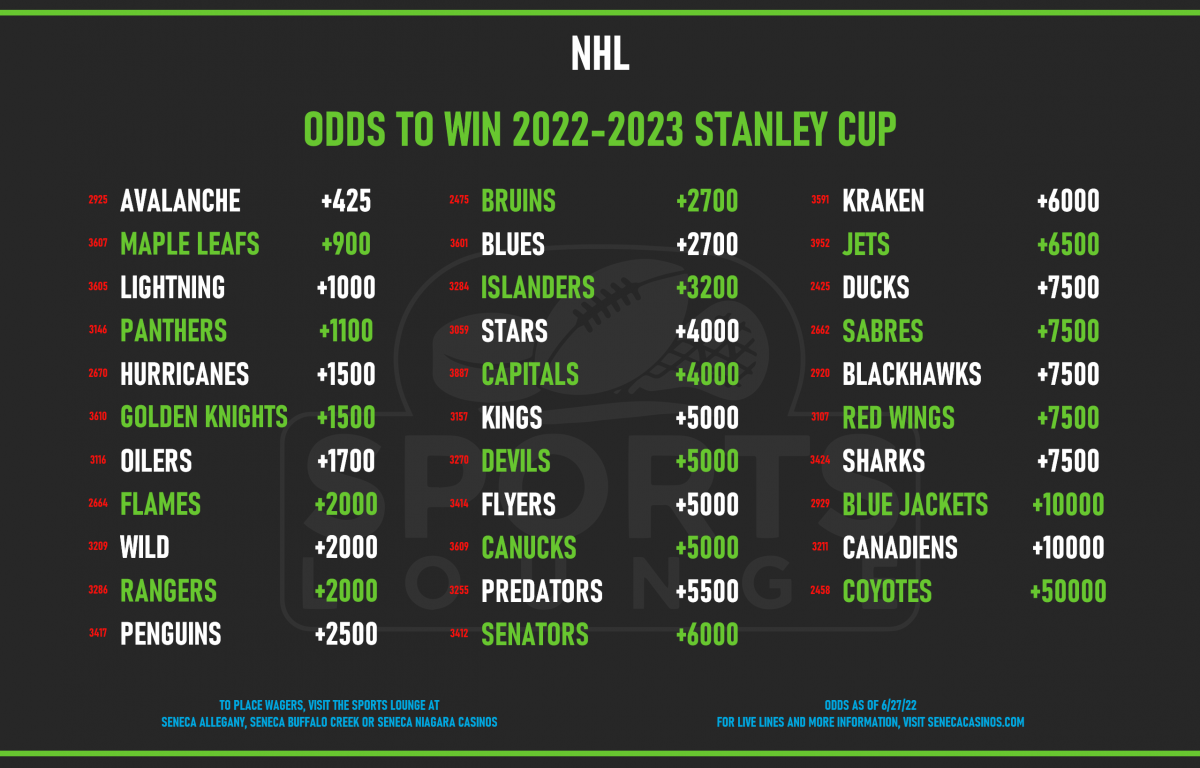 DraftKings and PointsBet agree on the Blue Jackets' grim odds. On the former, Columbus is tied with the San Jose Sharks, Seattle Kraken, and Chicago Blackhawks at +10,000. Only Montreal (+15,000) and Arizona (+50,000) have worse odds. On the latter, the Blue Jackets are one of four teams at +10,000; the Kraken are at +15,000 and the Coyotes are (again) at +50,000. 
It's more of the same with the Tipico Sportsbook, who has Columbus as one of five teams with the 31st-rated +10,000. Again, the Coyotes (+30,000) are the only team they have less confidence in. 
Fox Sports's betting service, FoxBet, likes the Blue Jackets a little more than most other books. They give Columbus +8,000, so a measly $10 would pay off with an $800 profit. 
The +10,000 betting odds are equal to the Blue Jackets preseason chances to win the Stanley Cup this past season. The Ottawa Senators, Arizona Coyotes, and Anaheim Ducks had those same odds, while the Detroit Red Wings and Buffalo Sabres' +20,000 odds were the worst. The lowest odds for a team to make the postseason this year belong to the Los Angeles Kings, who were +6,600 to win it all and came within a game of the second round of the playoffs last month.  
The Avalanche are, across all books, the odds-on favorite to win the Cup again next season. It's easy to see why, as Colorado is full of young talent who now know what it takes to win it all. That said, the Blue Jackets were one of just two teams (the other being the Washington Capitals) that the Avalanche didn't beat this season, with Columbus winning both games against Colorado in early November.
So, get those bets in?