It's been said over and over and while it can only be written in so many ways, the fact remains.
The defense for the Columbus Blue Jackets needs to be better this season. Going into last season, there was quite a bit of turnover on that end of the ice.
A lot of that was connected to the trade between the Blue Jackets and Chicago Blackhawks that sent Seth Jones to Chicago, and Adam Boqvist and Jake Bean (Bean via Carolina Hurricanes) were brought to Columbus in the summer of 2021.
Boqvist played in 52 games for his first season in Columbus last year as he navigated injury, and he is still more or less looking for a first full season as he's played in 128 games through parts of three seasons. In 2021-22, he set career highs in goals (11) and points (22). The Blue Jackets gave him a three-year extension for $7.8 million ($2.6 million AAV) in July.
Defensively, Boqvist trended towards the bottom of the team with a 3.53 GA/60 and 3.02 xGA/60. Offensively, he was fourth with a 3.21 GF/60 and fifth with a 2.48 xGF/60, all 5v5.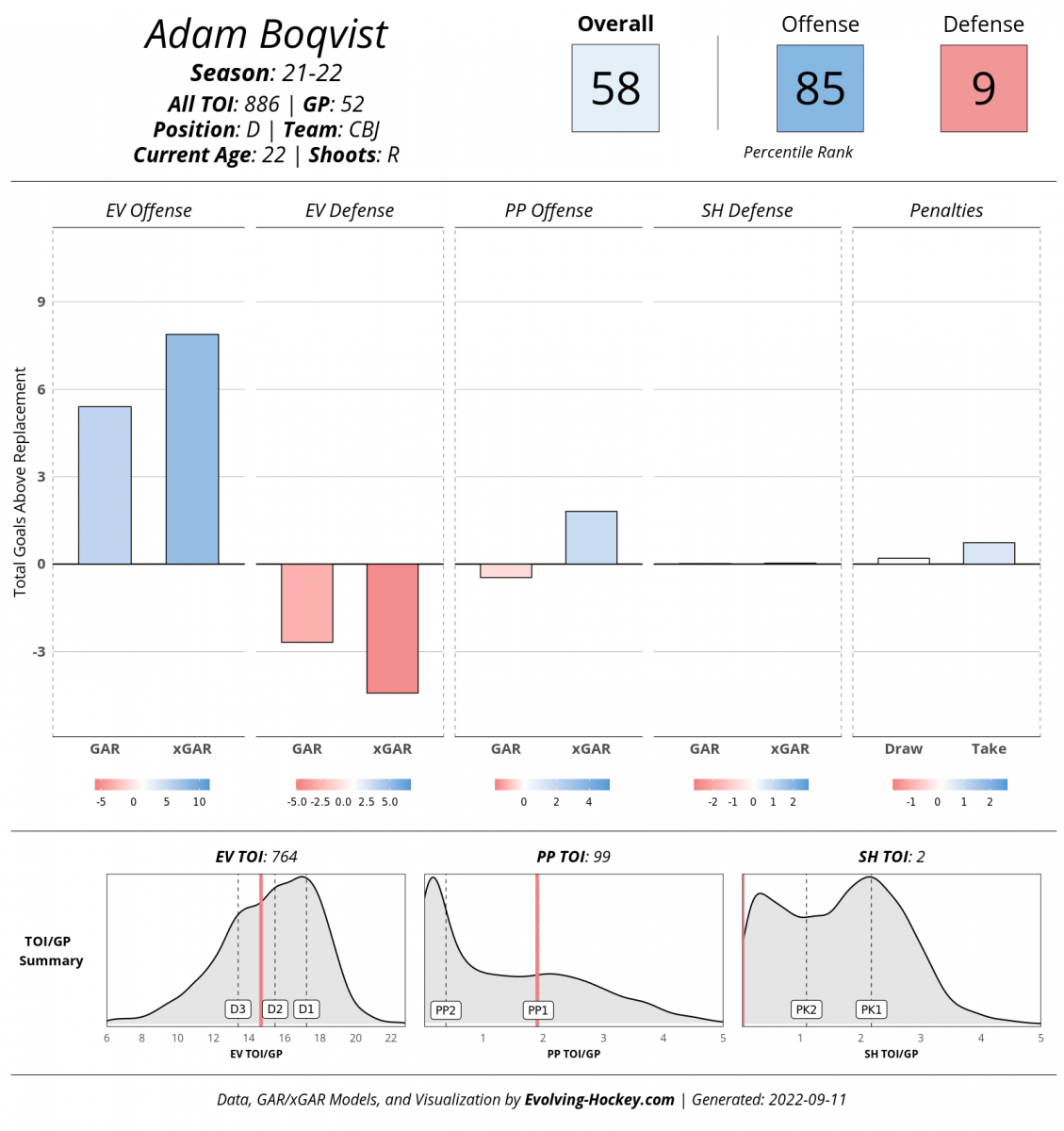 Bean also showed his offensive potential, setting career markers with seven goals, 18 assists, and 25 points in 67 games. Similar to Boqvist, Bean missed time with injury, but he also struggled on the defensive side of the game.
Bean's GA/60 was 3.0 and his xGA/60 was 2.99 last season, and he did show improvement once he returned from injury. From his return on Mar. 7 through the rest of the season, Bean's xGA/60 was 2.86. Going back to New Year's Day against the Hurricanes, Bean was third on the team, first among defensemen (min. 600 minutes) with a GA/60 of 3.18 through the rest of the season, and eighth with a 3.13 xGA/60.
Andrew Peeke, one of last season's emergent players on the rise, was sixth in GA/60 (3.39, min. 600 minutes) from Jan. 1 through the season's end, although Peeke played 15 more games than Bean, and had a better xGA/60 (2.75) in the second half while Bean was over three (3.13).
Offensively, throughout the whole season, Bean had a 2.65 GF/60 and 2.34 xGF/60. From Jan. 1 through the season's conclusion, he had a 2.88 GF/60 and 2.32 xGF/60. All data per Natural Stat Trick and Evolving-Hockey.
As both players enter year two with the team, how will each continue to evolve their two-way game?
The Blue Jackets look for Bean to become the player they had in mind when they sent the 44th overall pick to the Hurricanes for him last summer. He signed a three-year extension for $7 million ($2.33 million AAV) prior to opening night last season. Boqvist showed tremendous offensive potential and can still elevate his defense on a nightly basis.
With prospects including David Jiricek and Denton Mateychuk in the wings, and presumably making their respective Blue Jackets debuts sooner than later, this season could be an elusive opportunity of sorts for players, particularly on the blue line, to show they can be a part of the Blue Jackets' present and future.
Boqvist is still just 22 years old and Bean is only 24 so both are still young and have ample opportunity to display their talents and be fixtures for the team of today and tomorrow.