Has Andrew Peeke proven that he can be a top defenseman in the NHL for the Columbus Blue Jackets?
Peeke had a breakout year last season when he appeared in all 82 games, with Gus Nyquist being the only other Blue Jacket to accomplish this feat. If that wasn't enough, Peeke played for Team USA in the Men's World Championships in May, earning six assists in 10 games.
Prior to 2021-22, the 24-year-old 2016 fourth-round pick had played in 33 games total in the two seasons prior. Last season, he had 15 points (two goals, 13 assists).
Additionally, Peeke had 60 penalty minutes which was third on the team behind Vladislav Gavrikov and Sean Kuraly, finished second on the team with 191 hits, and led the team with 169 blocked shots.
Dan Greene projected Peeke to be on the first-line pairing alongside Zach Werenski and based on last season, in the 10-20 point range.
The big question: Has Peeke proven he can be a first-line pairing for the Blue Jackets over the long haul?
Can he replicate what he did last season?
He embodied the tough role the team needed and it's likely he'll continue that role this year. As John Davidson said on The Bob McCown Podcast in August, Peeke's added 10 pounds of muscle. Erik Gudbranson also fits the description of that enforcer job title.
Andrew Peeke lands a punch on Brad Marchand and chaos ensues. pic.twitter.com/jJuB1HmMec

— Conor Ryan (@ConorRyan_93) April 5, 2022
Peeke's GA/60 was 3.19 and he was 2nd on the team—first among defensemen—with a 2.69 xGA/60 among qualified skaters with 1,000 minutes in 5v5 situations per Natural Stat Trick.
Entering the final year of a two-year deal signed prior to the start of last season, Peeke will make $787,500 AAV this year. In addition to handling Peeke's next contract as he'll be an RFA after the season, the Blue Jackets will also have to solve Vladislav Gavrikov's next deal as he's set to test free agency as a UFA in the summer.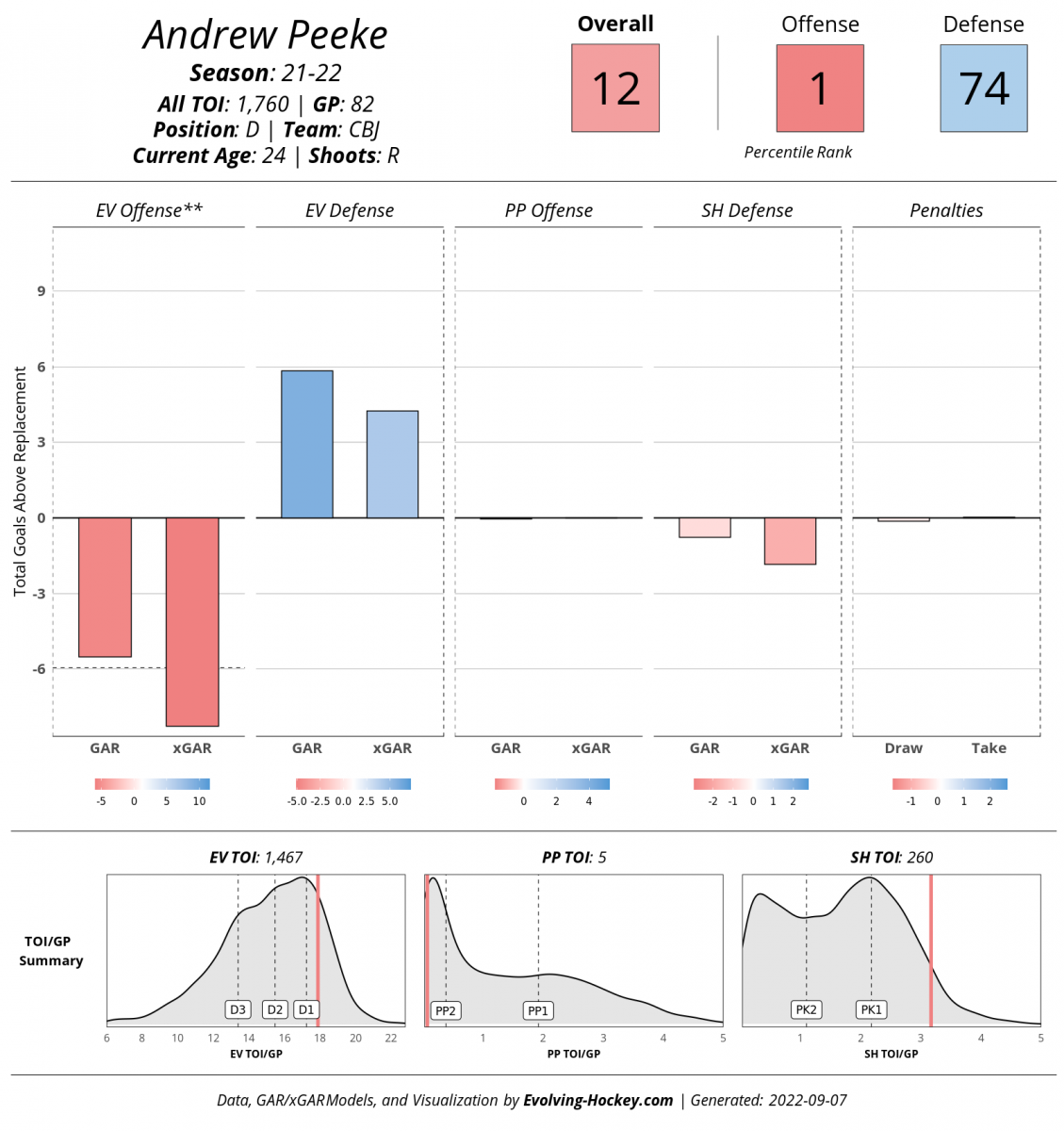 The Blue Jackets are hoping the mix of blue liners on the current roster will be enough to curb the number of goals let in. Not only allow fewer goals than the franchise-high 297 let in last season, but show dramatic improvement across the board.
We've mentioned possible X-factors for the Blue Jackets and no question, the defense is arguably the most important question mark, and the possible decider as to whether the team seriously contends for a playoff spot this season.
Peeke's play will help determine that. After emerging in his first full season in the league in 2020-21, we'll see what's in store for year two.
Who else could step up and emerge on the blue line?
Let's take a gander at the defense for both roster and non-roster guys via CapFriendly.
What if Nick Blankenburg is that player after his seven-game cup of coffee last April to begin his career?
He was signed to a two-year deal in July and though his NHL sample was quite small, he impressed.
Nick Blankenburg absolutely making himself KNOWN #cbj pic.twitter.com/lFmgRKJmYn

— Annie Mae (@anniemaemedia) April 13, 2022
We keep bringing up the possibility of David Jiricek and we're about to get a more in-depth look at him as training camp and preseason games rev up later this month. Denton Mateychuk is the other first-round defenseman selected in this year's draft to keep an eye on this year and going forward.
Alongside Jiricek and Mateychuk is Stanislav Svozil, taken in the third round of the 2021 draft. Just like Jiricek, Svozil played in the World Juniors last month and wore the 'A,' registering three points (one goal, two assists) in six games.
You can also set your sights on Samuel Knazko who is 20 years old and was taken in the third round in 2020.
As one of 10 players to do so, Jake Christiansen made his NHL debut for the Blue Jackets last season, scoring his first career goal for his only point in eight games. Only 22 years old, he's set to be an RFA after the season.
Nothing like the first. #CBJ pic.twitter.com/2MRQCbNqRe

— 1st Ohio Battery (@1stOhioBattery) March 2, 2022
Having some experience under his belt, you can bet he'll see more time with the NHL club this year in some capacity.
After Gudbranson, who is the oldest defenseman at 30 years old, is Gavin Bayreuther who is 28 and a UFA next summer, and seemingly expendable with the crop of defensemen in the pipeline.
Jake Bean is looking to round out his game and has two more seasons on his current deal before the 24-year-old is an RFA after the 2023-24 season.
Tim Berni made his Monsters debut last season. The 22-year-old, sixth-round pick in 2018, played in 72 games scoring 15 points (three goals, 12 assists). Marcus Bjork is set to make his Monsters debut and came to Columbus via free agency in May after playing overseas in the SHL. Both are RFA after the season.
Ole Julian Bjorgvik Holm, taken in the 2020 draft in the fifth round, is going to be in Cleveland as well this season after five points in 16 games there last season. Billy Sweezy is the other name that is in Cleveland and put up 11 points (four goals, seven assists) in 70 games. He was a free agent who signed in March and at 26 years old, doesn't represent the future of the team in the long run, but maybe gets a shot soon.
Get excited folks, hockey is just about here.