For years, folks have been extolling the virtues of Traverse City, Michigan.
And with the Blue Jackets' annual trip to the NHL Prospect Tournament hosted by the Detroit Red Wings only a scant seven-hour drive away from Columbus, it's been on my list for some time. But with life, general excuses, and Covid-19 getting in the way, I've been unable to make the trek for some years now. With the Blue Jackets playing games on Thursday and Friday, I took a few days off work and made it work.
So a friend and I went up for roughly 48 hours (note: with no games on Saturday, we left so as to get back home on Saturday evening) with a very loose itinerary. Watch hockey, drink beer, rinse, and repeat. Here are five takeaways from Traverse City: 
---
Centre Ice Arena Checks Every Box 
The community rink that hosts the tournament is an excellent setup for this event. Scouts litter the private, closed-off space behind one of the goals, but the general admission feel largely resembles the Ohio Health Ice Haus attached to Nationwide Arena. 
The intimate atmosphere is palpable, and there's no bad seat in the house. Grabbing a coffee between periods, it was charming to see average joe's brushing past all-time greats like Jason Spezza, Rick Nash, Nicklas Lidstrom, to say nothing of current NHL GMs, coaches, scouts, and other front office types. 
The Blue Jackets Top Prospects Put On A Show
Kirill Marchenko scored in every game and was dominant throughout. Kent Johnson posted 2-5-7 and was dangerous virtually every time he touched the puck. Denton Mateychuk looked the part of a puck-moving defenseman that can man a powerplay. David Jiricek showed why he was a highly-touted prospect worthy of the 6th overall pick. Jordan Dumais tied Marchenko with a team-high three goals and at least started to answer some questions about if his game could translate from the QMJHL to the pros. The most highly-touted prospects proved why there are so highly-touted. Call that a success. 
Captain KJ coming in hot

Tune in at 3 PM to see No. 91 score some more.

https://t.co/pFjBVLwtPQ pic.twitter.com/zSTy1asHF6

— Columbus Blue Jackets (@BlueJacketsNHL) September 16, 2022
GAME. WINNER. pic.twitter.com/iO6fBlMCS7

— Columbus Blue Jackets (@BlueJacketsNHL) September 18, 2022
Defense Pipeline Has Been Rebuilt
The Blue Jackets' forwards were mostly headlined by its top couple of players. And while the same could be said for its defense corps, I was pleasantly surprised by the depth on the blueline. Aside from Mateychuk and Jiricek, who were both first-round picks earlier this summer, I was very impressed with assistant captain Ole Bjorgvik-Holm, a rangy 20-year-old left-handed defenseman that looks like he could play NHL games, as well as Stanislav Svozil and Samuel Knazko, who both played well throughout as well. All this without Corson Ceulemans, another first-rounder, who is still playing in the NCAA. The defensive cupboard, which looked so barren just a year-and-change ago, now looks like an organizational strength for the club.
Northern Michigan: Good Vibes
All right, that's enough of the on-ice commentary. We were there to take in some hockey, but the allure of getting out of the city and into a new spot with some scenic views had plenty of allure. On Thursday evening after the 7-1 thumping over the St. Louis Blues, we took a stroll on rollerblades on the Leelanau Trail, a picturesque bike path that went along the bay before heading into a wooded area. On Friday morning, after waking up feeling a tad under the weather (more on that in a moment), we went to Sleeping Bear Dunes, a huge area of sand bluffs that tower over Lake Michigan. Aquamarine water and a genuine Star Wars setting were almost a jarring combination, but it was beautiful. A workout with a view, hard to beat that. On the way back, we stopped for lunch in Glen Arbor, a small town that has immaculate vibes.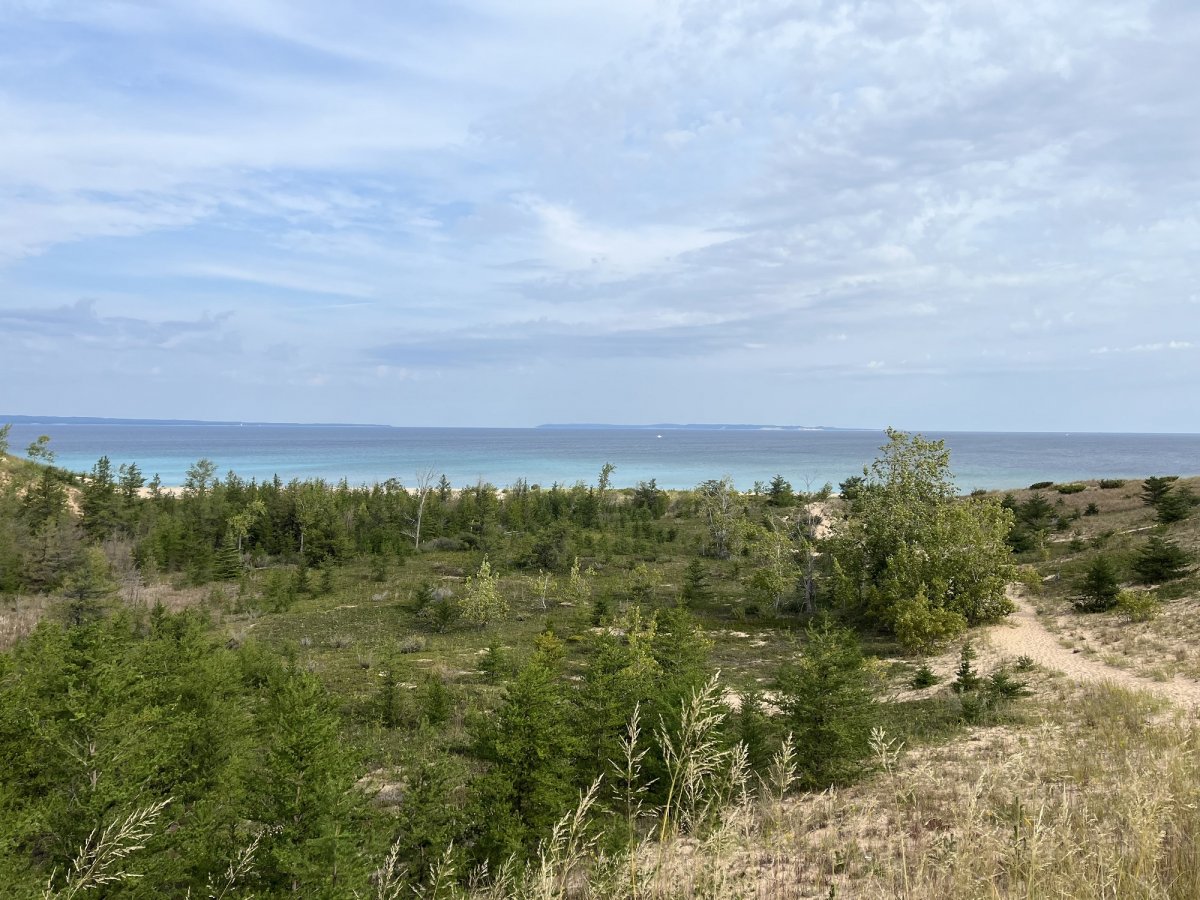 Photo Credit: Allen Glassmire
Let's Talk About Beer
Alright, I buried the lede. The breweries were plentiful. It was almost difficult to pare down the spots in which we would go (there's only so much time, you see). Watering holes we went to, per my Chase Mobile Banking app, include Bubba's, Little Fleet Brewing, Middlecoast Brewing Co., Fresh Coast Beer Works, U&I Lounge, Acoustic Brewing Co., Workshop Brewing Co., Cherry Public House, and North Bar.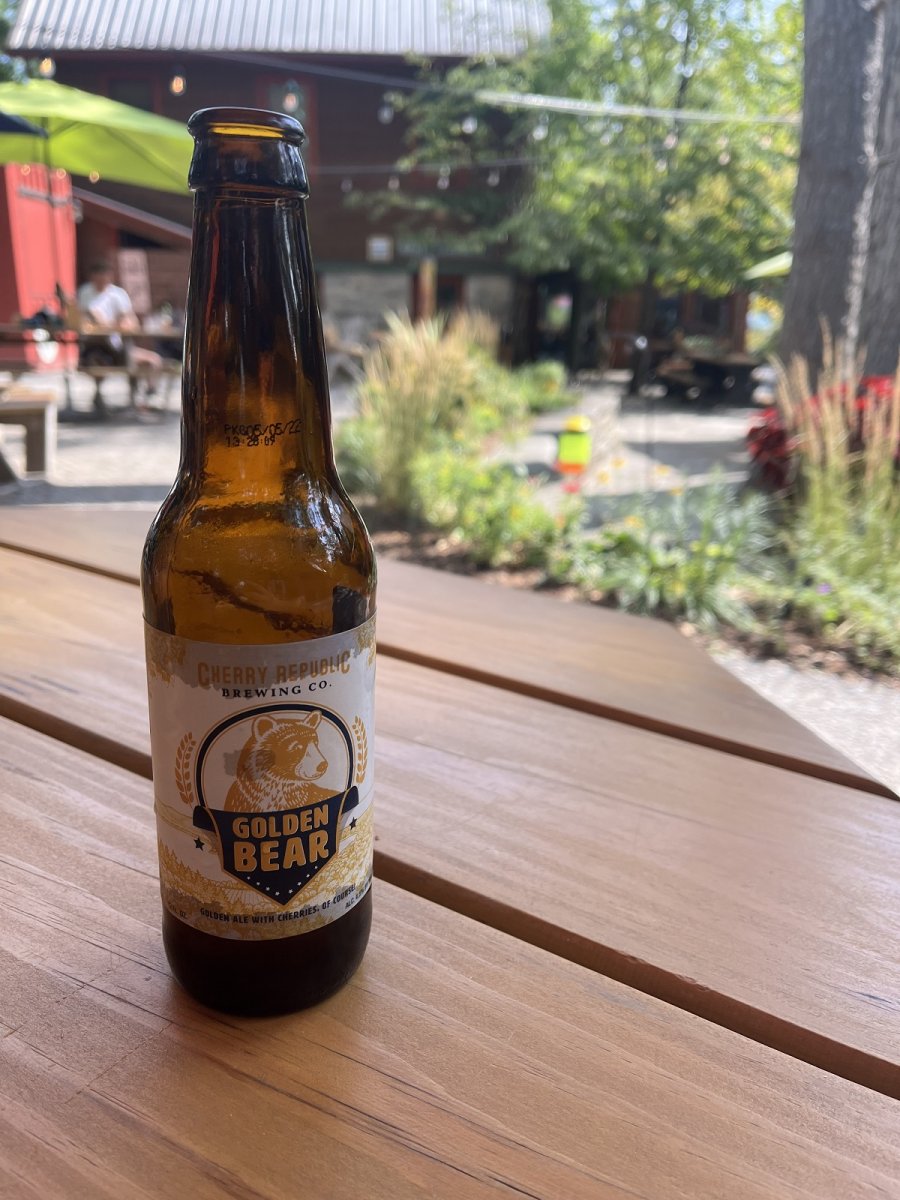 Photo Credit: Allen Glassmire
We didn't even have a chance to experience the numerous wineries. We didn't devote enough time to justify the reportedly-excellent golf courses. We more or less forgot to eat, so I can't give a ton of details about the various dining spots, but let's just say that the brew scene has eclipsed the food scene at this point. 
---
All in all, a well-spent weekend. Good food, great hockey, excellent views, and an elite beer scene make Traverse City, MI, a worthy destination. And for anyone who has been on the fence about making the hike to see the tournament, I would absolutely recommend making time.