One Monday ago, the Columbus Blue Jackets dropped — but not as far as they could have — in the NHL's Draft Lottery.
One week later, this Monday brings the chance for the franchise to move up one. All they need is a Seattle Kraken victory over the Dallas Stars. 
The two teams face off in Game 7 of the Western Conference Semifinals Monday night. If the Kraken win and advance to the conference final, they will automatically drop into the 29th-32nd range of the NHL's first round of the draft. That would bump all other playoff teams that have already been eliminated up one.
That includes the Los Angeles Kings, whose first-rounder came to the Blue Jackets in March when they acquired Joonas Korpisalo and Vladislav Gavrikov for what was supposed to be a deep playoff push. Instead, the Kings were eliminated in the first round. 
21st, 22nd, 23rd...
Columbus has never had the 22nd or 23rd pick, but they've selected 21st twice in franchise history. Yegor Chinakhov was the surprise pick that now seems to be a good pick in 2020, and John Moore's name was called 21st overall in 2009. The defenseman had 544 games of NHL experience, though only 86 of them with the Blue Jackets.​
Their pick was slated to be 23rd overall, but became the 22nd selection when the Florida Panthers — a team that would have picked ahead of them had they not made it to the conference finals — eliminated the Boston Bruins and Toronto Maple Leafs en route to an improbable conference finals (at least) run. So this has already happened once this postseason.
Now it's Seattle's turn. Identical to the Panthers, the Kraken can make an unlikely run to the conference finals and bump the selection of already-eliminated teams up even more. For Columbus, that would mean going from 23 to 22 and now, potentially, from 22 to 21.
And while they may not seem significant, it actually is — for two reasons. 
The first reason is that it adds value should GM Jarmo Kekalainen attempt to trade the pick, something that has been discussed and will continue to be discussed.
Kekalainen has acknowledged that they would be willing to move the pick for immediate roster help. If you're an interested party, picking 21st certainly brings more appeal than picking 23rd. Take a look at this chart from Curtis Isacke with SoundOfHockey, in which each pick is assigned a certain value. There are many variations of this, but don't let the irony be lost that this comes from a Seattle Kraken version of 1st Ohio Battery.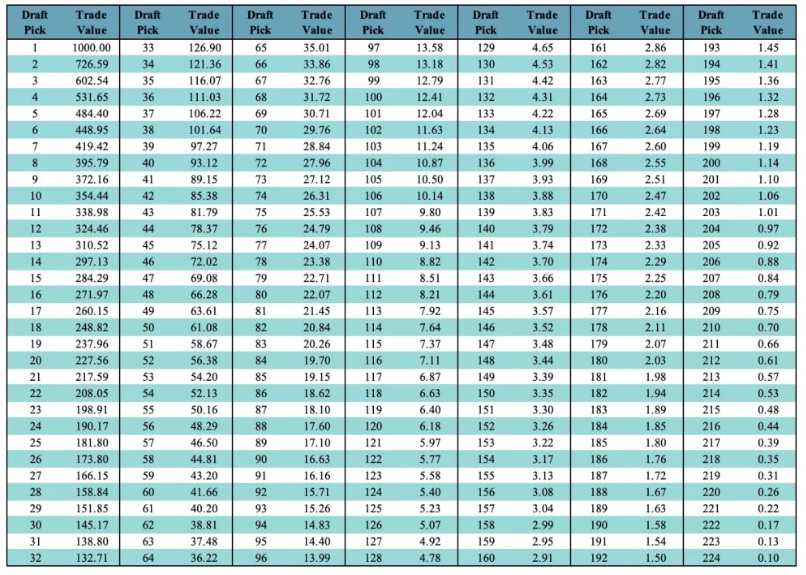 In this model, the 21st pick is roughly 10% more valuable than the 23rd pick. That is an accurate estimate of most other, similar models as well. So should Kekalainen decide to move the pick, moving up from 23 to 22 was nice — but moving up from 22 to 21 would be... nicer.
Blue Jackets 2023 Draft Picks
1st Rd: 3rd and 21st/22nd overall (from Los Angeles).
2nd Rd: Their pick, 34th overall. 
3rd Rd: Their pick, plus Calgary's pick acquired from Seattle in the Bjorkstrand trade.
4th Rd: Their pick, plus Winnipeg's pick acquired from Seattle in the Bjorkstrand trade.
5th Rd: Boston's pick, acquired from Minnesota in the Gus Nyquist trade.
6th Rd: No selections.
7th Rd: Their own pick.
That's if he decides to trade the pick. Should the Blue Jackets not be able to find the right trade, selecting 21st instead of 22nd or 23rd also would behoove the team. This is a historically deep draft, and names called in the early 20's would likely be called in the mid-teens in an average year. Already flush with one of the best prospect pools in all of hockey, keeping the pick would let Kekalainen continue to stack young talent in the cupboards. 
Plenty of talent will be available, and in the coming weeks, between now and the end-of-June draft, we'll highlight options for the Blue Jackets should the pick stay with them. But suffice it to say, having a couple more players to choose from in the draft in the mid-late 1st round isn't a minor deal.
For now though, rooting for former Columbus forwards Oliver Bjorkstrand and Alex Wennberg, both now with the Kraken, will not only feel familiar — it can also continue to help the Blue Jackets shape their future.