Sun Tzu said in his Art of War to know thy enemy as well as yourself. The Metropolitan Division is war. Let's recap some stories surrounding the enemies.
Your Chance to Play in the NHL
As mandated by the National Hockey League prior to this season, teams must now have an emergency goalie ready to go on-site should either team need an immediate replacement and lack the depth to do so.
So, 15 men struck out to recapture their previous hockey glory and take a shot at earning the last-resort netminding role (and basically a free season ticket) in an open tryout for the New Jersey Devils on Saturday. 
Per an article on USA TODAY:
[27-year-old Steven] Porzio and 14 others tried out Saturday to become the Devils' emergency goaltender for this season. They were run through drills by former New Jersey goalie Scott Clemmensen at the Prudential Center, faced shots from players in the minor league system and even used a dressing room next door to the Devils' home locker room.
Nearly 400 hopefuls applied for their chance at NHL fame, and after a review of resumes, 15 were given a shot on the ice. They were provided coaching while put through extensive skating and puck-handling tests. The Devils intend to select a winner by the end of the week.
---
No Captain, My Captain
The Carolina Hurricanes went all of last season without a captain, but that won't be the case this year. Problem is, they've still yet to figure out just who that person will be.
Potential candidates include Jeff Skinner, Jaccob Slavin and Justin Williams, according to Carolina head coach Bill Peters during Hurricanes' media day, but no other updates have been given in the weeks since.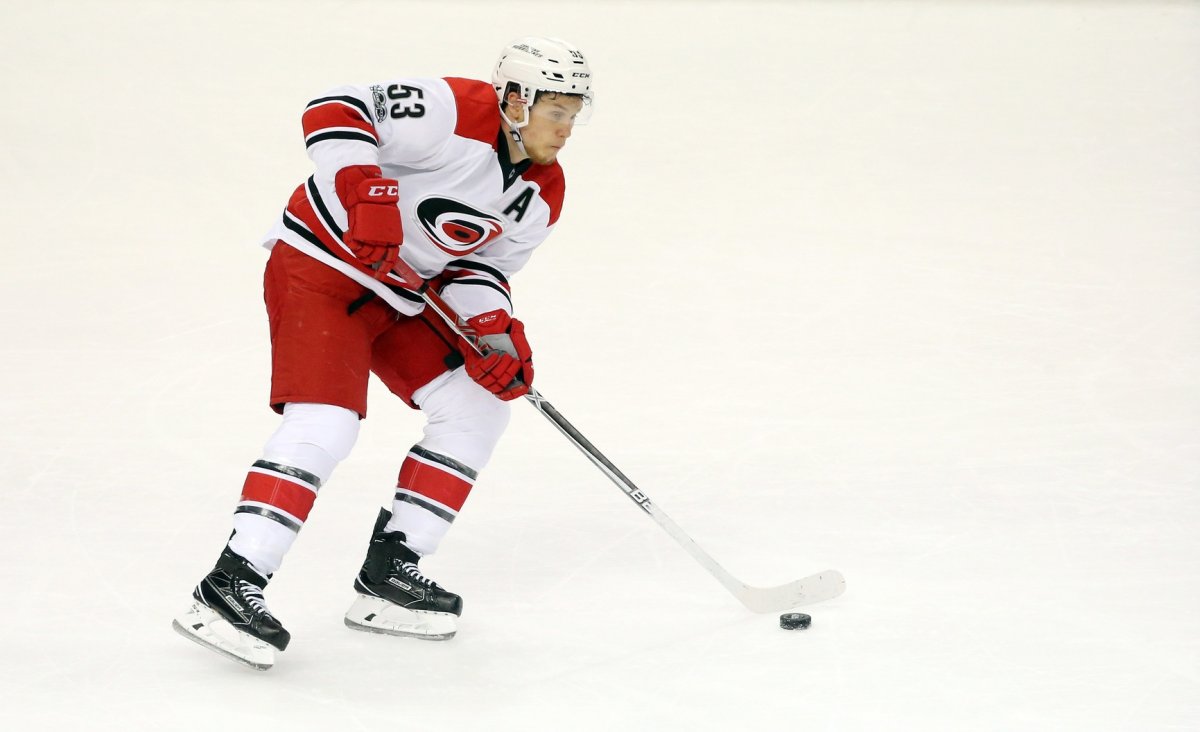 Writers from Canes Country weighed in on who they think will be named team captain this past week. 
---
The Giroux Experiment
Claude Giroux has been the man at center for the Philadelphia Flyers for seven straight seasons, producing at least 67 points in all but two of them. But for Monday's preseason tilt against the New York Rangers, the Flyers decided to switch things up and create a first line of Sean Courturier at center, Giroux at left wing and former Blue Jacket Jakub Voracek at right wing.
Philly.com writer Sam Carchidi was pleased with the result.
That said, the line of Sean Couturier centering Giroux and Jake Voracek started slowly but got better in each period, creating lots of attack time in the Flyers' 3-2 overtime loss to the New York Rangers on Monday night. The line didn't score, but the trio fired 15 shots (six on goal) and was buzzing around the net over the last two-plus periods.– Sam Carchidi, Philly.com
The line is certainly an interesting look for the Flyers, as each of the forwards has a tendency to look for a pass rather than take the shot himself. Giroux and Voracek each have more than two career assists for each career goal, and Couturier has about 1.7 assists for each goal. Still, the line has its advantages in terms of skating ability, experience (1,517 games between the three of them), and of course passing.
---
Barzal Making a Run at the Islanders' Roster
A first-round pick in 2015, center Mathew Barzal is looking for his first full-time role on the New York Islanders after playing in two games last season (he was then sent to the Seattle Thunderbirds of the WHL). Barzal impressed management a great deal while in Seattle, tallying 79 points and earning WHL playoff MVP honors as the Thunderbirds won their first-ever title. Now he's gone on a run of three goals in three preseason games, including this dandy of a breakaway:
Wow @Barzal_97 #LGI pic.twitter.com/a7xkiO16Bq

— New York Islanders (@NYIslanders) September 25, 2017
Barzal has answered the bell when some wondered how long he'd hang around this year's training camp. He saw time on the Islanders' first power play unit Monday against the New Jersey Devils. Nothing is set in stone just yet, even with his tremendous preseason performance; the Islanders have 18 forwards remaining after their most recent cut, putting Barzal on the bubble.
I'm just trying to work hard and take advantage of the opportunity they're giving me right now," Barzal said. "They've been putting me into some key situations, playing the power play and stuff, so I'm just trying to make the most of it and try to do everything right."
---
It's Miller Time on the Wing
Entering training camp, the New York Rangers were unsure whether to place J.T. Miller back, their second-leading scorer last season, at his natural center position, or on the wing. Head coach Alain Vigneault made the announcement Monday that Miller would, in fact, be back on the wing this season.
Neal Purcell gives his thoughts in Elite Sports NY's Blueshirt Beat:
Most fans feel Miller is better suited on the wing, freeing him up from some defensive responsibilities. J.T. posted career numbers last season primarily playing on the wing, so we can only hope he will continue to grow in this role.
The play of young centers like Filip Chytil and Lias Andersson contributed to Miller moving to wing ful-time, and at the moment, the Rangers appear comfortable with their roster at center ice.
---
Pittsburgh Penguins to Visit the White House
The Penguins will proceed with their intention to visit the White House as Stanley Cup champions, causing some controversy around the NHL and in professional sports circles. They released this statement on Sunday:
"The Pittsburgh Penguins respect the institution of the Office of the President, and the long tradition of championship teams visiting the White House. We attended White House ceremonies after previous championships – touring the historic building and visiting briefly with Presidents George H.W. Bush and Barack Obama – and have accepted an invitation to attend again this year.

"Any agreement or disagreement with a president's politics, policies or agenda can be expressed in other ways. However, we very much respect the rights of other individuals and groups to express themselves as they see fit."
---
Power Play Taking Form
With a newly-shaped NHL focus on limiting slashing and faceoff violations, it is pivotal for teams to have successful special teams units this season. If the preseason is an indication, teams should expect a few more power plays.
The Washington Capitals are trying to ensure that they have a solid power play to get the job done. The personnel on that unit is finally coming into shape, as we get a good look at their thinking during a recent practice.
The No. 1 unit for the Capitals will consist of Nicklas Backstrom, Evgeny Kuznetsov, Alex Ovechkin, T.J. Oshie, and defenseman John Carlson.
Follow 1st Ohio BatteryFacebook, Twitter, Instagram and YouTube