It may have been believable to say that the Blue Jackets would be on top of the division entering December, but to have the Islanders and Devils just one point behind? Intriguing.
Five points remains the only separation from first place to sixth place, which holds as the tightest divisional race in the NHL. It has been all year to date. Here are the top stories while each squad continues to claw for every point.
---
Not a Murray Monday
"Week-to-week" is not the status you want for your primary goaltender, but that is exactly the situation the Pittsburgh Penguins find themselves in after No. 1 netminder Matt Murray suffered a right leg injury against the Philadelphia Flyers on Monday.
Murray suffered the injury when Jakub Voracek crashed into him on a breakaway. The resulting collision threw Murray into the post at an awkward angle. Murray was helped to the bench and appeared to be favoring his right leg. – CBS Pittsburgh
It's been a slow start to the season for Murray, who has allowed 2.95 goals a game and has a save percentage of .906, well under his career average of .920. Tristan Jarry will now assume the top goaltending role and will start just his sixth career NHL game tomorrow.
---
Flying to the bottom
The Philadelphia Flyers are now on a nine-game losing streak and have become the only sub-.500 team in the Metropolitan Division. Five of the losses did come in overtime, but it's a lengthy and problematic losing streak nonetheless.
What's worse is that the Flyers held a lead at some point in six of the eight games, showing a clear inability to close out games when it matters. 
The good news is that it's still early in the season and with 23 points the Flyers are still a doable six points out of a playoff spot and fourth place in the Metro. But that won't hold true for long if they can't pull their metaphorical plane out of this nose dive.
---
Bringing the Djoos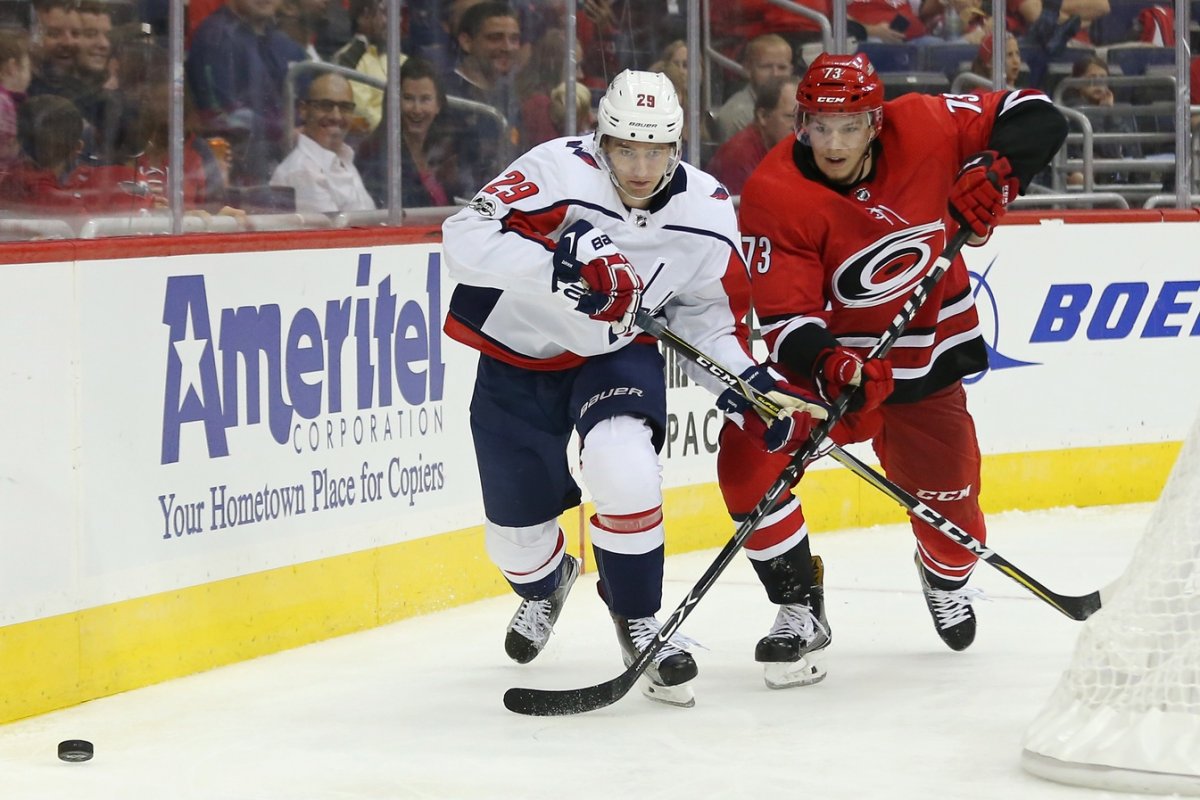 The Washington Capitals will soon be getting back young defenseman Christian Djoos, who has missed over two weeks with an upper body injury. He returned to practice for the first time on Monday.
The 23-year-old rookie has been factoring in quite well on the Capitals' blue line when healthy, averaging 14:08 on the ice with four points through 16 games of action.
For Djoos, he hopes to return to game action either tonight against the Kings or Saturday against the Blue Jackets.
---
Islanders on a Tear
Now in a tie for second place in the Metropolitan Division are the New York Islanders, who have won seven of their last eight. Perhaps more importantly, three of the seven wins came against fellow teams in the Metro, earning valuable ground in the divisional race.
This recent string of success is some they hope to ride to keep star John Tavares, according to USA TODAY writer Kevin Allen.
When it comes to persuading John Tavares to extend his contract, the New York Islanders' best hope, perhaps their only hope, is to win him over with a memorable season. – Kevin Allen, USA TODAY
Allen added that the Islanders are an impressive 38-19-6 since new coach Doug Weight entered the picture, giving good reason for Tavares to have pause as he considers leaving.
---
McDonagh Questionable
It was mentioned in last week's Metropolitan Notebook that New York Rangers captain Ryan McDonagh was out an indefinite amount of time with an abdominal injury. Eager to get back on the ice, McDonagh is now eyeing Friday's match-up with the Carolina Hurricanes for a possible return after skating with the Rangers Tuesday morning. Head coach Alain Vigneault is taking a wait-and-see approach with practice Thursday.
"I don't consider a morning skate a real practice," Vigneault said. "We'll have to put him through a normal practice and see how he responds, so I'll have a better idea for you after Thursday's practice."
Regardless of whether he is held out from Friday's game he should be ready to go Tuesday against the Penguins.
---
Gibbon All He Can
Brian Gibbons was signed to a one-year AHL contract with the New Jersey Devils last season after what had been a tumultuous and mostly minor league professional hockey career. 
24 games into what is his first time seeing NHL action since 2014-2015, the center leads the Devils in goals with 11 and has been one of many surprises on the league's biggest surprise team thus far.
---
No, YOU Get the Hurricanes
The roller coaster of a saga as to who will own the Carolina Hurricanes continues. Original buyer Chuck Greenberg does not appear able to raise the necessary funds, so now several other parties are looking at a potential purchase. One of the more prominent appears to be Dallas businessman Thomas Dundon, though others, undisclosed, are said to be involved.
Regardless the team will stay in Raleigh, according to the current owners and the NHL.
Follow 1st Ohio BatteryFacebook, Twitter, Instagram and YouTube