What have we here?
Let's think back to July 1, 2018. It was a warm, summer day. Free agency opened and the Pittsburgh Penguins inexplicably signed Jack Johnson to a five-year contract worth $16.25 million. Jim Rutherford, what were you thinking?
And making matters worse was Rutherford doubling down on his universally-criticized signing; he said he knew why Johnson was a healthy scratch for the Blue Jackets down the stretch and in the Stanley Cup Playoffs (he didn't). Johnson threw a little more gasoline on the fire in saying he signed with Pittsburgh to join a "winning culture."
Rather, he joined a team that got swept by the New York Islanders in the opening round – a team that decided it had a better chance to win if Johnson wasn't playing.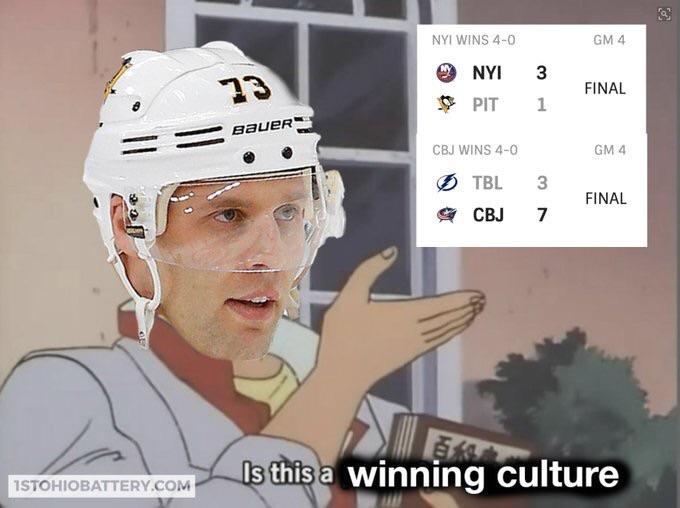 Now, let's flash forward to present day. The Penguins are reportedly in trade discussions with the Minnesota Wild, with Phil Kessel as a centerpiece. Low and behold, "Noted Fucking Magician" Rutherford is trying to dump Johnson's contract in the deal.
From The Athletic's Josh Yohe and Mike Russo...
Johnson, 32, a left-shot defenseman who played hockey at Shattuck-St. Mary's, had a tough start to last season, was much better in February and March playing alongside Justin Schultz but then struggled again down the stretch. He was a healthy scratch the first time all season in Game 1 of the playoffs, then was reinserted into the lineup and didn't play well.
That's quite the favorable review of a player who contributed basically nothing to the Penguins this year. And carries a $3.25 million annual cap hit through 2023, when he will be 36 years old.
Kessel has a no-trade clause and is "unsure" if he wants to play in Minnesota, where he starred in college, per Yohe.
However, numerous sources confirmed that Kessel is unsure if he wants to play in Minnesota. He did research on Minnesota and the Wild during the past week, the sources said. Kessel is very close friends with Ryan Suter. Both are natives of Madison, Wisconsin, and played internationally together for Team USA.
There's some delicious irony in here for Blue Jackets fans, of course. Johnson opted against re-signing with the Blue Jackets (and it's believed they made several attempts to get an extension done), and now, the team he signed a big free-agent deal with is trying to unload him and make him someone else's problem.
Folks, the offseason is only beginning.