Maybe Jarmo Kekalainen goes all-in. Perhaps he makes a blockbuster deal to snag another team's star. As the Columbus Blue Jackets general manager often says, he and his front office are considering all options.
But such a trade for a high-scoring forward to bolster what was a poor offense last season might not materialize the way some fans hope.
"We're always looking for ways to get better," Kekalainen said last week on CBJ Radio's The Inside Edge. "But again, I think the internal growth will provide some (improvement)."
Note the word "again." Kekalainen uses it because he has continually stressed the importance of growth from within in various post-season comments.
He's not oblivious to the issues with the Blue Jackets, who ranked tied for 27th in the NHL with 2.57 goals scored per game in the regular season before averaging 2.4 goals scored in 10 postseason contests. He knows they struggled to score goals when they required them in the playoffs, leading to four one-goal losses to the Tampa Bay Lightning. 
But he also has been publicly unwilling to show any inklings that he's expecting a major trade – or unrestricted free-agent signing – to suddenly solve all of his team's woes. 
"If there's a goal-scorer that we can acquire one way or another, we're going to look at it, for sure," Kekalainen said. "There's no question about it."
That has been Kekalainen's attitude: If he sees an opportunity the franchise views as a net positive, he'll pounce. But if not? There are no guarantees Columbus will make a splash.
Would that be good enough for the Blue Jackets to get over the hump? That's another question entirely, and it's one that'll understandably get asked incessantly if Kekalainen stays pat this offseason. But it's one that people might end up repeating in a few months if nothing the front office likes materializes.
Regardless of such a move gets made or not, Columbus wants its returners to make strides in the goal-scoring department. 
The Blue Jackets return Oliver Bjorkstrand, who scored a team-leading 21 goals across 49 games. Centers Pierre-Luc Dubois (18 goals) and Gustav Nyquist (15 goals) added some scoring punch, and Zach Weresnki led all of the NHL's defensemen with 20 goals. Cam Atkinson struggled to find the back of the net with 12 goals after scoring 41 goals the year prior. Boone Jenner (11 goals), Nick Foligno (10 goals) and Emil Bemstrom (10 goals) were the remaining three in double-digits. Josh Anderson will help, too, if he isn't traded.
"I mentioned Pierre-Luc again," Kekelainen said. "(Alexandre) Texier. Cam Atkinson's, I'm sure, very hungry to get back to his old groove and had a bit of a tough season with injuries and all. But he's a proven goal-scorer, all the way up to 40 goals. We can get more production out of him, for sure. Oliver Bjorkstrand's growing into a goal-scorer that if the season was 82 games and he'd been healthy, probably would have gotten to 30 goals this year. He got to 21 with a lot less games than what a full regular season is."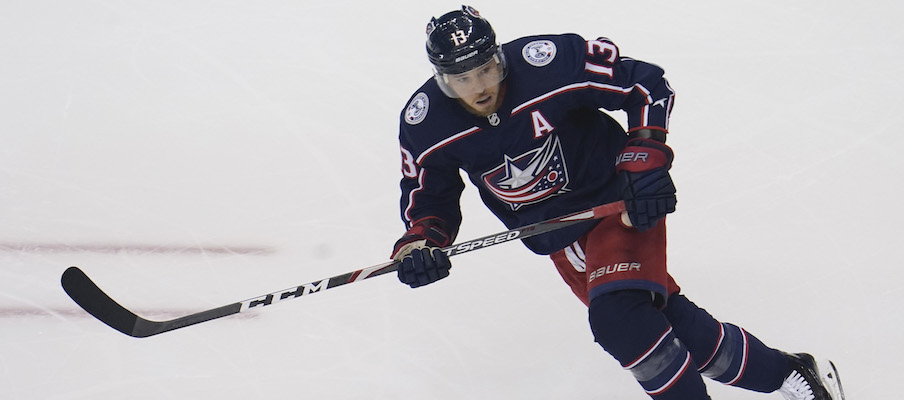 Across the board, it's reasonable to expect to see progress from a bevy of players.
Dubois is on an upward trajectory, showing out in the playoffs, which included a hat trick versus the Toronto Maple Leafs. Bjorkstrand has significantly improved his scoring rate per game each of the past three seasons. Atkinson has a 41-goal season in his recent past. Werenski's an ever-improving 23-year-old whose offensive potential was evident last season. 
The youngest players on the roster – Texier, Bemstrom and Liam Foudy – might have the most potential for explosions next season even if there's plenty of room for growth given their combined one goal across 10 playoff games in August. Kekalainen singled out Bemstrom, who just completed his first NHL season, as someone who could make a leap.
"A guy like Emil Bemstrom had 10 goals this year and he didn't really play a whole lot this year," Kekalainen said. "He had some tough luck in the playoffs, I think, trying to score goals and then had what looks like a wide-open net, but from that angle it really isn't where he hit the post in a key moment and didn't really see the ice much after that. I think he's going to be one of those guys that can grow into that role. He was always the leading goal-scorer wherever he played and led the Swedish League in goal-scoring at a very young age. 
"He's going to keep growing. He's going to be one of the key conversations here moving forward. He's got to be stronger to be able to stay on pucks in the NHL. It's a lot harder than where he played before. He's got to realize that and do the work."
Relying on players in the organization to make yearly strides is the main way Kekalainen wants to build his team, so it's no surprise that he continues to hold that point of view when considering how Columbus will jump-start its offense.
"We do believe in draft and development," Kekalainen said. "That's given us a lot of results and it's going to keep giving us a lot of results."
He might be leaning on it once again, this time to improve an offense looking for a boost.