Right now, the Blue Jackets don't look like a playoff team.
If this were an 82-game season, the Blue Jackets would have much more time to come back from their 8-10-5 start . But it's not. The Blue Jackets are five games from being halfway done with the season, and they have dropped five games in a row (0-4-1).
If they're out of it when the trade deadline approaches, which seems quite likely, teams will come knocking for assets to help them in their respective playoff runs.
One of those assets is defenseman David Savard, who is in the final year of his contract with the Blue Jackets and carries a $4.25 million cap hit.
Per TSN's Frank Seravalli, David Savard would have an "incredibly strong" market if made available before the deadline. #CBJ https://t.co/PD0PAJuZzr pic.twitter.com/HITHgCOrMP

— SpecmenceCBJ (@SpecmenceCBJ) March 1, 2021
On TSN's initial Trade Bait list, which "always seeks to blend a player's prominence with his likelihood of a deal," Savard came in at number two. Since his contract is expiring, he would essentially be a "rental" for a team looking to make a deep playoff run, and he'll then be an unrestricted free agent in the summer.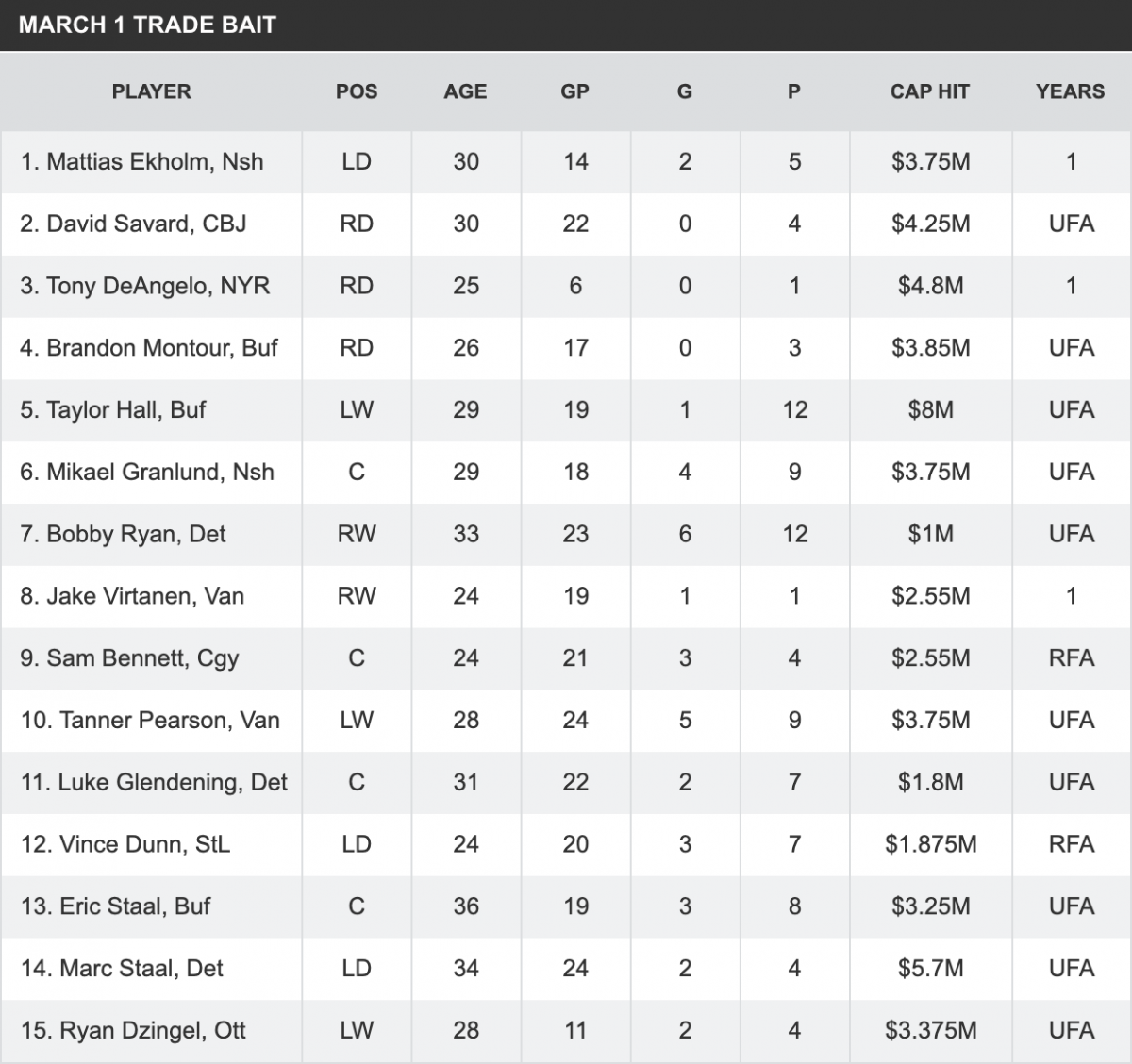 Seravalli also noted that the Blue Jackets haven't had concrete talks about a contract extension with Savard, whose play this year hasn't been as impressive as years past. 
"The fact that this season has been a real disappointment in Columbus, with the Blue Jackets sitting seventh out of eight in the Central Division based on points percentage, plus the lack of meaningful extension talks with Savard, should indicate where this is heading," wrote Seravalli.
The Blue Jackets currently have draft picks in the first, third, fourth, fifth (two), sixth, and seventh rounds next year. Their second-round pick in the 2021 draft went to the Senators when the Blue Jackets acquired Ryan Dzingel. 
It never hurts to add more draft picks, and with a farm system that isn't all that deep, the Blue Jackets would do well to get what they can for Savard before the deadline, and build for the future.