Vitali Abrmov has been unstoppable this season.
He's currently on a 13-game points streak, with a goal in 12 of those games and multiple points in 11. He also has an insane 27 points in his last eight games!
Yesterday would be considered a quiet game for the young sniper as he had "just" two goals. Those two goals though were his 100th and 101st points of the season, the second straight year he has cleared 100 points.
BUT!!! VITALII ABRAMOV!!! C'est son 100e point cette saison et c'est 3-0 pour vos Tigres pic.twitter.com/QtXH1yEqEq

— Tigres Victoriaville (@TigresVicto) March 11, 2018
Abramov joins Tampa Bay Lighting free agent signee Alex-Barre Boulet (who has 113 points) as the only two players so far to hit the century mark.
This is just another milestone in what's been a decorated Quebec Major Junior Hockey League (QMJHL) career for Abramov. Just a couple weeks ago, he set a new league record with his 284th career point, the most by a European-born player. Since then, Abramov has had 14 points in four games and sits at 298 career points. With two more he will become just the 21st player since the year 2000 to hit 300 points.
If he keeps his current points-per-game pace of 1.63, that will be third among those 300 point scorers, behind two players you may have heard of: Sidney Crosby and Claude Giroux.
What makes Abramov such a special player isn't just the gaudy offensive numbers – it's how gets those point totals. He isn't out there just racking up power play points or getting secondary assists, he's the driving force of his line and his team.
Abramov leads the QMJHL with 88 primary points (1.63 primary points per game) and is second in the league with 43 goals. Abramov scores his goals not because he shoots from everywhere, but because he combines a deadly shot with the smarts to get himself into scoring areas. Take a look at his first goal from yesterday:
Abramov gets himself right to the slot and just waits for the pass. The defenders are so focused on the puck they seem to lose Abramov, and he makes them pay. That has been a common theme for Abramov this season. He loves shooting from the slot area: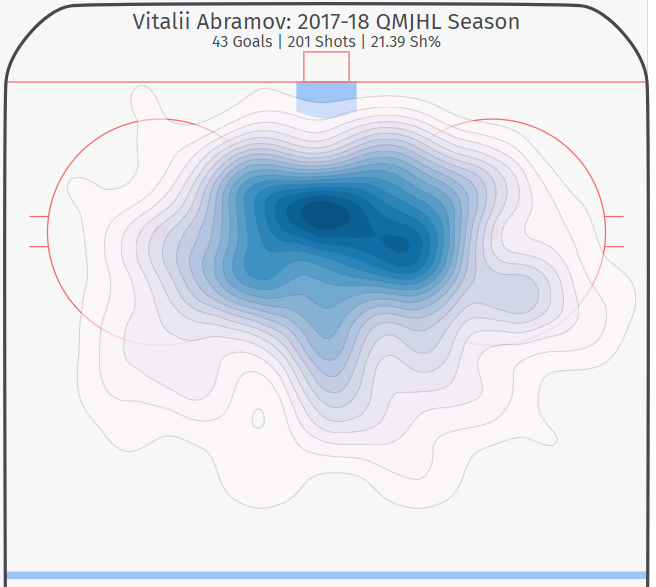 Abramov doesn't waste many shots, and when he shoots, he's looking to score. He has 201 shots this season which ranks 22nd in the league, and of those 201 shots, 136 have been classified as dangerous (ninth in the league). He also averages 0.53 high-danger shots a game, 13th-best in the league.
His shooting percentage is 21.39%, eighth among players who have played at least 10 games. That's very high but not unsustainably so; Abramov has such a good shot and shoots the puck from such dangerous areas that he should convert at a high rate. This bodes well for his transition to the pro game, as you have to get in close to beat professional goalies.
Abramov is also an incredible 5-on-5 player. He leads the league in both points and primary points at 5-on-5. Most impressive, though, is that when Abramov has been on the ice this season his team has scored 80 goals for – by far the highest in the league, and he's been on the ice for only 27 goals against. His goals for percentage of 74.77% is the highest in the league by over three percent among players who have played at least 25 games.
If Abramov keeps this up, he very well could be on his way to a second league MVP trophy. If he were to do so he would be just the second player in the history of the QMJHL to win it twice, joining Sidney Crosby. It wouldn't be the only time he's imitated Crosby.
#HighlightOfTheNight | It was Vitalii Abramovs turn to make his best Sidney Crosby impression with this unreal lacrosse-style goal! pic.twitter.com/YlWyC8S7uN

— QMJHL (@QMJHL) March 3, 2018
Abramov is a special player, and it's still unbelievable that the Blue Jackets were able to get him in the third round.
Stats courtesy of Eliteprospects.com and prospect-stats.com
Follow 1st Ohio BatteryFacebook, Twitter, Instagram and YouTube