Scouting is hard.
NHL scouts watch a ton of hockey and spend all year gathering information on players. When you watch that many games, you end up taking mental shortcuts and have blind spots on certain players, or a certain type of player. Vitali Abramov was this type of player.
Anyone who watched him knew he had incredible skill, and he had the big point totals to back it up. But he had all the usual biases that a skilled player has to deal with: he's too small, can't play defense, etc. That caused Abramov to fall to the third round where the Blue Jackets happily scooped him up, and he's become their top prospect.
Teams should always be on the lookout for the next big prospect like that. Teams need to identify players and whether or not they can overcome their perceived flaws. With a player like Abramov it was pretty clear, but with others, it's not as easy; take Oliver Bjorkstrand, another third-round gem discovered by Columbus. He was a skilled player, but only had 63 points in 65 games his draft year, which really isn't that impressive. The Blue Jackets looked past that, perhaps seeing that Bjorkstrand had 49 points at 5-on-5 including 21 goals, both of which were top-30 in the league and top-10 for players under the age of 18.
The Blue Jackets were rewarded in a big way with that pick, as Bjorkstrand exploded his next two seasons and is now a regular in their NHL lineup.
Looking at this draft class, there really isn't an Abramov-type player. It's a down year for CHL forwards; those who are good are getting ranked appropriately in the first round. No one has really fallen through the cracks. Digging deeper, though, there are a couple players who might be following down the path that Bjorkstrand took and could provide solid value in the middle rounds.
One player that jumps out in that mould is Cam Hillis of the OHL's Guelph Storm. Hillis had 59 points in 60 games on a mediocre Guelph team – similar production to what Bjorkstrand had his draft season with WHL Portland. Hillis is more of a playmaker with 39 assists and he could've had more if not for Guelph's 15th-ranked 10.2% team shooting percentage.
Hillis had 33 points at 5-on-5, 24 of which were primary points. Those numbers were comparable to Ryan McLeod (37, 27), Barrett Hayton (35, 26) and Ty Dellandrea (30, 24), all three of whom are ranked as first rounders, and in Hayton's case a potential lottery pick. Hillis is significantly lower in the rankings, with Central Scouting ranking him at No. 67.  
Hillis' numbers look good when compared to other top-end draft eligible players in the OHL, and what's even more impressive is that this was Hillis' first season in the OHL. The OHL is a tough league and it takes time for rookies to get a handle on everything. Most players go through these learning experiences at 16, setting themselves up for their draft season at 17. For players like McLeod with a late birthday, they've had three years in the league before being drafted.
Numbers can be age-adjusted, and I think the next step will be adjusting for experience.
It takes players time to get used to a new environment and few rookies hit the ground running. Hillis' first two months of the season were his worst. In September and October, he played 15 games and had just 11 points. He only took 19 shots in those first two months and thus didn't score many goals. Breaking his stats down by month, you can see the progression he made over the season: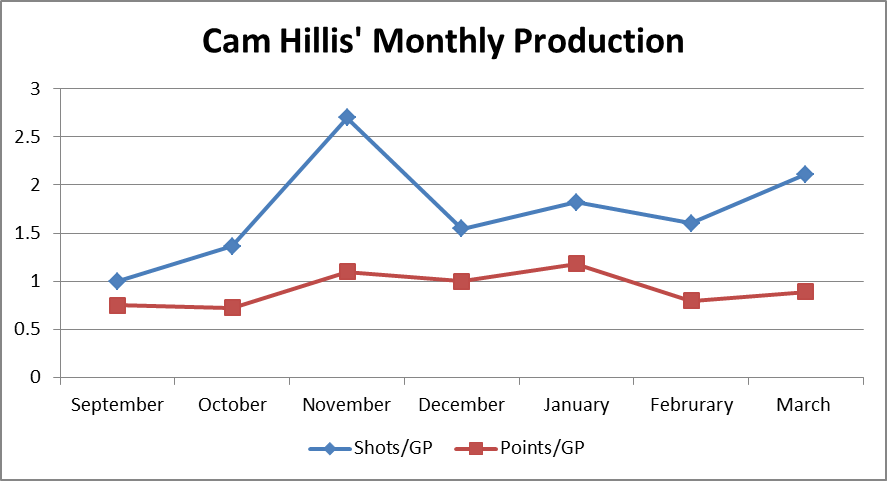 He started slow, peaked in the middle months and then slipped a bit at the end, though part of the reasoning for that dip is his March stats include the playoffs – where seventh-seeded Guelph lost to a strong Kitchener team. Overall, Hillis was very consistent.
In a small sample, Hillis' underlying stats look strong. Mitch Brown of The Athletic has spent all season tracking players/teams from across the CHL and USHL. He put his data into nice visuals like this one: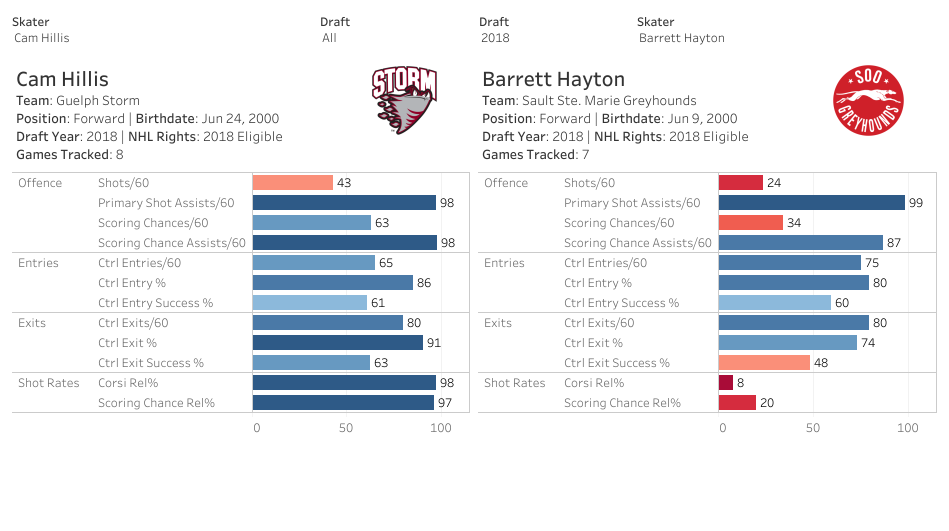 For more info on the work Brown is doing, check out the post he wrote. 
On the surface, nothing in Hillis' profile jumps out at you. But if you look past that, there's a lot to like with this player. He's a skilled offensive player and his numbers are right there with some of the more highly-ranked in the OHL. Hillis would be a really good pick for the Blue Jackets at No. 49, and a steal if he somehow fell to No. 80.
Beauty goal @cam_hillis!

Opened the scoring and stood as GWG for @Storm_City vs LDN. Hillis now tied for second in rookie points with 11. pic.twitter.com/nXjfN71Esr

— OntarioHockeyLeague (@OHLHockey) October 30, 2017
Stats from prospect-stats.com 
Follow 1st Ohio BatteryFacebook, Twitter, Instagram and YouTube