New York Rangers star forward and former Columbus Blue Jacket Artemi Panarin is taking a leave of absence, the club announced today.
The news comes in the wake of what some would consider a political hit piece in the form of an article published in Russia in which Panarin's former Vityaz head coach, Andrew Nasarov, alleged that Panarin beat an 18-year-old girl in Riga, Latvia in 2011.
Nazarov, who is currently the head coach of the KHL's Neftekhimik Nizhnekamsk, has repeatedly criticized Panarin for the forward's outspoken beliefs regarding Russian leader Vladimir Putin's regime. Nazarov is a known Putin supporter.

In the ALhockey.ru article published Monday, and translated by The Post, Nazarov puts forth a detailed account from Dec. 11, 2011. The former Russian hockey player alleges that after Vityaz lost to Dynamo 2-0, in which Panarin didn't have a great game, a then-19-year-old Panarin and other teammates were out at a hotel bar when he "sent the 18-year-old citizen of Latvia to the floor with several powerful blows."

Nazarov claims Panarin was detained by the police before there was an eventual criminal case and a trial. But Nazarov alleges that there was a bribe of 40,000 euros in cash to let Panarin off the hook.
In a statement, the Rangers said "Artemi vehemently and unequivocally denies any and all allegations in this fabricated story. This is clearly an intimidation tactic being used against him for being outspoken on recent political events. Artemi is obviously shaken and concerned and will take some time away from the team. The Rangers fully support Artemi and will work with him to identify the source of these unfounded allegations."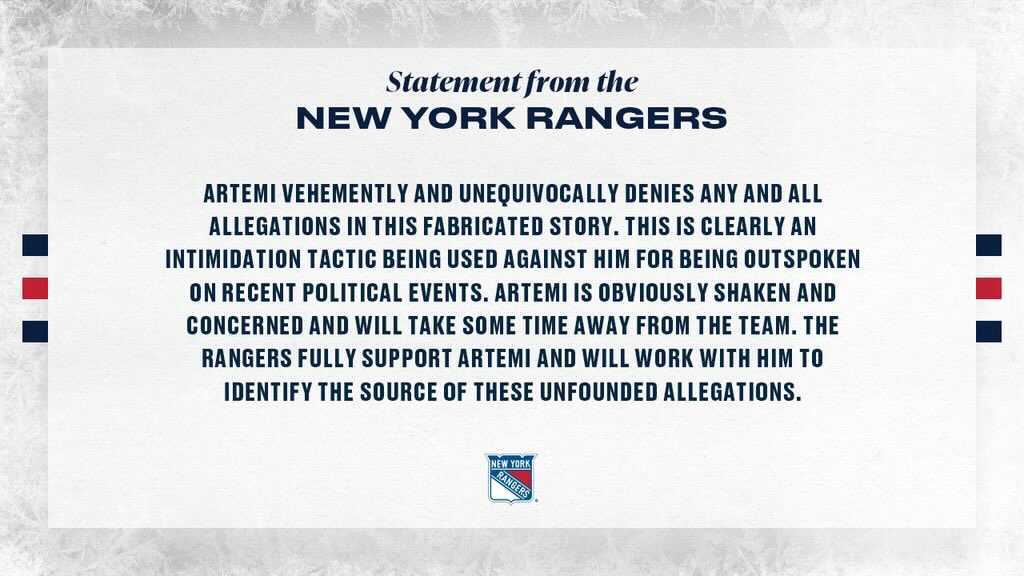 Panarin, who still has relatives, including grandparents living in Russia, has criticized Russian president Vlaidimir Putin and his regime in the past, most recently with an Instagram post supporting jailed opposition leader Alexei Navalny.
This is pretty significant: New York Rangers superstar forward Artemi Panarin showing support for jailed opposition leader Alexei Navalny ahead of planned Saturday protests all over Russia. Hashtags this Instagram post Freedom for Navalny https://t.co/9rwcP87oKK pic.twitter.com/8zZyjEjOeO

— Isabelle Khurshudyan (@ikhurshudyan) January 21, 2021
Shortly after Panarin criticized Putin in 2019, a Russian reporter insinuated that Panarin's agent, Paul Theofanous, was a CIA agent.
Needless to say, we here at 1st Ohio Battery stand with Bread.