The Blue Jackets can't get by like this, can they?
They have lost two key forwards to injury — first Lukas Sedlak and now Cam Atkinson — and started the season thin at center, moving Nick Foligno into the middle (to be fair, he's been really good there). But the problem lies a little deeper, and in contrast to last season's team, this edition of the Blue Jackets hasn't gone about it the same way.Because…it simply can't.
Losing depth in the offseason started the ball in motion. Losing Sam Gagner and Scott Hartnell, and before that William Karlsson, removed three important players from a team that relied on its depth not only for eating up minutes between shifts for the top lines. Those players scored. In the case of the fourth line, they scored a lot. The Blue Jackets had the best fourth line in the league last season, in part because two of the guys on that line were also on the power play.
That's depth, folks.
For those wondering why the Blue Jackets faded out at times on Saturday night, and have been starting slowly, it's fair to ask if depth has a role on it. They used Sonny Milano — the team's goal-scoring leader — for only 74 seconds in the final two periods on Saturday. Was he perfect? No, but he had a lot of company.
Zac Dalpe has been fine at center, but he's having trouble drawing a regular shift.
Pierre-Luc Dubois has one goal (and it was on opening night) and is now on the fourth line, playing five minutes a game, but will be sticking with the Blue Jackets for the balance of the season.
These are good players but they're a far cry from what Hartnell, Gagner, etc. brought a year ago. Those guys aren't coming back, so this group has to figure out an alternative. They scored two goals on Friday night, good enough to win thanks to Sergei Bobrovsky, but turned 30-plus shots on Saturday into one Matt Calvert goal.
Let's make one thing clear: I'm not saying it's time to panic and turn the whole thing upside down. But should the Blue Jackets consider different options in their "bottom six," if this is how they're being used?
Jordan Schroeder is hanging out in Cleveland, waiting his turn. Don't look now, but Tyler Motte has five goals in seven games with the Monsters. Markus Hannikainen is serving as the Blue Jackets' extra forward. Do they deserve an opportunity in the meantime? There are minutes available, but even in a limited sample size, the current fourth line has shown an ability to keep the puck in the right end of the ice.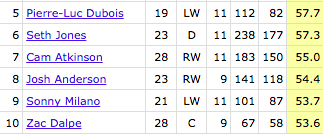 We'll see where this goes.
---
The Anticipation is Real
We've gotten a glimpse of The Last Jedi from a teaser, behind-the-scenes reel and a full-fledged trailer. In my mind, we can glean a lot about what the director is excited about based on what we don't see in the early footage.
We haven't heard General Leia's voice yet. I get the sense that she's going to deliver one hell of a performance in this movie. We don't hear from Admiral Holdo or Rose (though we saw Rose in the BTS), who both play intriguing roles in the Resistance as it picks up the pieces after the destruction of Starkiller Base. Also, we only get a peek at Canto Bight, the mysterious casino city that (if rumors are true) comes into play in the middle of the film, introducing a new element to Star Wars.
This is all super interesting and, with an international trailer due out soon, makes me wonder if additional footage will drop before the movie premieres. We're less than 50 days away and I'm close to embargoing any spoilers/leaks/etc from this point forward...but that's just unreasonable. 
You Should Be Reading
Cam Atkinson's injury could present a problem for the Blue Jackets.
The Blue Jackets have been losing the momentum battles lately.
 Sergei Bobrovsky made this heroic, awesome save on Friday night.
Follow 1st Ohio BatteryFacebook, Twitter, Instagram and YouTube