Zach Werenski is 20 years old.
Sometimes, that's hard to believe, especially given how much is expected of him.
Werenski's sophomore season in the NHL left many fans wanting more, and I'll admit, at times I acknowledged that something seemed off. He seemed to lack the edge, the will to engage physically in battles. He looked tentative. He simply didn't seem himself.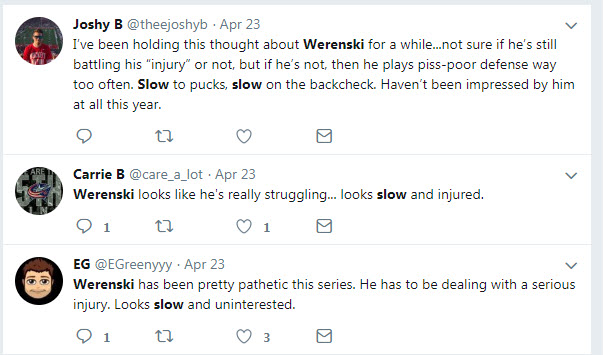 ---
As it turns out, Werenski was playing nearly the entire season on an injured shoulder that required off-season surgery. He's scheduled to miss 5-to-6 months and could be absent for the beginning of next season. This is the same kid that played in the NHL All-Star Game in January. 
Werenski suffered the injury on Oct. 30 and played most of the season wearing a harness.

— Tom Reed (@treed1919) May 3, 2018
Werenski had a monstrous rookie season, finishing third in the Calder Trophy race behind Auston Matthews and Patrik Laine and even finishing 18th in the Norris Trophy ballot (tied with Seth Jones). He was the only teenager to grace the 21-player ballot, and was the youngest defenseman by nearly three years. His 47 points as a rookie were a franchise rookie record until Pierre-Luc Dubois poached that away from Werenski this season.
This past season was a struggle for Werenski, or at least, that was the perception. He was demoted from the top power play unit. His 37 points were a 10-point reduction from his rookie campaign. His defense partner, Jones, took measures to intervene when John Tortorella was critical of Werenski's play. 
Per Aaron Portzline of The Athletic:
The coach acknowledged he had "leaned too much" on Werenski at a time the second-year player was altering his game to compensate for the injury and he admitted to getting "caught in between" in how to coach last year's Calder Trophy finalist.
Werenski had 17 power play points as a rookie, quarterbacking the power play as the only defenseman. When Jones won that role this year, moving Werenski down to the second unit, he produced just seven power play points (though the power play struggles don't fall on Werenski). 
All of this makes it sound like Werenski was downright bad this year. And that's what's so scary, so tantalizing about this young defenseman, who won't turn 21 until July. Here's the truth: Werenski was excellent all year, despite the injury.
From a possession standpoint, perhaps only the pairing of Mark Giordano and Dougie Hamilton of the Calgary Flames was more effective at tilting the ice in their own team's favor. Werenski's 54.23 CF% was 17th in the NHL among defensemen with 500+ minutes of 5-on-5. It's higher than all three of the Norris finalists.
Only three defensemen in the entire league had more goals than Werenski's 16 (all three higher had 17). This, again, is with a shoulder injury that would eventually require surgery. Imagine if he could lean into his shot.
The most awkward part of analyzing Werenski's season is that the evidence is there that he actually improved, at least, in comparison to his peers, between his rookie and sophomore season. The below chart compares Werenski's two seasons side-by-side. By these metrics, Weresnski certainly improved from season one to season two. Defensemen are measured on, among other metrics, how effectively they can move the puck out of their end, and how well they can transport the puck into the attacking end.
He improved in nearly every metric, and is in the 99th and 98th percentile in the NHL in exiting the defensive zone.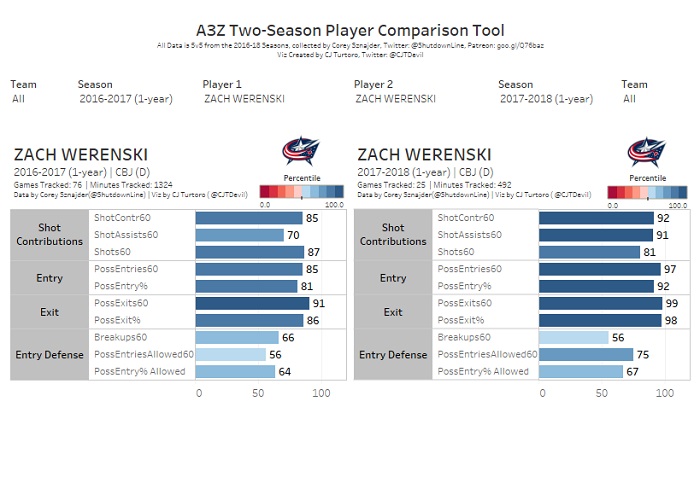 I was skeptical to see what elite defensemen look like, so for comparison, you'll see the same charts for Victor Hedman and Roman Josi, two elite defensemen who anchor the blueline for their respective playoff teams. Werenski paints a different picture, but on the whole, compares favorably to the league's most respected defensemen.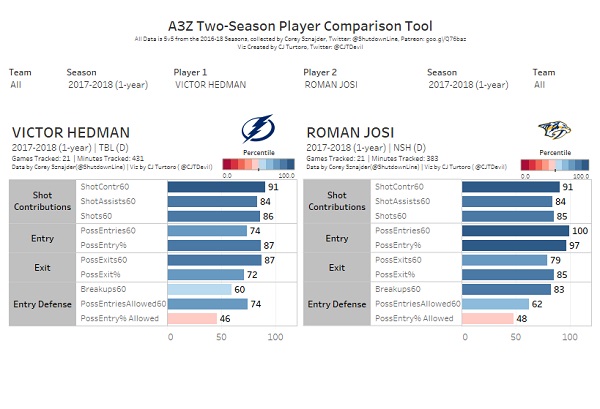 Hockey-reference is a great tool for comparing players. I was curious how many defensemen in the history of the league had more goals than Werenski in their first two seasons (provided they were age 18-20). It's a pretty short list:
All-Time Goals by Defensemen in First Two Seasons, Ages 18-20

| Rank | Player | GP | Team | Years | Goals |
| --- | --- | --- | --- | --- | --- |
| 1 | Ray Bourque* | 147 | BOS | 1979-81 | 44 |
| 2 | Larry Murphy* | 159 | LAK | 1980-82 | 38 |
| 3 | Paul Coffee* | 154 | EDM | 1908-82 | 38 |
| 4 | Zach Werenski | 155 | CBJ | 2016-18 | 27 |
| 5 | Glen Wesley | 156 | BOS | 1987-89 | 26 |
| 6 | Dave Babych | 148 | WIN | 1980-82 | 25 |
| 7 | Brian Leetch* | 85 | NYR | 1987-89 | 25 |
* indicates Hall of Famer
I'm not suggesting that a healthy Werenski would have been enough for the Blue Jackets to knock off the Capitals. Who could know? But it is safe to say that Werenski was definitively not playing anywhere approaching healthy, and was still an effective player, not just in the series but all season long. 
Werenski scored 16 goals and added 21 assists for 37 points in his age 20 season with a shoulder that required surgery. 
What if he was healthy?
Follow 1st Ohio BatteryFacebook, Twitter, Instagram and YouTube