Boone Jenner's name has been in the media a lot recently.
Elliotte Friedman brought him up in 31 Thoughts Wednesday as a player who might need a change of scenery. That was quickly followed by TSN adding Jenner to their "Trade Bait" board. On Thursday, coach John Tortorella was asked about Jenner's play and among other things he mentioned that Jenner was just a step behind.
Just taking a look at the highlights from last game, you can see what Tortorella is talking about. Take a look at the Capitals' second goal from Tuesday night's game:
That feed from @ovi8, that move from @tom_wilso... just beautiful. #WSHvsCBJ pic.twitter.com/t05kZiPPGV

— NHL (@NHL) February 7, 2018
This play starts with a great breakout pass. Jenner plays this well through the neutral zone, but as the Caps get into the offensive zone, he ends up in no man's land. He doesn't cover anyone, his eyes are focused on the puck, yet he's nowhere near the puck carrier. He's not really covering John Carlson and has no idea Tom Wilson has gotten behind him.
As the play develops, you see Jack Johnson points at Wilson, indicating for someone to cover him. The pass comes to Wilson and he has all the time and space in the world – by the time Jenner figures out what's going, on the puck's in the back of the net.
Mental mistakes happen and players miss assignments, that's hockey, but with Jenner it seems like he has a couple plays like this every game. They don't always result in goals against, but when you hear Tortorella saying he's a step behind, he's not just referring to one play. This has been a reoccurring problem, and has been Jenner's issue his entire time in Columbus. He's not a very good defensive player, despite having that reputation.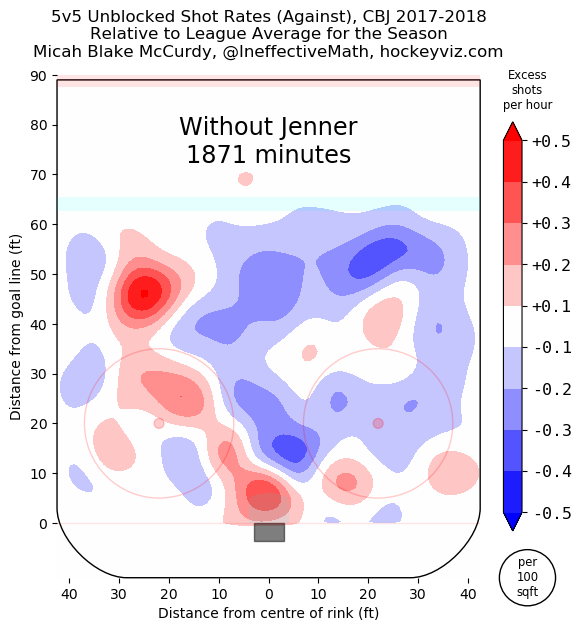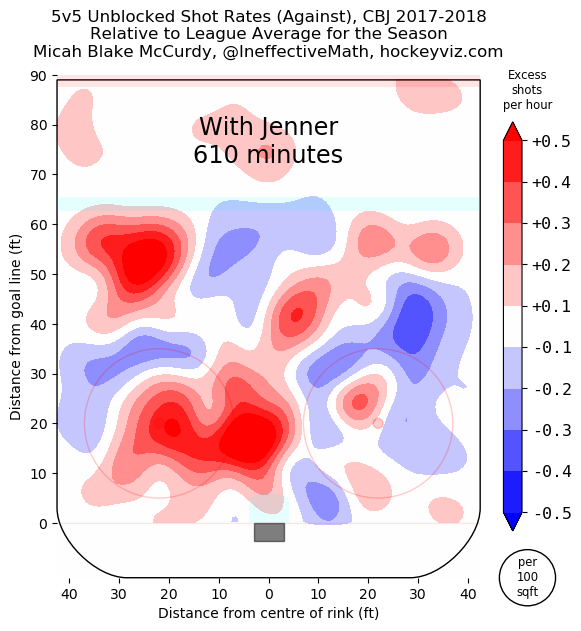 These heat maps from Micah Blake McCurdy's site HockeyViz show the unblocked shot attempts allowed by the Blue Jackets when Jenner is on and off the ice.
On the left, when Jenner is on the ice, there are a ton of shots taken from up close in the slot. This is the most dangerous area of the ice and when Jenner is out there, opposing players have no trouble getting there and taking shots. When Jenner is off the ice, there is a lot more blue, indicating fewer shots are being taken. There is still a fair bit of red in the slot and by the face-off dot, but it's not nearly as much or as dark.  
With Jenner on the ice this season, the Jackets have allowed shot attempts at a rate of 67.07 per 60 minutes, per Natural Stat Trick. That is the highest on the Jackets and the 11th-highest in the league among players who have played at least 400 minutes at 5-on-5.
Jenner does take on tough assignments; he has the highest rate of defensive zone starts on the team, but again this isn't something has just popped up this season. In each of the last four seasons, Jenner's CA/60 has been above 60, and throughout his whole career, when Jenner has been on the ice he bleeds shots against.
Jenner is a better offensive player, but it's not enough to overcome his defensive deficiencies.
Jenner has a 44.68% Corsi in 2017-18, dead last on the Jackets, and it would be his fourth consecutive season below 50%. For his career, Jenner has a 47.96% Corsi in 313 games, which is not very good, even considering the fact he's played on some poor teams.
We'll caveat this and note that Corsi isn't everything and there are players with poor possession stats who are still very good players. For example, both Phil Kessel and Jack Eichel have possession stats similar to Jenner dating back to 2013; they're both really good players because of their elite offensive abilities. Mikkel Boedker and Michael Grabner are others, and they make it work with their elite speed. If you don't have that elite tool, your time in the league might not last very long, like Nick Spaling.
That's not saying Jenner is going to be out of the NHL soon, because he's not. He's an NHL player and does a lot of things coaches like: he works hard, has a physical edge to him, appears to be great in the locker room and a good leader wearing an 'A.' He did 30 goals a couple of seasons ago, and that shot has not gone away. Jenner averages 14.67 individual shot attempts per 60, almost the exact same rate as Artemi Panarin. Jenner averages 8.22 scoring chances per 60 and 4.02 high danger chances per 60, both of which rank fourth on the team.
This is the final year of Jenner's deal ($2.9M AAV) and he'll be an RFA on July 1. It's reasonable to think Jenner will want a longer term on his next contract along with a pay increase. For the Blue Jackets, if Jenner's going to be a fourth liner (where he's spent time this season), they're better off allocating that money elsewhere. When you have players like Artemi Panarin, Sergei Bobrovsky and Zach Weresnki needing new deals soon, every dollar counts.
Where's this speculation coming from, then? Jenner is having a down season, the Jackets have bigger contracts to worry about in the year ahead along with some forward prospects on the horizon (Vitaly Abramov, Sonny Milano, Alexandre Texier to name a few).
It's in their best interest to explore the option of trading Jenner, and see if a rival team believes he can get back to that 30-goal form. Make no mistake: the Jackets are selling low here. Jenner has a career worst 4.4% shooting clip this season, but he's still young at 24 years old and should drum up interest from other teams. 
With the trade deadline approaching, it's good to know what you have on your team and in your organization. In Jenner, the Jackets have an NHL player – albeit a flawed one. Exploring the trade market is the right move, even if they're not dealing from a position of strength.
Follow 1st Ohio BatteryFacebook, Twitter, Instagram and YouTube