Pierre-Luc Dubois has been one of the biggest surprises of the Blue Jackets season.
I think most expected Dubois to make the team, but not many saw him having this type of impact right out of the gate – especially not after his last season in the QMJHL. Dubois has found a home on the Blue Jackets' top line alongside Artemi Panarin and he's been impressive, sitting third on the team with 15 goals and 37 points.
Dubois has steadily improved as the season has gone on. He's not deferring to Panarin as often and is starting to realize with his size and skill he can take over games. His non-goal against Vegas put that on full display:
Didn't count, but goals like this are the reason why PLD went third overall. Power, skill and a wicked shot. #CBJ pic.twitter.com/kXtDpDST4J

— 1st Ohio Battery (@1stOhioBattery) March 7, 2018
The points are great, but what's been most impressive about Dubois has been his impact on the team's shot rates. Dubois has a 56.35% Corsi at 5-on-5, a strong number for any player and very rare for a rookie, especially a center.
What does this mean for Dubois going forward? When you see a center have this type of two-way impact, you immediately think Patrice Bergeron. He's the premier do-it-all center in the league, but projecting anyone to become Bergeron is a little crazy. However, looking at what Dubois has done, he very well might be a Bergeron-lite.
In the last 10 seasons there have only been three rookie centers other than Dubois to have at least 35 points and a 56% Corsi at 5-on-5. In 2010-11 it was Logan Couture who had 56 points and a 56.15% Corsi, and in 2007-08, it was Brandon Dubinsky with 40 and 58.09%, and Nicklas Backstrom at 69 and 59.41%.
Expanding this list out further, there have been only 27 rookie centers to post at least 35 points and have a 50% Corsi. Here are the closest comparable players to Dubois, as far as points per game: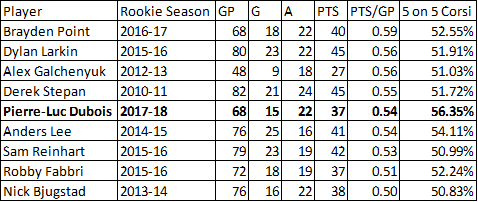 Stats from Hockey-Reference and Natural Stat Trick 
With the exception of Robby Fabbri, who's been injured, these are all really good NHL players. Anders Lee has the closest season to Dubois statistically but he's not the best player to use as far as projecting the future for Dubois, as Lee's first full season came when he was 24 years old. Dylan Larkin and Alex Galchenyuk are better players to look at, as they both made their debuts as teenagers. They are also good reminders about keeping expectations in check: they each had strong rookie seasons, but struggled as sophomores.
They also had to deal with external factors that impacted their performances. Larkin plays on a poor team, Galchenyuk does as well, but Galchenyuk has also had to deal with the team flipping him back and forth between center and wing. Dubois shouldn't have these problems; the Jackets are committed to him as a center and the team should be good again at least through next season.
Looking at these comparisons, it's hard to find that perfect match, as what Dubois done is just so exceptional. I keep coming back to that first group of players: Backstrom, Couture and Dubinsky. To me, that feels like the three possible outcomes for Dubois' career. If everything goes perfectly, he could end up as a Nicklas Backstrom type – a high-scoring, high-possession player. If the scoring doesn't continue and he stays in that 40-point range you're looking at Dubinsky territory, a solid defensive center who tops out at around 50 points.
Considering what Dubois did in junior and his draft pedigree, this would be his floor. Right in-between and what might be the best comparable for Dubois' future would be Couture.
Couture is a little bit smaller than Dubois, but both were top 10 draft picks. They each had really strong draft seasons as 17-year-olds and both had letdown seasons as 18-year-olds. Couture's rookie season was better than Dubois, but Couture was a much more finished product when he made his debut. He spent his age 19 season back in junior and then at 20 split time between the AHL and NHL, before making the NHL full-time at 21.
Considering what Couture has done in the NHL and that Dubois is starting his career at 19 as opposed to 21, it doesn't seem out of the question that Dubois could be a 60-point center with strong underlying numbers. Regardless of what the actual numbers end up being, Dubois is on the fast track to being one of the premier players in the league.  
Follow 1st Ohio BatteryFacebook, Twitter, Instagram and YouTube