In just three seasons in the NHL, Artemi Panarin has established himself as one of the premier players in the game.
Our own Rob Mixer laid out why signing Panarin is the most pressing priority for the Blue Jackets this offseason. But what can we expect Panarin to sign for, and why?
First, some good news: Panarin and Columbus are a natural match. The Russian debunked the myth that he required Patrick Kane to be successful, posting a career high in points in his only season with the Blue Jackets. He's arguably the best player in the franchise's history, and by any measure, he's an elite player in the NHL.
And now the bad news: Evander Kane, who in nine NHL seasons has yet to have a campaign remotely approaching Panarin's (at least, in point totals), just signed a 7-year contract extension worth $49 million ($7 million AAV) with the San Jose Sharks.
Kane's extension is relevant for a number of reasons. He shares several commonalities with Panarin, including his age (26) and position (left wing). And while Kane may not have the most sterling of reputations, he's an unquestionably talented player. The Sharks sniper finished the 2017-18 with 54 points in 78 games, good for 25th in the league among left wingers. On the surface, that may not scream "elite," but consider that (while acknowledging that points don't tell the whole story) in this league, he's a first line player.
But therein lies the problem: if Kane is a top-line player, and a comparable player by age and position, what does that say about Panarin? It says he's far better than Kane, for starters.
The below tracking tool by Corey Sznajder and CJ Turtoro shows that by any virtually any metric, Panarin is the superior player.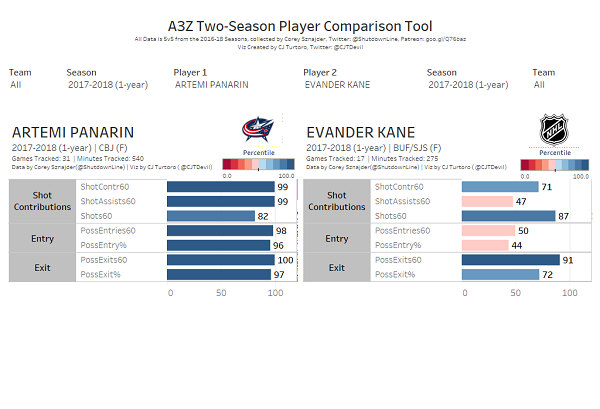 Want more proof? While Kane had the 25th-most productive season for left wingers, Panarin had the 5th, trailing only Taylor Hall, Alex Ovechkin, Brad Marchand, and Johnny Gaudreau. And over the past three seasons combined, only six players in the NHL have more points than Panarin's 233: Patrick Kane, Sidney Crosby, Connor McDavid, Nikita Kucherov, Blake Wheeler, and Jamie Benn. That's elite company. Evander Kane, meanwhile, finished 128th over the same time-frame with 132 points, next to Chris Kreider and Bryan Little. 
So if Evander Kane signs for $7 million per season for seven seasons, what does that mean for Panarin? It means he's going to get a lot more than $7 million per season.
Kane's contract represents 9.33% of the salary cap at the time of his signing. And we learned recently that the salary cap is going up, somewhere in the whereabouts of $80 million. But clearly Panarin will be offered more than Kane's $7 million AAV, so who's a better comparable? 
How about Jamie Benn? 
Benn was 26 years old when he signed an 8-year, $76 million contract ($9.5 million AAV), or 13.01% of the salary cap at the time of his signing.
The Dallas captain is comparable to Panarin in terms of importance to team and overall statistics. Since Panarin entered the league, his 0.96 points/game and 14.1% shooting percentage are nearly identical to Benn's .98 and 14.9%.
So while Panarin was never going to see a contract offer that started with a "7," Evander Kane's new contract extension shows that, if anything, Panarin's market value is even higher than previously thought.
And while other superstar left wingers have been locked up on relative bargains: Taylor Hall's 7-years, $42 million ($6 million AAV) and Johnny Gaudreau's 6-year, $40.5 million ($6.75 million AAV) come to mind, it's unlikely that the Blue Jackets will be so fortunate. Hall was just 20 years of age and Gaudreau 23, and the Edmonton Oilers and Calgary Flames were happy to extend a long-term contract offer before either player had reached their peak. 
By using Benn's 13% cap hit percentage as a baseline and assuming the salary cap settles in next season at $80 million, the Blue Jackets have a blueprint to work with. 
Official Prediction: 8 years, $80 million ($10 million AAV).
Follow 1st Ohio BatteryFacebook, Twitter, Instagram and YouTube