Like Cam Atkinson, Oliver Bjorkstrand wasn't a can't-miss prospect.
Both players put up outstanding numbers before reaching the professional ranks – Atkinson at Boston College had back-to-back 50 point seasons, while Bjorkstrand twice hit the century mark as a member of the Portland Winterhawks – but took a few years to find themselves as regulars in the NHL.
Atkinson, now the longest-tenured Blue Jackets player, broke into the league in 2011-12. Due to the lockout-shortened 2012-13 season, it wasn't until 2013-14 that the star winger played a "full" NHL season. In that season, he scored 21 goals, his first of five (and counting) consecutive seasons with 20-plus goals, and finished with 40 points in 79 games. 
Similarly, Bjorkstrand played just 12 and 24 games for the Blue Jackets as a call-up in 2015-16 and 2016-17 before making the team in a full-time capacity this past year. In 82 games in 2017-18, he too put up 40 points.
While Atkinson appears to have gotten a head start on his impressive career, the numbers tell a different story.
Bjorkstrand just finished his third season as a part-or-full time NHL player, and he was 22 years old when the Stanley Cup playoffs began this year. Atkinson was 24 years old when he completed his first full (non-lockout shortened) season. 
It's easy to think that Bjorkstrand is older than he is; he's been in the organization since he was drafted in 2013. But he's just entering his age 23 season. Atkinson's age-23 season saw him post 9-9-18 in 35 games. That's 0.51 points/game, which is the exact same as Bjorkstrand's career average (61 points in 120 games). In fact, it wasn't until his age 26 season that Atkinson eclipsed the 40-point mark.  
One thing that Bjorkstrand needs to do to improve his game is shoot the puck with more frequency. Comparing Atkinson's seven seasons with Bjorkstrand's three shows plenty of similarities, but one distinct difference: shots on goal. Bjorkstrand's career high in shots on goal/game came in 2016-17, when he had 2.12 shots per game. Atkinson's career low is 2.44, with his career high coming this past year when he flung 3.55 shots on goal per game.
Everyone knows that Bjorkstrand has a lethal shot. It's not implausible to say it's better than even Atkinson's, but the mere threat of a shot isn't enough in today's NHL. The best shooters need to shoot with volume, that's how they get rewarded. It's not coincidence that Alexander Ovechkin leads the league in goals – and shots – almost every year. 
But in a chicken-or-the-egg conundrum, Bjorkstrand also shot a career low 6.7% in 2017-18. Atkinson's never shot worse than 9%, and is a career 11.3% shooter. Bjorkstrand's season may have been an aberration, since he had been a 12.5% shooter in his first 38 games in the NHL. Perhaps he shot less because he lacked confidence? Or perhaps he lacked confidence because he was only shooting 1.99 shots per game. 
This site has been vocal about giving Bjorkstrand better linemates. Last summer, Sam Blazer wrote: "Putting him in an offensively slotted role would be an advantageous move and would allow Bjorkstrand to do what he does best, put pucks in the back of the net." 
According to Left Wing Lock, his most common line mates in the final 10 games of the season were Mark Letestu, Sonny Milano, Boone Jenner, and Nick Foligno. Why not play him with Artemi Panarin or Cam Atkinson?
In November, I wrote a piece suggesting he needed more ice time. At the time, he was averaging just 13:37 per night. While it eventually reached 14:18, it's still a shockingly low number for an effective player. Atkinson has never averaged less than 15:23 (rookie year), and his career average of 17:12 dwarfs that of Bjorkstrand (14:25). I'm not suggesting Bjorkstrand should play more than Atkinson, who deservedly plays on the top power play unit and penalty kills, simply that it should be more than 15 minutes per game. 
The below visual from CJ Turtoro and Corey Sznajder shows that Atkinson and Bjorkstrand have similar strengths and weaknesses. Their charts even resemble each other, and not always in the favor of Atkinson.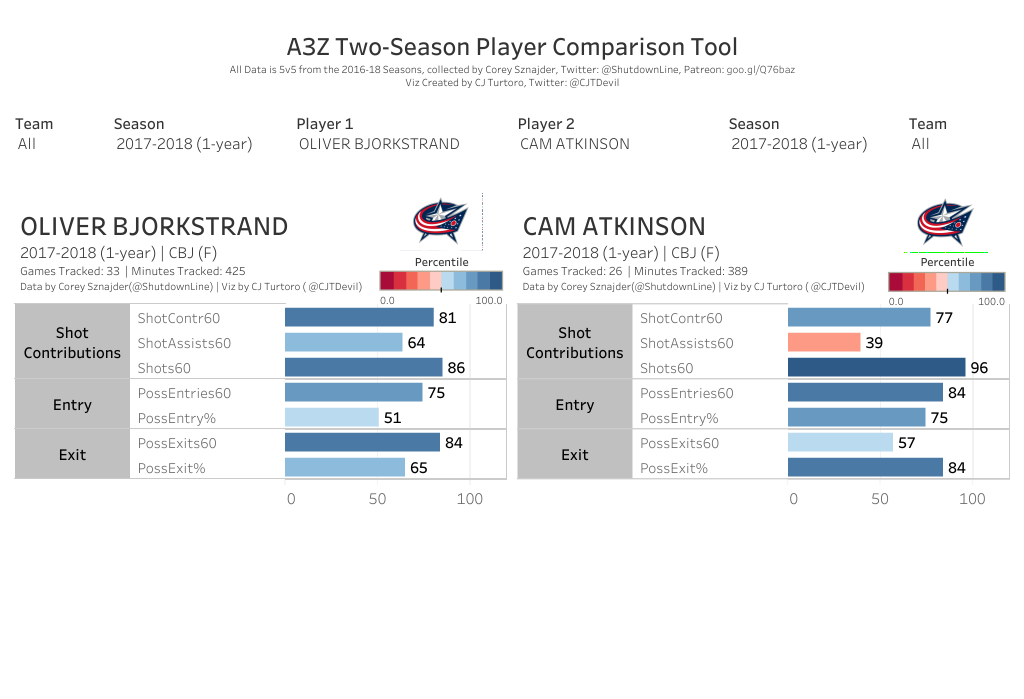 Oliver Bjorkstrand should play a bigger role in 2018-19 than he did in 2017-18. With a more aggressive, shoot-first mentality, coupled with more offensively-minded (and gifted) line-mates, and a bit of regression back to the league average shooting percentage mean, he should become the next perennial 20-goal guy that every NHL team covets. 
Follow 1st Ohio BatteryFacebook, Twitter, Instagram and YouTube