Sergei Bobrovsky is unquestionably one of, if not the, most important players in Blue Jackets franchise history.
He's a fan favorite for good reason. He's won two Vezina Trophies as the league's top goaltender, is the franchise leader in every imaginable goaltending statistic, and his post-game hug with captain Nick Foligno is virtually synonymous with Blue Jackets wins.
It's not like I don't appreciate Sergei Bobrovsky. The Blue Jackets almost certainly don't make the playoffs this past season without him.  
Sean Tierney (an excellent hockey Twitter follow) found that, as of Mar. 10, Bobrovsky wasn't just playing well – he was saving far and away more expected goals than any other goalie in the NHL.
Total goals saved above average

Bobrovsky has saved about 26 goals above what an avg goaltender would. Rinne is second-place with a distant 14 goals saved.
Anderson has cost the Sens about 15 goals vs an avg netminder. pic.twitter.com/HzmaYCMzLL

— Sean Tierney (@ChartingHockey) March 10, 2018
Here's where it gets tricky. If I were running the Blue Jackets, I wouldn't give Bobrovsky a long-term contract. 
Before I can really try to convince you why, a few things need pointed out:
It's possible that Sergei Bobrovsky doesn't want to sign long-term in Columbus, similar to what we've heard about Artemi Panarin.
No, Bobrovsky wouldn't take a short-term contract, in Columbus or elsewhere. He'll be 31 when his new contract season starts, and elite players don't take short term deals when they're unrestricted free agents.
Okay. Now, here's why signing arguably the franchise's best player ever long-term is foolish.
Signing a player on the wrong side of 30 to a long-term extension is almost always a disaster. Per the CBA, If Bobrovsky signed in Columbus, he'd be eligible to sign an eight-year extension. If he tested the market, he'd max out at seven years. He'd be 39 years old when the contract ended, if he wasn't bought out first.
The problem with that, of course, is that goalies don't get better, healthier, wiser, etc. after age 30. They get worse. Fast. The below chart suggests that goalies, even elite ones, get significantly worse as they get further into their 30's. 
I took the top 10 goalies by wins since 1980 and averaged their SV% by age to get a rough aging curve. Here's what that looks like: pic.twitter.com/iVrorQpnsF

— Chemmy (@felixpotvin) July 13, 2018
But the truth is, the fact that Bobrovsky will eventually be an average (or below-average), old goalie is completely secondary to the fact that, in short time, Bobrovsky's contract would be a complete albatross for the Blue Jackets.
Just ask Montreal if they could choose to re-do that Carey Price contract? How about the Rangers with Henrik Lundqvist?
Earlier this week, sportingnews.com wrote this about Price when ranking each team's best and worst contract:
Worst: Carey Price owns the worst contract in Montreal, and the worst in the entire NHL (eight years at $10.5 million per). That Price has been injured two of the past three seasons and is coming off the worst year statistically in his career doesn't make this picture prettier. Huge contracts for goalies never seem to work out, and this is the biggest of them all.

 
Lundqvist was an honorable mention for New York, with a caveat the only thing holding him back from taking the top spot:
Since the Rangers are so far under the cap, 36-year-old, Henrik Lundqvist's three years remaining at $8.5 million is negated.
Why? Goalies are the paradox of hockey: the most important player on the ice and also the hardest to project. Travis Yost wrote an excellent piece on this conundrum earlier in July. Are they akin to running backs in the NFL? It's a stretch, but similarities exist. There's a reason that, in 2018-19, only two of the top 33 highest-paid (by cap hit) players are goalies.  
Sergei Bobrovsky will be the third highest paid goalie this upcoming season, with a $7.425M cap hit. He trails just two goalies: Lundqvist ($8.5M) and Price ($10.5M). There may be a pattern there, and I'm not talking about the lack of Stanley Cups.
Simply put, the NHL has a problem with valuing goaltenders.
Yost's article does an excellent job at illustrating that, by and large, salary cap and save percentage aren't correlated. That's terrifying for an NHL GM, who are becoming more and more adept at utilizing effective players in cheap, entry-level contracts.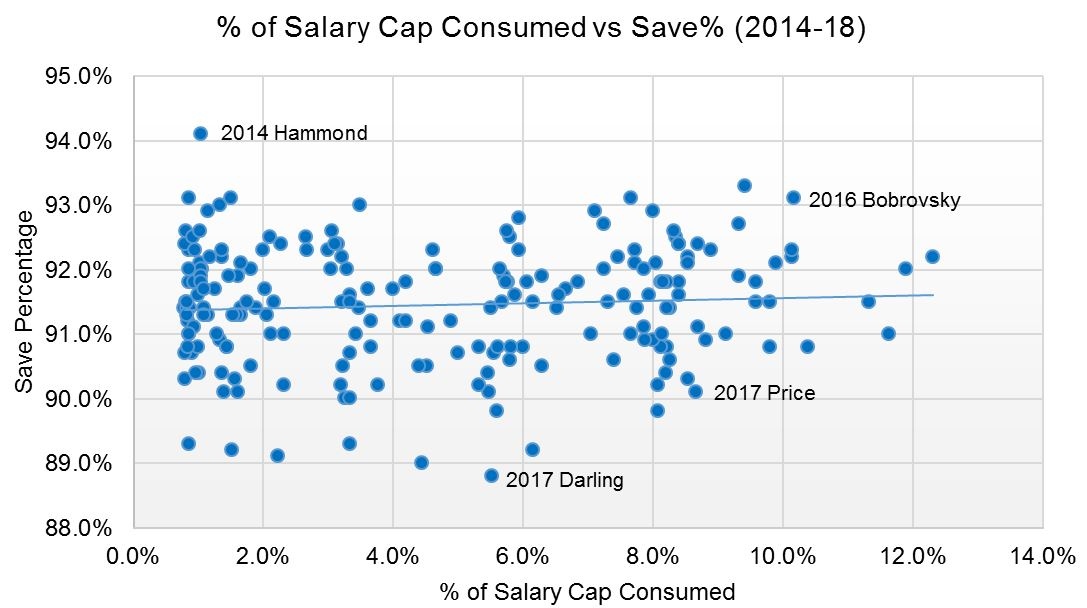 He sums it up nicely here:
What we can rule out, though, is this notion that the league at aggregate has figured out how to pay goaltenders. The above graphs would suggest that it's a pointless endeavour to negotiate an NHL goalie's second or third contract, since the possibility of him being outplayed by a younger, cheaper goaltender on his first contract or a "bridge" deal is high.
When discussing this, our own Kyle Morrison channeled his inner Harvey Dent and made the comparison to the famous scene from The Dark Knight, saying Bobrovsky will either live long enough to "die" a hero – a multiple-time Vezina winner who has given (and will continue to give) Blue Jackets fans countless great memories – or live long enough to see himself become the villain, becoming an albatross of a contract that prevents the team from reaching its ceiling. 
It's sad to think about the Blue Jackets without Bobrovsky. It'd be even sadder to imagine them paying an eventual depreciating asset eight figures annually until he's nearly 40. 
Follow 1st Ohio BatteryFacebook, Twitter, Instagram and YouTube